Planning to revenge travel when COVID is over? Don't make these financial mistakes
By: Sinead Mulhern on

May 10, 2021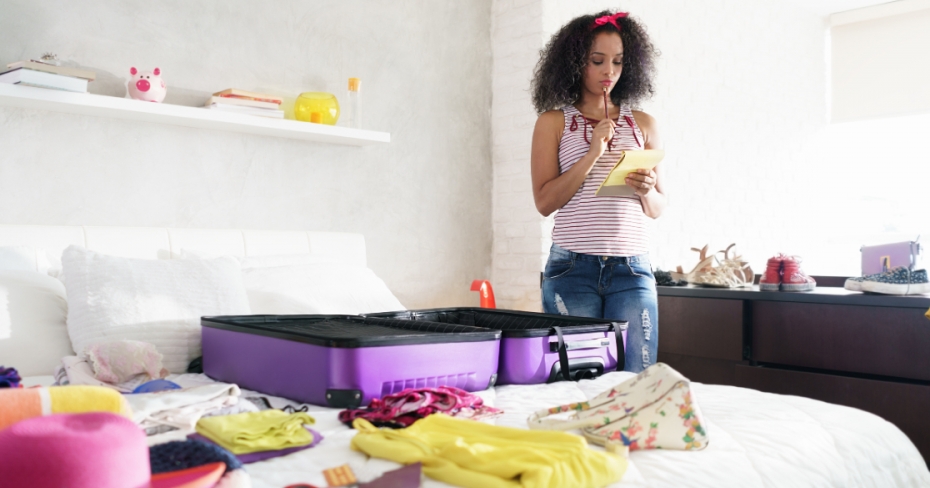 With never-ending lockdown measures and the monotony of wave after wave of COVID-19, traveling anywhere beyond our front doors has become the goal for us stir-crazy folk. So much so, that some have dubbed the term "revenge travel" to describe the anticipated influx of travel — both domestic and international — that inevitably awaits once COVID-19 is under control. Revenge travel is to tourism in a post-vaccine world what patios are to pent-up urbanites on the first tolerably above-zero days in spring: like bees to a honeypot. 
The concept of revenge travel isn't all that surprising considering how little movement we've seen from Canadians during pandemic times. As Statistics Canada reports, the number of Canadians returning home from travel overseas was down 93.5% from February 2020 to 2021. And Canadians returning from the U.S. dropped 93% during the same period. Canadian government advisories still urge to avoid all non-essential travel. But there are murmurs from the EU about welcoming vaccinated travellers from COVID-contained countries in the near future. It might not be so long before proof of vaccination and negative test results become as important as passports. 
But where do personal finances fit into all of this? Abiding by virus safety measures might be your focus when you finally get to depart, but don't let it cloud your financial vision. Here are five money mistakes you should try and avoid when during your revenge travel vacation. 
1. Setting an unrealistic travel budget
When it comes to setting a travel budget, everyone and their aunt might claim to know best. However, deciding how much money you're able and willing to spend on your vacation is personal business.
"Be realistic, earmark your budget, and have that money in advance," says Parvesh Benning, a Dundas, Ont.-based financial advisor and brains behind Protect Your Wealth, an insurance, investments, and financial planning practice. "Plan in advance so that there are no surprises." It helps to add a little extra off the top, too: if you foresee yourself spending $100 per day, having $120 gives you extra leeway and ensures you won't have to be unnecessarily regimented when you're supposed to be relaxing. 
On that note, funding your post-pandemic trip will cause less stress if it's built into your daily budget from the get-go. Whether or not a vacation is currently on the calendar, it always helps to set cash aside bit by bit. "Make it part of your regular monthly budget," says Barry Choi, personal finance and travel expert at Money We Have. "As long as you can stay within the budget, you can go anywhere you want guilt-free." Whether that monthly sum is $50 or $500, that's your business! 
2. Going when-in-Rome on your credit card
Who doesn't love room service and snuggling in high-thread-count sheets? There are certain luxuries in life that you might love to experience when you're on vacation. But at a certain point, justifying the plastic swiping with "I'm on vacation!" and "When in Rome!" sentiments will only cause problems for future you. Sooner or later, you're going to have to pay that credit card bill, so ask yourself if the splurge is really worth it. 
"Ignorance can be bliss but it eventually comes back to get you," says Benning. In other words, will those Instagram photos bring back fond memories or financial guilt?
3. Forgoing travel insurance
You book the trip, research the local hotspots, write the packing list, creep the travel blogs. But in all the pre-trip planning you leave out travel insurance. So many of us have played fast and loose with travel insurance and even though it's probably the least alluring element of vacation planning, it should be a non-negotiable. "The biggest mistake I really genuinely do see is people only making travel insurance a priority once something happens," says Benning. 
Not having travel medical insurance can be the most expensive lesson you'll ever learn. "In the U.S., a quick trip to the hospital could cost you a few hundred dollars. If you need more serious attention, you could spend thousands," adds Choi. It can be tempting to roll an eye at these warnings because we believe it'll never actually happen to us. But as Choi points out, hasn't COVID-19 taught us that anything can happen?
To make things simple, Benning recommends subscribing to an annual travel insurance plan that'll cover you 365 days a year rather than just one trip at a time. Or, similarly, compare premium credit cards. They often will include insurance perks like travel medical coverage, flight delay, and baggage loss. "You can buy standalone insurance," says Benning. "But if you travel even more than once a year, you're probably getting more value from a premium credit card, truth be told."
4. Saying no to rental car insurance
If your post-jab wanderlust plan involves renting a set of wheels, you're going to want to consider rental car insurance. If you have your own vehicle, check to see if your regular car insurance policy covers rental cars. It's possible with some policies to purchase an endorsement that allows you to apply your regular auto insurance coverage to a rental car.
If not, check to see if the credit card you're using to pay for the rental car offers some sort of coverage. If neither of those options are fruitful, then it's in your best interest to opt in to the insurance coverage provided by the rental shop. It will cost you more, but at least you'll be protected.
Lastly, double-check the fine print before getting the keys to a luxury or high-end vehicle. Many credit card car insurance policies offer coverage that tops out at a certain point, and may not cover the cost of a less pricey car. Sure, a promo at the car rental shop might be tempting, but not if you're not covered. "Be cautious and don't have a false sense of security," says Benning. 
5. Hoarding your travel rewards
Unlike your savings account, accumulation really isn't the way to go with your rewards points. This is one time where you're encouraged to spend! 
"The worst kind of millionaire you could be is a frequent flyer millionaire," says Benning. Rewards points don't have a set value: you're at the mercy of a points program that could literally change overnight. As Benning cautions, airlines have lost out huge thanks to the pandemic and when looking for ways to make up for that, your trans-Atlantic flight's worth of points might be first on the chopping block. 
"When you have those miles, use them," says Benning. "Use them as often as you can and try to deplete them. You don't want them to accumulate because you don't have control over it." 
As pent up as we all are during this never-ending pandemic, revenge travel might feel like the ultimate way to get even on this coronavirus-ridden year (and counting). When plotting your comeback trip, just make sure your vengeance doesn't do worse damage to your wallet or credit score. Because just as revenge can be sweet, it can also be sour.
Find the best credit card for your unique needs
Compare cards from Canada's top providers in seconds.
Compare Credit Cards