Nearly half of people who moved this year went to a new town: Survey
By: Jessica Wei on

May 26, 2023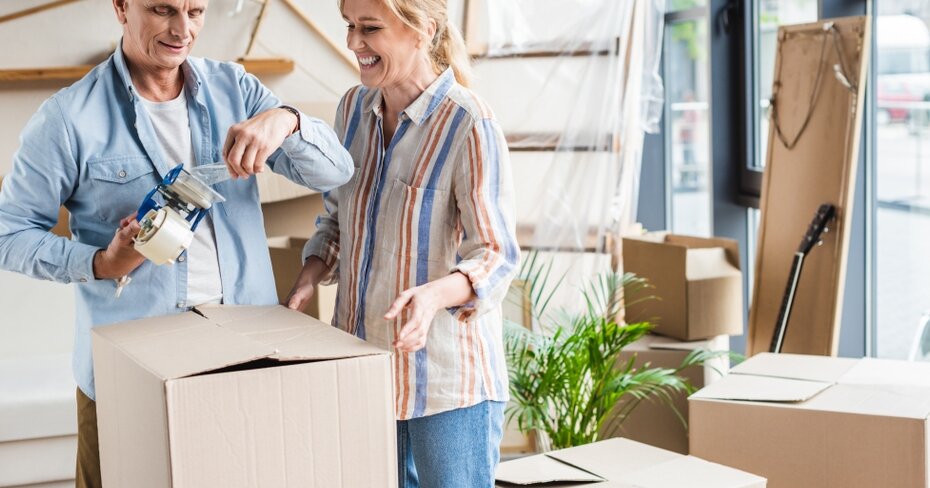 The road to homebuying has been rocky for many Ontario residents, to say the least — and it's not looking any smoother in the future.
According to the Canadian Real Estate Association, the average residential price of a home in Ontario in April was $875,553. That's a decrease of 7.7% since the same time last year — but still well above what they were before the pandemic. In July 2022, we polled Canadians who were either planning on moving or had moved in the last year. In that survey, 35.6% of respondents had purchased a home in the previous year.
This year, only 24.13% of respondents purchased a home.
After over a year of successive interest rate increases by the Bank of Canada (BoC) to tame soaring inflation — not to mention soaring inflation itself — is it any surprise that purchases are slightly down from last year?
As the housing market continues swinging chaotically between 'toasty' and 'scorching', some people are successfully timing the market, while others are staying out of the heat altogether.
That being said, time waits for no man – and the reasons why people decide to move are very different now than they were a year ago.
6.8% of respondents downsized to a new home; fewer people upsized in 2023 than in 2022
Comparing moving trends between 2022 and 2023, the data found that fewer people were upgrading to larger homes than the previous year. In fact, respondents were more likely to report having downsized rather than upsized.
Some sizing down
In 2022, 10% of respondents had downsized to a smaller home, while in 2023, 6.8% did.

In 2022, 30% purchased a larger home, and in 2023, only 23% did.
Rising interest rates and higher inflation have drove some homeowners to keep their life costs low by holding onto their homes or downsizing to a smaller place.
"There may be some people who have been impacted by job changes, fear of mortgage costs, things like that," says Leah Zlatkin, mortgage broker and LowestRates.ca expert. 
When it comes to moving into a smaller home, a few people even took the opportunity to cash in. 
"As the population ages, there are a lot of people who don't want to do the upkeep on a larger home or who don't want a home that has two floors," she says.
Meanwhile, house prices are finally on the rise, promising a handsome payout for anyone willing — or waiting — to give up their family home.
"Supply of housing is very low right now, which means it's become more of a seller's market," adds Zlatkin. "If you were an older Canadian waiting to downsize, now would be the right time to sell."
Nearly half of people who moved went to a different town
The people who bought a new home this year were more likely to have moved to a different city or town this year, even if their move was still within the same province.
More moving further
In 2022, 61% of people who moved stayed in the same town or city, while in 2023, only 52% stayed in the same town or city.

In 2022, only 36% of people who moved to a different town or city within the same province and 4% moved to a different province. In 2023, 43% moved to a different town or city in the same province, and 5% moved to a different province altogether.
The emergence of hybrid and remote workplaces means that more people within the workplace are no longer geographically tied to their jobs. That shakes out in our survey, which revealed that 7% more people moved to different cities within their province while 1% more people moved to different provinces this year than last year.
Moreover, these results reflect changing priorities among people of a certain age — namely parents of young children and people planning to have children soon.
In her own line of work, Zlatkin has seen a slow migration out west to Alberta, where, she says, the cost of living is lower, and the lifestyle is a little more affordable.
"There's a shift between dedicating your life around where your job is," she says, "to, 'My job is just here to fund my lifestyle, and my lifestyle is where I'm enjoying myself. I'm in nature and my kids get to grow up in an environment where we're not schlepping an hour and a half in the car every day.'"
People are largely staying put this year
While some people downsized to take advantage of a seller's market, and some fled to greener pastures, the one-two punch of inflation and higher interest rates have slowed others down — particularly those concerned about finding and affording a home in the first place.
Overall, fewer people reported to have moved this year than last year, while plans to buy a home have only slightly inched upwards.
Most sitting pretty
In 2022, 14% of respondents bought their first home; in 2023, only 11% of respondents did. 

In 2022, 22% existing homeowners purchased new homes; in 2023, only 14% homeowners purchased new homes

In 2022, 8% of people were planning on purchasing their first home, while in 2023, 12% were planning on purchasing their first home.
People who had been considering buying a new home may be weighing their options right now.
"People might be thinking, 'Oh wait, interest rates are going up, my costs are going up. Is right now the best time for us to be incurring additional cost when there's a lot of volatility in the rate environment?'" she says. "People might be convinced to stay a little longer and wait it out."
And as for the uptick in people planning to buy? It may just be optimism building from people on the sidelines watching interest rates finally stabilize — though, Zlatkin says, with speculation of further hikes to come, that optimism may prove to be sadly short-lived.
"Right now, there's very low supply and extremely pent-up demand," says Zlatkin. "But once rate changes start happening, that may cool things a little bit more. If we have a recession in the summer, that may cool things faster."
Regardless of whether you're planning on buying your first home, planning to move homes, or waiting for a better time to move, finding a good mortgage rate should be a top priority. Comparing Ontario's lowest mortgage rates will help get you closer to finding the home that's best for you and your family — wherever, and whatever that might be.
*Survey conducted by LowestRates.ca, polling 862 Ontario homeowners between May 8 and 11 who used LowestRates.ca's mortgage quoter. 
**An earlier draft of this report incorrectly stated that 28% of respondents downsized to a smaller home in 2023. In fact, 28% of respondents said they were moving to afford a home; 6.8% downsized to a smaller home​