REPORT: These are the most popular vehicle body styles among each generation
By: Zandile Chiwanza on

August 4, 2021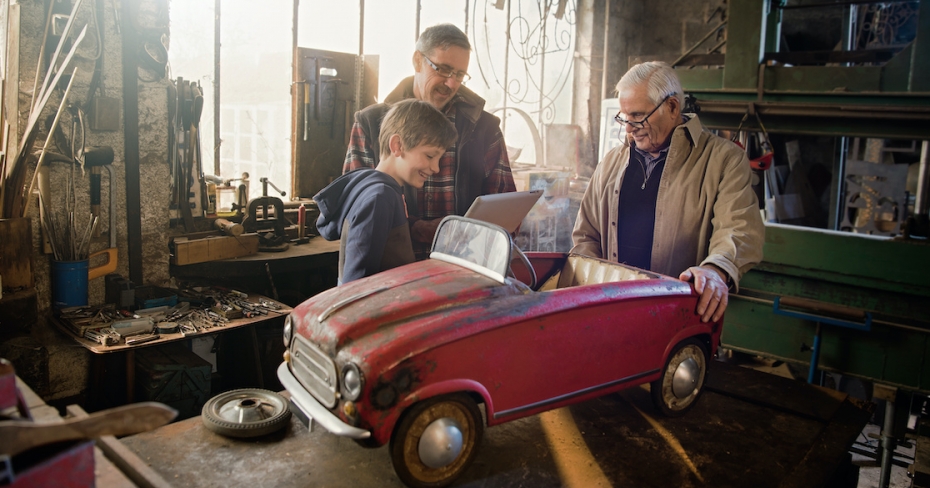 Key findings
Due to the pandemic-induced renovation boom, pickup truck popularity on Carpages.ca has risen across all generations, and was the top choice for Gen X and Baby Boomers at the beginning of 2021.
Sedans consistently rank as the number-one choice among Gen Z and Millennials; however their popularity is slowing among older generations.
Minivans are less expensive to insure and purchase, but it doesn't make them the most popular body style.
In partnership with Carpages.ca, we sought to find out the most popular vehicle body styles among each generation — Baby Boomers, Gen X, Millennials, and Gen Z — on the Carpages.ca website during the last year (Q1 2020 to Q1 2021).
Vehicle body style refers to the category a vehicle falls under (e.g. SUV, pickup truck, crossover, sedan, coupe, etc.) and popularity refers to the percentage of online views each body style received among each generation.
Pickup truck interest rises consistently across all generations
Months into being cooped up inside their homes due to lockdown restrictions, many Canadians decided it was time to make some changes to the inside of their same four walls, which led to a surge in home repairs and renovations.
Coincidentally, Carpages.ca, one of Canada's leading car shopping websites, saw a rise in popularity for pickup trucks across all generations, but particularly among Baby Boomers and Gen X. 
In Q1 of 2020, pickup trucks featured fourth on the list for Baby Boomers. By Q4, however, pickup trucks were number one — a spot they continued to hang onto throughout Q1 of 2021, too. Similarly, pickup trucks for Gen X, which ranked third up until the fourth quarter of 2020, ranked as that generation's top choice by the first quarter of this year.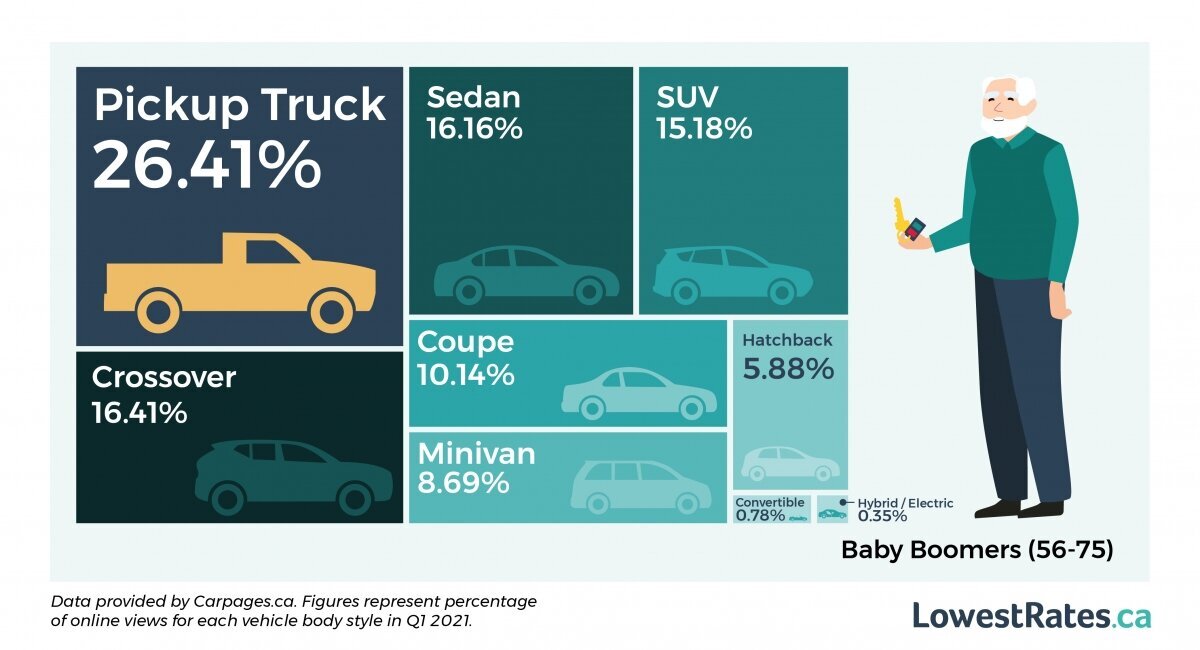 "My suspicion is that with all the home renovations that people have been doing, pickup trucks are extremely handy," says Ben Mirecki, president of Carpages.ca. "It's the most practical vehicle you can have if you're trying to go to Home Depot and buy lumber every weekend."
By default, Mirecki says other larger body styles, like SUVs and crossovers, also saw a bump in popularity on Carpages.ca throughout the last year. Among Gen X, for instance, the SUV held the number-one spot for the first two quarters of 2020. By the third quarter, the sedan had taken over the top spot. And come the final quarter of 2020, the pickup truck had received the highest percentage of views from Gen Xers, and this trend continued into the first quarter of 2021.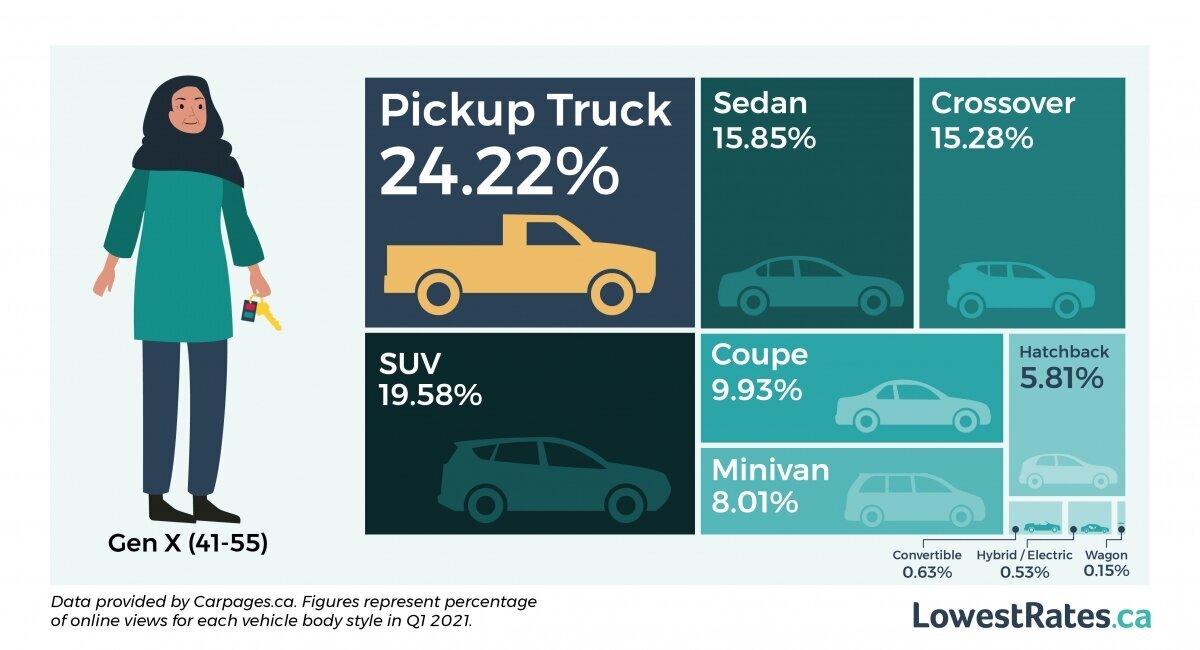 This growth could be chalked up to technology improvements in those vehicles, as well as a result of improved fuel efficiency in these bigger body styles, which are notoriously known for being gas guzzlers.
"The fuel efficiency of pickup trucks and SUVs has become much, much better over the past decade," says Mirecki. "They weren't very economical [before]. That's changed a lot. A lot of larger engines now in pickup trucks, for example, have technology where engine cylinders will shut off when you're on the highway."
Because of the considerably more efficient engine technology, these vehicle styles are not as expensive to operate as they once were.
Sedan popularity solid among younger generations, slowing among Baby Boomers
Baby Boomers had their eyes on the sedan for the first three quarters of 2020 when it held the top spot before eventually giving way to the pickup truck in the final quarter.
For younger generations, however, the sedan has remained top of mind. Throughout all of 2020 and into the first quarter of this year, the sedan has continued to rank as the top vehicle body style among Gen Z and Millennials. 
Considering where many Millennials and Gen Z drivers are at in life — single, childless, first-time homebuyers — the appeal of one of the most popular body styles makes sense.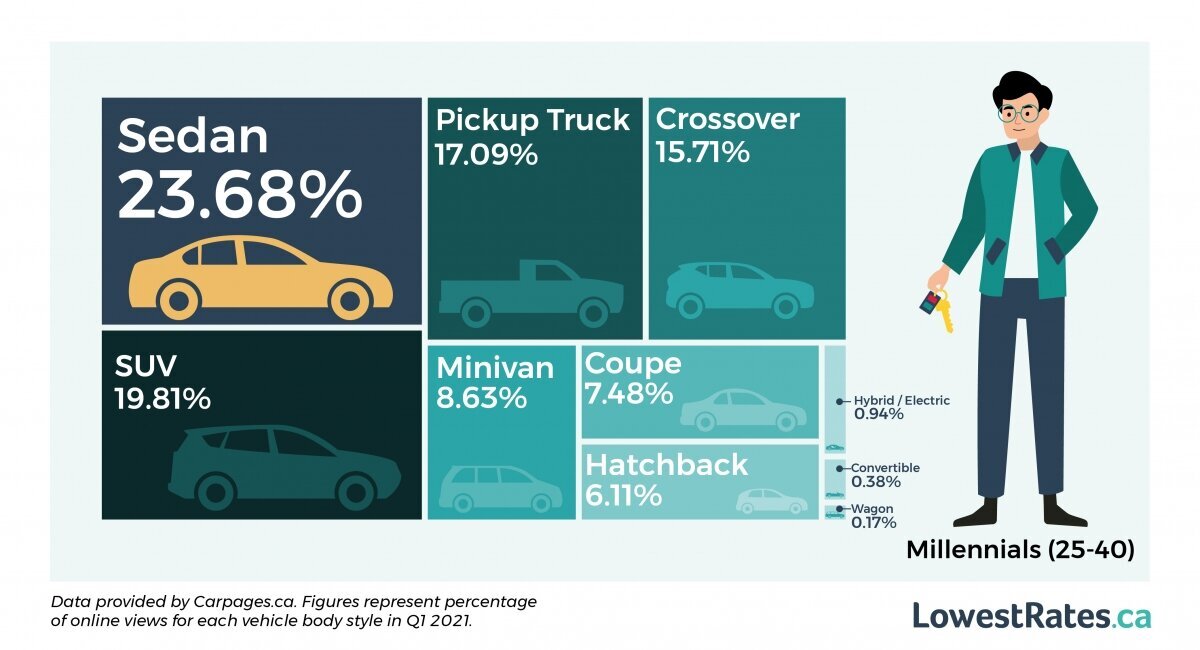 Many younger folks have been priced out of big-city housing markets and have moved to the suburbs or smaller towns to buy — and they need a car to move. According to Mirecki, this car is popular among all young drivers but particularly first-time homebuyers, who tend to be young professionals starting families simultaneously. 
"It's always the number one vehicle category for Millennials," says Mirecki. And there are a few reasons why.
The first is price. "There are a lot of low-priced sedans on the market," says Mirecki. According to Carpages.ca data, used sedans start at $1,500 and can range up to $20,000, depending on mileage, make, and features.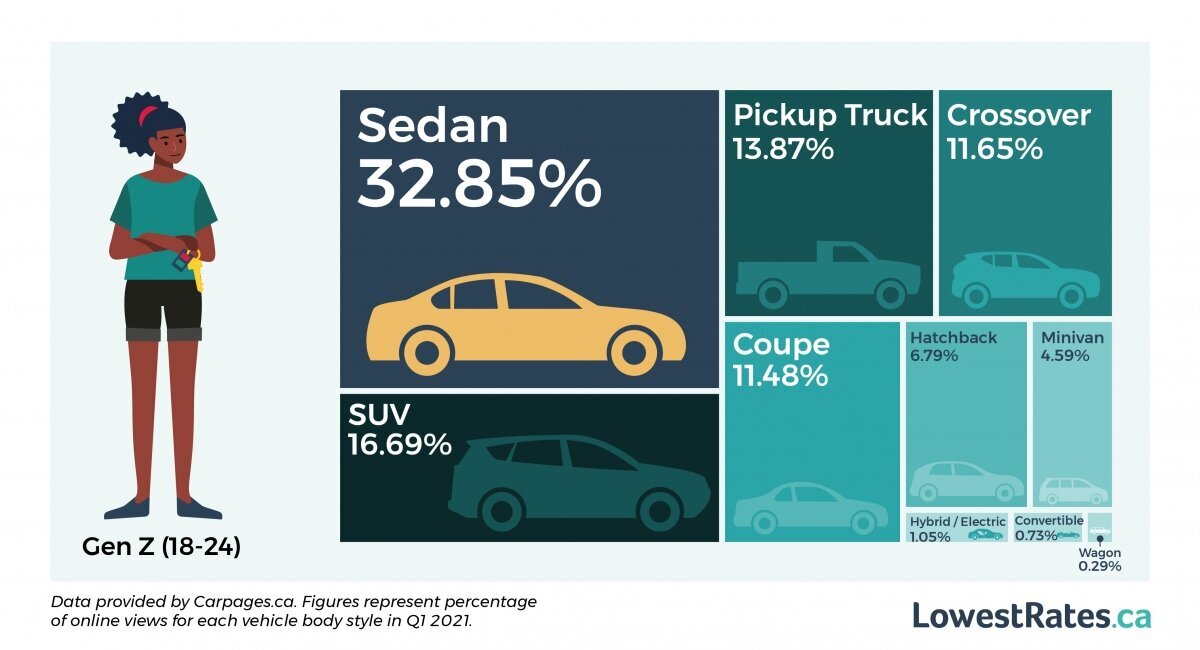 And the second reason is space. Millennials tend to buy sedans consistently because they're smaller vehicles. Generally speaking, if you're a younger, single person who doesn't have a family, you don't need something much bigger than the size of a sedan. 
"So between the low price and the adequate space, it tends to be a popular choice for younger generations," says Mirecki. "It's also easier to park and maneuver. A minivan is an option, too, but some people just don't need the space."
Minivans surprisingly in the top 10 among all generations 
Minivans may not be the most popular vehicle style these days, but they indeed hold a special place in Canadians' hearts. They continued to make an appearance in the top 10 vehicle style preferences across all generations over the five quarters we analyzed data for.
"Minivans will never die," says Mirecki. "If you look at where minivans rank, they're never the most popular vehicle category. But they're also never the least."
According to Carpages.ca data, minivan popularity nearly doubled among Gen Z from Q1 2020 to Q1 2021. The percentage of online views the minivan got from Gen Z drivers rose from 2.61% to 4.59% in that timeframe.
Younger Canadians' interest in driving minivans could be because they are consistently among the cheapest body styles to insure. According to LowestRates.ca data, the Dodge Grand Caravan ranked among the 10 cheapest cars to insure in Canada this year.
Minivans will never go completely out of style, Mirecki says, because there will always be a part of the population that requires additional seating, storage, or both. That doesn't necessarily translate to popularity when compared to other spacious vehicle styles like SUVs, but Mirecki says minivans are typically popular for families or people who carpool because they have more space than what an SUV or a car would offer. 
They're also popular on the second-hand market and often passed down from generation to generation. So although it's not at the top of any lists, minivans remain a reliable vehicle that won't be disappearing any time soon. 
Hybrid vehicle adoption low across all generations
Hybrid and electric vehicles consistently ranked in the bottom three vehicle styles across all generations from Q1 2020 to Q1 2021. Mirecki suspects this is because of their price point.

"It's seen as a premium option," he says. "Teslas or similar brands at the same price point for those vehicles are higher than a regular gas-powered vehicle."
Electric and hybrid vehicles tend to cost about $15,000 or more to purchase than gas-powered vehicles, and government incentives have deteriorated in recent years.
This didn't seem to deter LowestRates.ca users from obtaining insurance quotes on these vehicles earlier this year, though. We actually saw a 146% year-over-year surge in the number of quotes for EVs on our site in March, though it's unclear which age group was driving that increase.

While there's been a lot of innovation with electric and hybrid vehicles, the environmental benefits of owning one are becoming clearer, and infrastructure is becoming less of a barrier, it's still a new technology.

"People just aren't as familiar with them," says Mirecki, especially the older generations. 
"They probably have more questions," he says. "Gas-powered engines have been around for more than 100 years. People understand them, there's a lot of mechanics that work on them, and the parts are fairly cheap."
How vehicle body style impacts car insurance rates
Popularity might be one thing, but how does vehicle body style play a role in determining one's car insurance rates?
"Vehicles are constantly assessed and evaluated," says Sara Caruana, service team leader for DirectRate.ca. "The model, year, and sometimes the body of the vehicle will impact how much you pay."
For example, a sedan is likely to cost more to insure than an SUV or a hatchback because the chances of it sustaining significant damage in a collision are higher. 
"In the unfortunate event of an accident, the body of the smaller car is more easily damaged," Caruana explains. "Cars that are larger are more likely to be safer."
Vehicles with smaller bodies that are easily damaged also means the risk of bodily injury could be higher, too. That then increases the likelihood of making a claim, which also plays a part in higher premiums because, as Caruana explains, "the chances of someone submitting a claim are higher if the driver or passengers are hurt."
Theft rates for different vehicle body styles
Certain vehicle body styles can also be more prone to theft, which can also spell higher insurance rates.
Take the pickup truck for example. A growing fan-favourite among older generations, but also more likely to be stolen (especially older models), according to The Insurance Bureau of Canada's annual list of Top 10 Stolen Vehicles. When a car is a favourite amongst thieves, it is riskier to insure, and therefore more expensive to insure. According to Canadian Underwriter, Ford trucks in particular frequently make IBC's annual list because they lack electronic vehicle immobilizers, which prevent hot-wiring.
That said, if you happen to prefer a car that is more likely to be stolen, it's still possible to find good insurance prices by shopping the market and comparing rates from different providers. You can also call your insurance broker or agent to see if you qualify for any discounts.
Methodology
Carpages.ca reviewed site data spanning from Q1 2020 to Q1 2021 (inclusive) to see which vehicle body styles received the most views on its website among each generation. When pulling its data, Carpages.ca classified the generations according to recent definitions from the Pew Research Center. These age ranges could fluctuate slightly since there are different definitions of when certain generations start and end:
Baby Boomers: those ages 56-75 in 2020-21
Gen X: those ages 41-55 in 2020-21
Millennials: those ages 25-40 in 2020-21
Gen Z: those ages 18-24 in 2020-21 (representing only those who would have their full G licence. Carpages.ca analytics only accounts for those 18+)