These are the top 10 worst highway bottlenecks in Canada
By: Rebecca Lee on

January 11, 2017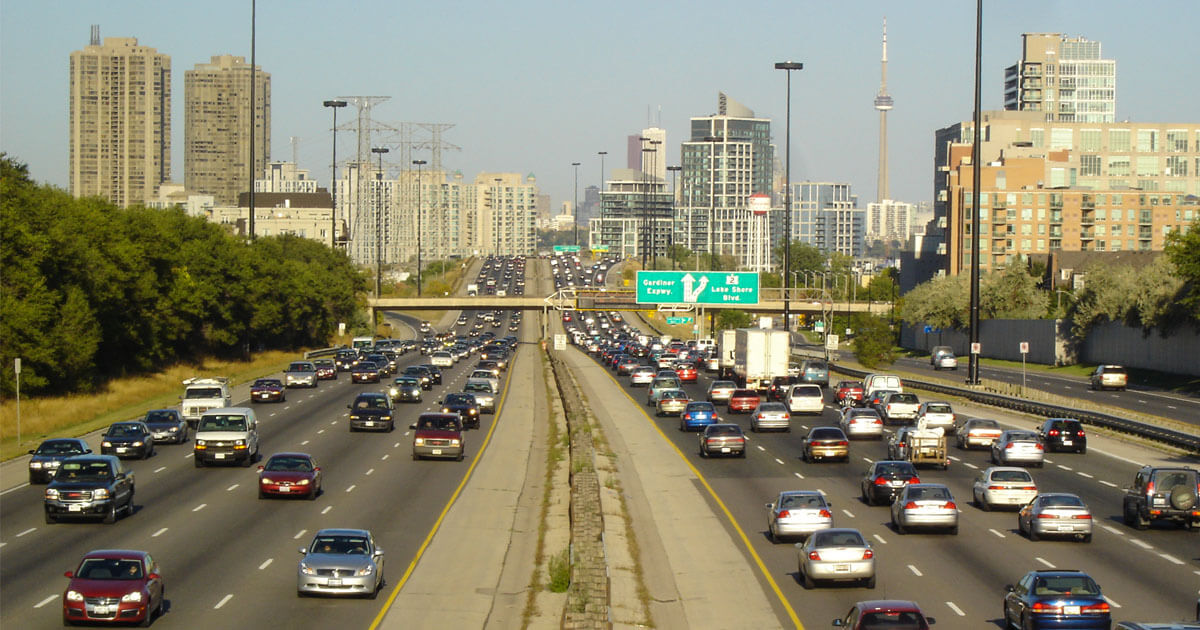 Every driver has an opinion about which roads in Canada have the worst traffic.
Well, the Canadian Automobile Association has some answers. The CAA measured and analyzed the volume and speed data of select highways in cities to give us a definitive ranking of the absolute worst highway bottlenecks in Canada.
The worst? That goes to Toronto's stretch of Highway 401, between Highway 427 and Yonge Street.
Four other Toronto stretches also made it onto the CAA's list. Sections of the Don Valley Parkway and Gardiner Expressway, the commuter highways where Mayor John Tory wants to add a toll, both topped the list for terrible congestion.
The other cities with the longest and most expensive traffic delays? Montreal, earning the third, fifth, and eighth spots. Vancouver rounded out the list in ninth and tenth place.
And as it turns out, our worst bottlenecks are up there with those in the U.S., including those in New York, Boston, and Los Angeles. For example, in a combined look at North America's worst highways for congestion, Toronto's 401 stretch is still in the top 10.  
This study is the first of its kind in Canada. As the CAA explains, the study "identifies and compares congestion levels on specific stretches of highway across Canada" –– in other words, the bottlenecks that drivers know (and hate) all too well. Similar studies have only ever analyzed these highways in broader contexts.
It's also important to note that the highways included in the CAA's study are those that are "routinely and consistently congested throughout the course of a weekday" — not areas that are only hectic during rush hour, for example.
Here's the CAA's full list of the 10 worst highway bottlenecks in Canada. Notice a highway from your commute on the list?
The 10 worst highway bottlenecks in Canada
Rank
CMA (Census Metropolitan Area)
Location
Length (km)
Annual
total delay ('000 hrs)
Annual
delay cost (CAD
millions)
1
Toronto
Hwy 401 between Hwy 427 & Yonge St
15.3
3,218
82.28
2
Toronto
DVP/404 between Don Mills Rd & Finch Ave
10.5
2,174
55.51
3
Montreal
Hwy 40 between Blvd Pie-IX and Hwy 520
10.6
1,956
45.60
4
Toronto
Gardiner Expy between S Kingsway & Bay St
7.4
1,076
27.51
5
Montreal
Hwy 15 between Hwy 40 & Chemin de la CôteSaint-Luc
3.9
812
18.93
6
Toronto
Hwy 401 between Bayview Ave & Don Mills Rd
3.3
485
12.40
7
Toronto
Hwy 409 between Hwy 401 and Kipling Ave
1.6
274
6.99
8
Montreal
Hwy 25 between Ave Souligny & Rue Beaubien E
2.1
259
6.04
9
Vancouver
Granville St at SW Marine Dr
1.6
245
6.08
10
Vancouver
W Georgia St between Seymour St & W Pender St
1.2
149
3.70
Source: CPCS analysis of data provided by HERE and provincial/local departments of transportation.