Alberta car loans made easy
Most Albertans need a vehicle to get through the workweek, buy groceries and take the kids to school. At LowestRates.ca we understand that, which is why we provide a fast, reliable, easy to use car loan service.
We work with all Alberta drivers, regardless of your credit score. Whether you live in Calgary, Edmonton, Fort McMurray or anywhere else in the province, we'll match you up with a dealer who can get you financing.

Fast
Applying only takes a few minutes.

98% approval
Got bad credit or no credit at all? Don't sweat it.

Large loans available
Our auto loans range from $5,000 to $40,000.

Discreet
Your info only goes to the dealer we match you with.
Free
There's no charge to use our car loan service.

Fair interest rates
Our auto loan rates in Alberta are market-competitive.
I live outside of a major city — is it still possible to get a car loan through LowestRates.ca?
Yes. Our car loan service extends well beyond the big cities in Alberta. You can get a car loan in Edmonton or in Calgary, but you can also get a loan in smaller areas, like Grande Prairie or Lethbridge. Just complete the application process and one of our partners will reach out within 48 hours.
I lost my job in the energy sector and ruined my credit. Can I still get a car loan?
You'll definitely be able to get a car loan through our site if you've found new employment. We know that many Alberta drivers have been hurt by the weak economy but still need a vehicle to get to work and run errands. We encourage you to apply — even if your credit history is damaged.
What taxes apply when buying a car in Alberta?
You'll have to pay a 5% (GST) sales tax when you buy your car. Alberta drivers pay the lowest sales tax in Canada.
How is the interest rate calculated on the auto loan?
Our auto loan rates in Alberta get set by the lender providing the financing. Most of the time, those rates are based on your financial profile (employment, monthly income, etc.) and the size of your loan.
Is the bad Alberta economy affecting vehicle financing?
Although the recession in Alberta is hurting overall vehicle sales (new car sales have declined 6% in 2016), it's still easy to get a car loan in the province if you're employed.
How will my monthly payment be calculated?
You car loan payment is determined by the size of your loan, the length of your loan, and the interest rate your lender is charging.
Here's what your monthly payments would look like over different lengths of time if you took out a $9,000 car loan at 8% interest: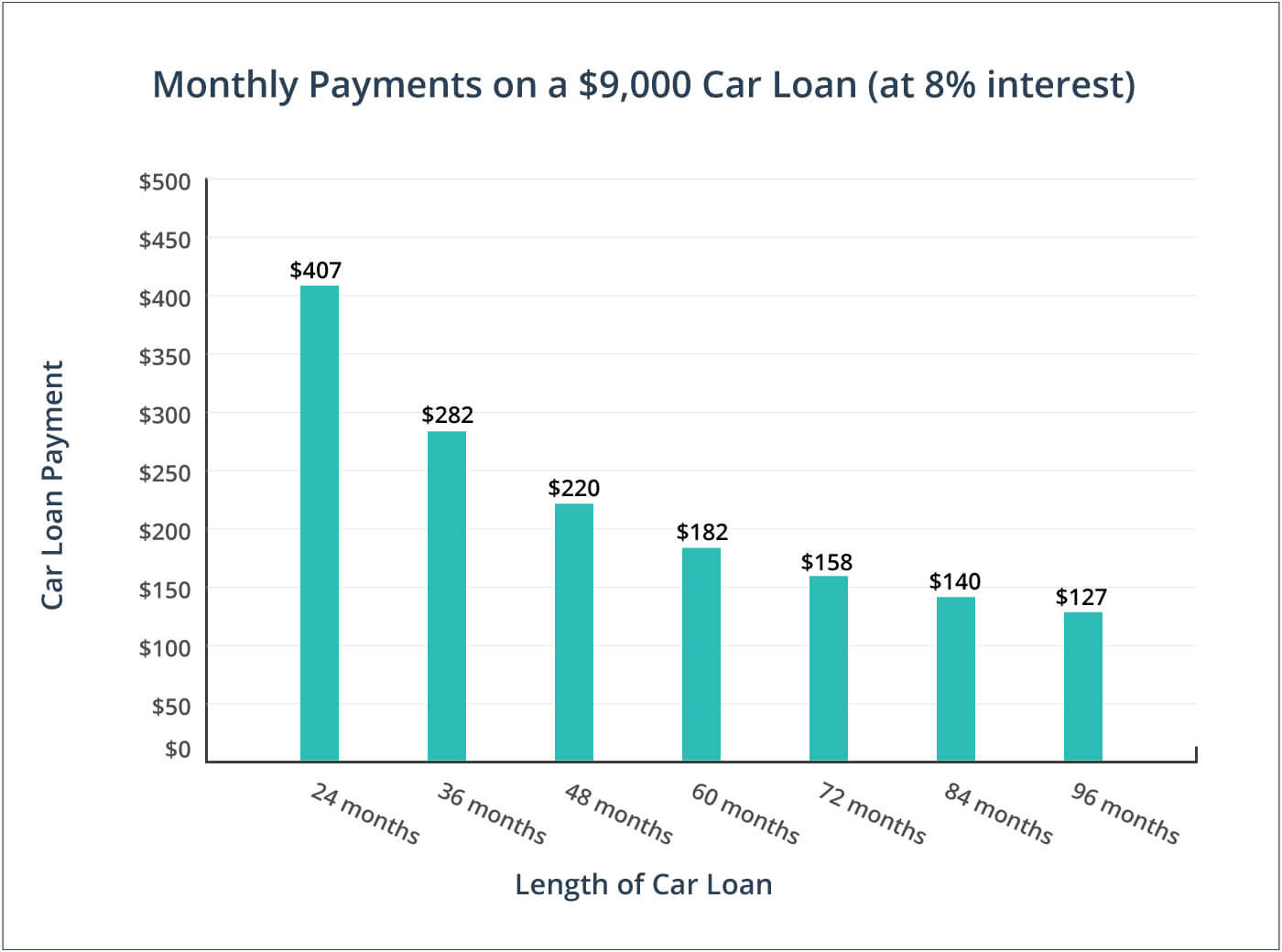 Know a vehicle's history before you buy
You can purchase a Vehicle Information Report from your local registry agent. These reports include important details about the car, including registration history in Alberta, official odometer readings, and any liens placed on the vehicle.
Choose a shorter car loan
If you can afford it, choose a car loan with a shorter term. Your monthly payments will be higher, but the amount of interest you'll pay on the loan will be lower. In the end, you'll end up paying a lot less for your vehicle if you take a shorter loan.
Buy from a licensed Alberta dealer
Dealers are licensed through the Alberta Motor Vehicle Industry Council, the province's auto industry watchdog. Licensed dealers are required to follow specific guidelines that help protect Alberta car buyers.
Understand the costs
Understand how much the vehicle you're interested in will actually cost you over time. Consider sales tax, financing costs, insurance, gas mileage, and maintenance.
Alberta car loan myths
It's better to purchase a vehicle from a private seller rather than a dealer. False. In Alberta, licensed dealers must conform to the Alberta Motor Vehicle Industry Council regulations that have been put in place to protect customers.
Licensed dealers can add extra fees and costs on top of the advertised price of a vehicle. False. Licensed dealers in Alberta must advertise all-in pricing on their cars, with two notable exceptions: sales tax (GST) and any costs associated with financing.
Dealers in Alberta can advertise vehicles for sale that are not actually available on the lot in order to attract new business. False. According to the Alberta Motor Vehicle Industry Council, any vehicle that is advertised must be available for purchase at the time the ad was published.
The rules and regulations that protect new car buyers are not the same for used cars. False. In Alberta, a licensed dealer must offer you the same services and information for new and used vehicles.
Fun facts
Vehicles purchased outside of Alberta must pass an Out of Province Vehicle Inspection during the registration process.
The 'all-in pricing' regulations set out by the Alberta Motor Vehicle Industry Council apply to both new and used cars in Alberta.
Alberta's low sales tax of 5% means you will only pay $1,000 in tax on a vehicle that costs $20,000.
The delinquency rate on Alberta car loans and leases has spiked in 2016, but is still below levels seen in some other provinces.