Compare the best small business loan interest rates online.
Get approved for a business loan.
Small business loans: What you need to know.
Small businesses make up a huge portion of the Canadian economy. Close to 98% of businesses in Canada are classified as small businesses and workplaces with four employees or less make up 54% of Canadian businesses. But running a small business isn't easy, which is why many entrepreneurs in Canada turn to small business loans to start or grow their operations.
Keep reading to learn more about when entrepreneurs should consider a loan, whether you're eligible for a small business loan in Canada, and how to apply. If you're actively looking for financing, fill out the form above to start the approval process.
Am I eligible for a small business loan?
Eligibility for small business loans depends on the business, the borrower, and the lender. Depending on where you go for financing, the eligibility requirements might differ. That's why it's so important to compare small business loans online. One small business loan provider may favour you more than another lender. Keep reading for more information about where you can get a small business loan in Canada and how to get approved.
Where can I get a small business loan in Canada?
When searching for financing for your small business in Canada, it can be difficult to know where to start. From traditional lenders to government loans to alternative lenders like credit unions, a wide range of companies provide small business loans to entrepreneurs. Finding the right loan for your business can feel like searching for a needle in a haystack. Here's a list of places to start when researching small business lending options:
Traditional banks: The first place many entrepreneurs will turn to finance their small business is a bank loan. Depending on the size and credit history of your business, however, it may be difficult for small business owners to secure a loan through the bank.
Government loans: Small business owners can apply for loans through various levels of government. At the federal level, for instance, small businesses or startups with $10 million in annual operating revenue or less are eligible to apply for a loan through the Canadian Small Business Financing Program. All three levels of government in Canada provide small business loans of some variety, though they may offer different amounts and may have different eligibility criteria.
In 2020, the federal government also launched the Canada Emergency Business Account, which provides up to $40,000 interest-free loans for small businesses in Canada. Small business owners must apply for this benefit through their financial institution.
Microloans: Microloans are a lesser-known type of small business lending in Canada are often offered by companies to other businesses that can't afford, or are ineligible for, a traditional business loan. Very small businesses or startups may find themselves in this position. Some organizations that provide microfinancing include Western Economic Diversification Canada, Seed Capital Initiative in Atlantic Canada and The Social Innovation Zone in Ontario
Community loan funds: Banks aren't your only options. Many non-profits also offer small business funding to entrepreneurs who may not be eligible for a bank loan. One example is Futurpreneur Canada, a national non-profit organization dedicated to funding small businesses. It's important to keep in mind that interest rates may be higher if you go with this option.
Online lenders: Many small business owners turn to online lenders for financing. This can be a good option if you're not quite eligible for a loan from one of the institutions listed above. While online lenders are known for approving small business loans quickly, they may also charge higher rates.
How many types of small business loans are there?
As a small business owner, there are a number of different types of loans you can apply for.
Here's a comparison of the small business loan options available to you:
Personal loans: If your business has a short operating history, a personal loan might be the ideal way to fund your business. This is the kind of loan LowestRates.ca can help you get. Within this category, there are two types of small business loans you can apply for.
Personal loans for business — In some cases, it may be possible to apply for a personal loan to use for your small business. This option is common among early-stage founders who have just launched their own company and have limited operating history, as well as sole proprietors (such as freelance writers, artists, bookkeepers, or home based business owners).
Using a personal loan for your small business means that your personal finances will impact your chances of approval. This means that for applicants with bad credit, a small business loan may be hard to come by.
Lastly, if you choose to use a personal loan to fund your small business, the debt will be secured through your own personal assets. This means your house and your car. While this can be a little daunting, a personal loan can be a good option for small businesses with limited fixed assets, such as an internet business. Fixed assets usually refer to real estate or equipment.
Business credit card — When a company is in its early stages, it may be harder to qualify for a business loan. This is why some entrepreneurs choose to use a credit card to cover these expenses. This is one of the easiest forms of credit to access, and might be a good option for a limited time. However, there are some risks to taking this approach. You may wind up paying a higher interest rate on this loan than you would on a commercial loan.
Some entrepreneurs choose to use a credit card to cover expenses in the early stages of their business. While this may be one of the easiest forms of credit to access, there are risks to this approach. For instance, you may wind up paying higher interest rates than you would for a personal loan and your individual credit score could be impacted if your business falls on hard times.
Commercial loans for small businesses: Founders whose businesses are large enough to qualify may apply for a business loan rather than a personal loan. This means that the debt is insured through the businesses' assets, building, equipment, and accounts receivables, for example.
Line of credit— A line of credit allows founders to borrow as much as they need whenever they want, up to a predetermined amount. A line of credit is secured by inventory and the company's accounts receivables. Banks can demand full repayment at any time.
Term business loan — Term loans are often designed to be given to the borrower in one lump sum and then repaid at regular (usually monthly) installments over a predetermined period. Term loans are usually used to finance fixed assets, such as commercial real estate, machinery, or equipment.
Working capital loan — Where a term loan deals with long-held assets, a working capital loan deals with the day-to-day function of the business. This type of loan can be used to fund the daily operations of the company, from inventory purchasing, to marketing, to producing web content about small business loans.
How to apply for a small business loan in Canada?
Regardless of how you choose to finance your small business, there are a few steps you should take to increase your chances of being approved and of getting the best rate possible. Keep reading to learn how to get a small business loan in Canada.
Prepare a business plan and financial projections — The best way to prove to your lender that your business is a safe bet is to prepare a business plan, including statistics and data, to demonstrate that your project is low risk. Your business plan should include financial projections for a few years out along with your estimated cash flow and total revenue. Lastly, you should include anything you've personally invested into the business and collateral for the loan should you default.
Check your credit history — Your credit history, any previous bankruptcies, and your debt repayment history may factor into how lender view your loan application today. You can improve your credit score by paying your bills on time, keeping your credit use rates low, separating business and personal finances where possible, and avoiding debt collection and bankruptcy.
Shop around — Different banks, government agencies and alternative lenders offer a range of loan products and it's important to read the fine print. LowestRates.ca can help streamline the process for founders applying for personal loans by comparing a number of different offers in just a few minutes. Furthermore, in order to make sure you're getting the best rate on your small business loan, it's important to compare the market.
Your questions about small business loans, answered.
What can I use a small business loan for?
Founders consider small business loans at all stages of their businesses' development and for a variety of reasons. Here are some things you can use a small business loan to fund:
Refinancing, paying suppliers or other outstanding debts
Cashflow
Equipment, such as commercial vehicles, computers or software
Hiring
Advertising or marketing
Inventory (unless you're applying for the Canadian Small Business Financing Program with the federal government)
Expansion
Rent or commercial real estate
What are the pros and cons of a small business loan?
Personal loan for a small business:
Advantages:
A personal loan can be a cheaper way to borrow than a business loan. Interest rates on small business loans in Canada can be higher than on a personal line of credit.
A personal loan can be quicker to obtain than a business loan.
If you have a good credit score, a personal loan can be easier to access.
Disadvantages:
A personal loan means you're not building commercial credit. This might make it harder to take out a larger commercial loan under your business' name in the future.
Lending limits for personal loans tend to be lower than business loans.
Personal liability. This means that you're accountable for the amount borrowed with your personal assets.
Commercial small business loan:
Advantages:
Building commercial credit.
Keeping business and personal finances separate can help keep you organized, especially when tax season comes around.
Lending limits on a business loan are usually higher.
Disadvantages:
You'll likely need to incorporate to qualify for a business loan. Some lenders can provide business loans to sole proprietors, but this is less common.
Longer wait time for approval.
Small businesses that were launched recently can have a hard time meeting the requirements for a small business loan due to a lack of operating history or revenue.
How much money can I get with a small business loan?
Most small business loan calculators in Canada will attempt to estimate what funding you might need based on the scope of the project you're proposing. However, these estimates are actually less accurate. Fill out our form to be put in touch with a lender that understands what you need and might anticipate extra costs that you never thought of.
Can I get a small business loan on LowestRates.ca?
If you're an entrepreneur and you're looking to fund the growth of your company with a small business loan, you've come to the right place. LowestRates.ca can get you started on the path to loan approval in no time.
How else can I finance my small business?
Grants: In addition to small-business financing, governments and non-profits also offer many startup loans for small businesses.
Venture capital: This kind of financing exists specifically to fund promising startup companies. A VC firm purchases a stake in an early-stage company and then provides funding to turn that venture into a profitable business.
Angel investors: These are wealthy individuals who directly invest in early-stage companies. In addition, they'll often offer guidance and expertise.
Friends and family: Who could be more eager to finance your venture than those who love you most? Many early-stage founders approach friends and family for funding before ever applying for a traditional loan.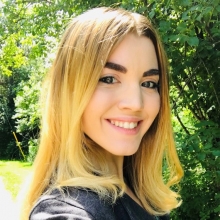 Jessica Vomiero
About the Author
Jessica is the former Associate Editor for LowestRates.ca. Before joining the team, Jessica worked as a National Online Journalist with Globalnews.ca and previously spearheaded the launch of the Business Section at one of Canada's largest technology websites, MobileSyrup.