Calgary car loans made easy
Alberta's largest city is also a place where almost everyone drives — and they need a reliable vehicle to do it. That's where our popular car loan service comes in: we help Calgary drivers get the financing they need to buy a vehicle, even if they have bad credit or no credit.
Our auto loans in Calgary are easy to get, and the entire process is fair, transparent, and fast.
Just provide us with some basic information to get started (no social insurance number required), and we'll match you up with a lender or dealer in the city.

Fast
Applying only takes a few minutes.

98% approval
Bad credit or no credit? Don't sweat it.

Large loans available
Our auto loans can be up to $40,000.

Discreet
Your info only goes to the dealer we match you with.
Free
There's no charge to use our car loan service.

Fair interest rates
Our auto loan rates in Calgary are market-competitive.
I was employed in the energy sector, but I lost my job and now I have a bad credit score. Can LowestRates.ca still help me find a car loan?
Yes. The lenders and dealers in our network process bad credit car loans all the time. In fact, that's their speciality. As soon as you've found new employment we can get you a car loan.
What are the minimum requirements needed to be approved for a car loan on your site?
You must be employed, be 18 years of age or older, make $1,500 per month, have a driver's licence, and be a Canadian resident.
Is the economic slump in Calgary making it harder to get vehicle financing?
No. Car loans are still widely available to employed buyers, although some Calgarians are having trouble making their payments. Delinquency rates are rising across Alberta as the oil slump continues. Credit agency TransUnion says delinquency rates on auto loans and leases increased to 2.4% in early 2016, meaning 2.4 out of every 100 car loans and leases is 60 days or more past due.
Are car sales falling in Calgary due to the bad economy?
While new car sales have fallen in 2015 and 2016, the Calgary Motor Vehicle Association says used car sales are up as drivers search for more affordable alternatives.
What factors determine the monthly payments on my car loan?
Your loan amount, the duration of your loan (how many months), and the interest rate you're being charged will determine the size of your monthly payments.
This is what your payments would be over different periods of time on a $15,000 car loan with an interest rate of 8%: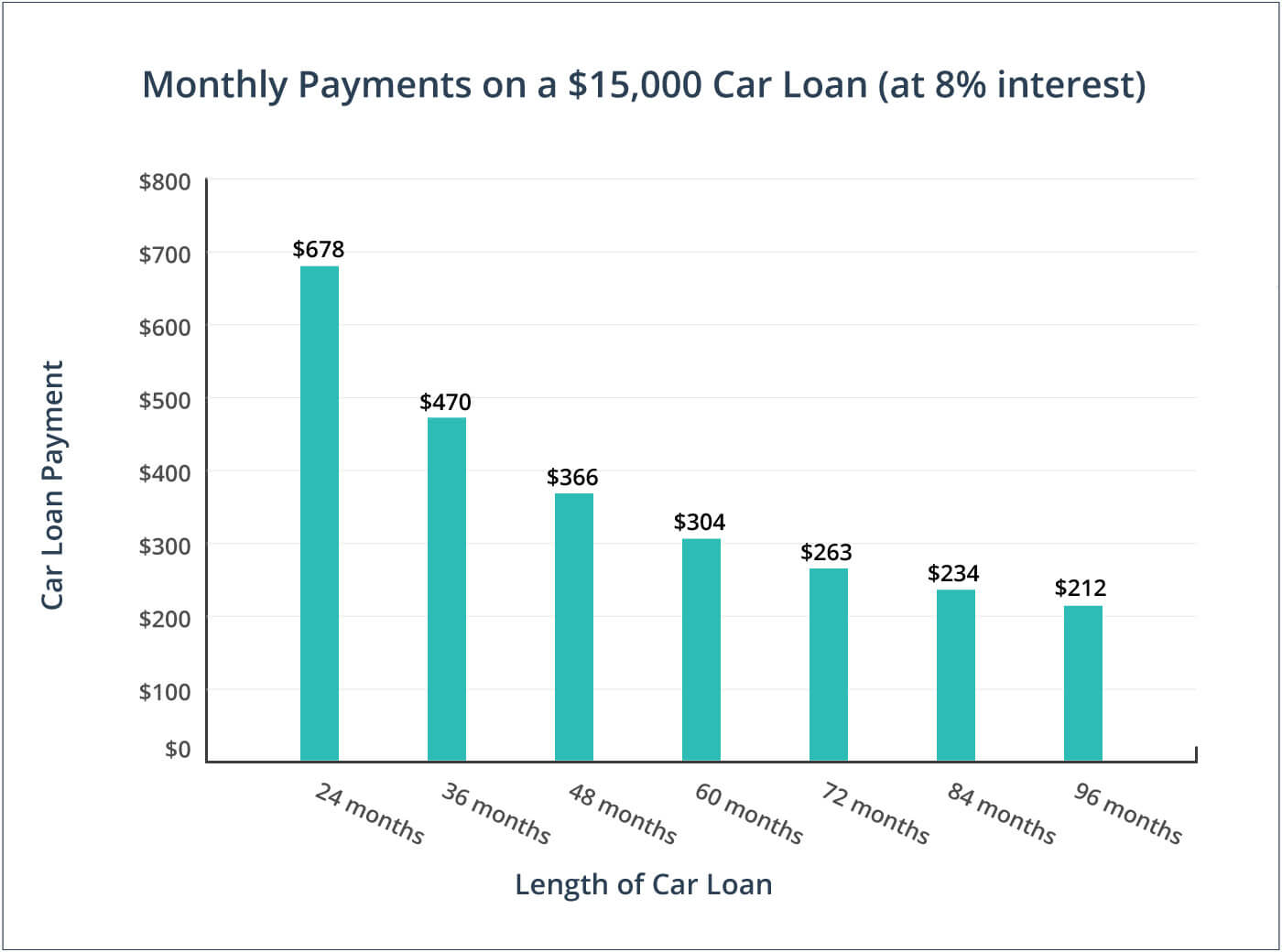 I live in a suburb and don't have access to a car. Are there any lenders or dealers near me?
Most likely. Our car loan network boasts hundreds of lenders and dealers across Canada. We operate throughout Greater Calgary, so you probably won't have to travel far to get your Alberta car loan (and your new set of wheels).
Know your budget
Secure your auto financing before you shop for a new vehicle. That way, you'll know exactly how much vehicle you can afford.
Buy from a licenced dealer
Dealers in Calgary are regulated by the Alberta Motor Vehicle Industry Council (AMVIC) and are required to follow various rules and guidelines aimed at protecting buyers.
Go for a shorter loan
Your payments will be bigger, but a short car loan will save you a significant amount of money on interest. Ask about 24, 36, or 48-month loans when you talk to your lender or dealer.
Get a Mechanical Fitness Assessment from the dealer
Licensed dealers in Calgary (and the rest of Alberta) must provide a Mechanical Fitness Assessment (MFA) before selling a vehicle. The MFA document will outline which components and parts either work or don't work. An MFA is valid for 120 days from the date of assessment.
Calgary car loan myths
Longer car loans are better because the monthly payments are lower. False. The amount of interest you will pay on a 96-month loan is much higher than it would be on a 48-month loan. You also run a higher risk of being 'underwater' on a long-term auto loan, where your vehicle is worth less than the amount you still owe.
Dealers in Calgary can advertise vehicles for sale that are not actually available. False. The AMVIC requires that any vehicles a dealer advertises must also be available on the lot at the time the ad is published.
Many used vehicle dealers won't let you go for a test drive. False. You can and you should test drive a vehicle before buying. Always insist on a test drive and try driving at various speeds and on different types of roads. Calgary test drivers should also hit a highway before they buy — Stoney Trail and the Trans-Canada Highway are both good options for driving at speed.
Bad credit auto financing is only available for economy cars. False. If you have steady employment and a high enough monthly income, you'll be approved for a loan on a nice — or maybe even luxury — car or truck. The lenders and dealers in our network provide car loans of up to $40,000.
Fun facts
The average one-way commute for Calgary drivers is 27 minutes, according to Statistics Canada. This is 2 minutes shorter than the national average.
Unless otherwise posted, the speed limit on Calgary streets in 50 km/h.
The Calgary Motor Vehicle Association reported a surge in used car sales in 2015, which was coupled with a drop in the number of new vehicles being sold.
Trucks rule in Calgary. More than half of all vehicles sold in Calgary fall into the 'light truck' category (which also includes SUVs). In the rest of Alberta, that figure is even higher.