New Brunswick car loans made easy
You just need a reliable way to get around in New Brunswick. We just want to help. That's why we made it easy for you to get the financing you need to buy a car.
Here's why drivers in New Brunswick love our car loan service:

Fast
Applying is quick, simple, and convenient.

98% approval
Bad credit or no credit? You can still get a loan.

Discreet
Only the dealer sees your info.

Large loans available
Our loans start at $5,000 and go up to $40,000.

Fair interest rates
Our auto loan rates are market-competitive.
Free
No charge. Just apply and wait for approval.
New Brunswick car loan FAQs
Does LowestRates.ca only work with specific car dealers in New Brunswick?
Yes. We work with an exclusive network of lenders and dealers who specialize in financing for Canadians who don't have great credit. So even if you have bad credit or no credit history at all, we can match you with a dealer nearby and help you get approved for a loan.
How much tax do I need to pay on a car purchased in New Brunswick?
Currently, the sales tax (HST) on vehicles in New Brunswick is 13%. In July 2016, the HST rate is increasing to 15%, the highest rate in Canada.
How is the interest rate on my car loan calculated?
We leave that up to the dealer offering you the loan. Usually, your rate is based on a number of different factors, like your credit, income level, employment history, and loan amount.
Should I choose a long car loan term or a short car loan term?
It depends on the current state of your finances.
Your monthly payments are larger with a short car loan, so you can pay off your loan faster and save money on interest. The bad news is that not everyone can afford those big monthly payments.
In contrast, longer car loans give you more time to pay off your principal balance, which means your monthly payments are cheaper and easier to budget for. Unfortunately, that also means you end up paying more interest in the long run.
So here's a summary: If you can afford larger monthly payments, choose a short loan. If you need to break your loan into smaller, more manageable chunks, opt for a longer loan. Check out our graph below to see what your monthly payments might look like on an $8,000 car loan at 8% interest.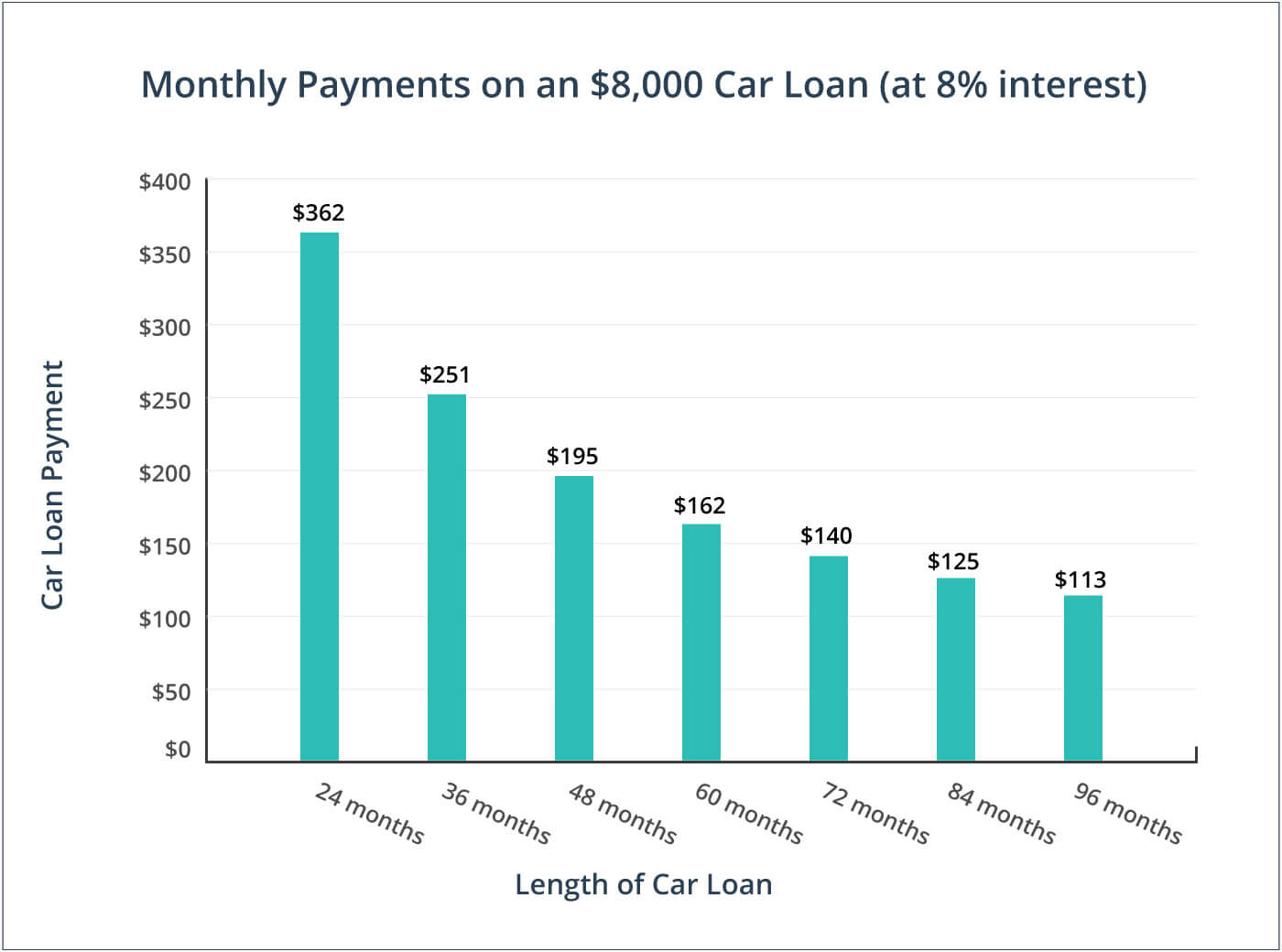 New Brunswick car loan tips
Know your budget
Secure your car loan before you start shopping for a vehicle. You'll have a better sense of which cars you can realistically afford once you know your car-buying budget.
Go for a test drive
Always take a car for a test drive before you purchase it. And don't be shy. Drive the vehicle at different speeds and on a variety of roads.
Research before you buy
Read up on the insurance rankings, safety features, and security add-ons associated with any vehicle you're interested in before you buy it. If you're looking at a used car, use the vehicle identification number (VIN) to check the car's history and to find out if it's been in any reported accidents.
Understand your total financing costs
To calculate the actual cost of your new or used vehicle, consider your loan amount, what interest rate the dealer is offering, and how long your loan term is. Remember: you pay more interest on a longer car loan, and your car depreciates in value as the years go by.
Find out if you qualify for an HST tax credit
New Brunswick families and individuals with an annual income of $35,000 or less may qualify for a full HST credit. If you're eligible, you'll receive your first tax credit payment in October 2016. Factor this credit into your monthly budget if you plan on buying a new or used car soon.
New Brunswick car loan myths
You have 30 days to return your used car and get a full refund. False. According to the Financial and Consumer Services Commission, there's no return policy on used car purchases. That's why you need to thoroughly test drive and inspect any vehicle you're considering buying.
You don't need to do a vehicle inspection if you buy a car through a dealer. False. Many New Brunswick dealerships will perform motor vehicle inspections themselves, but it's good practice to have another, independent mechanic inspect your vehicle again. You can also ask the dealer for a copy of the service record if you want to verify that an inspection was completed.
The Consumer Product Warranty and Liability Act protects consumers who buy used cars through private sellers. False. You're only protected by the rights outlined in the Consumer Product Warranty and Liability Act if you buy a car from a registered dealer in New Brunswick.
Fun facts
With over 9,400 cars and trucks sold between January 2016 and March 2016, new car sales in New Brunswick have hit their highest level in almost 40 years. In March alone, New Brunswick residents bought a whopping 4,136 vehicles.
New Brunswick may be a small province, but it's home to over 80 auto dealerships. So whether you live in Moncton, Saint John, or Fredericton, you'll have no problem finding a dealer nearby.
The Regent Street overpass is down for the summer, from June 1, 2016 to August 31, 2016. That means Fredericton drivers should expect longer commute times, more mileage, and more wear and tear on their vehicles.
New Brunswick drivers like bigger vehicles. In fact, SUVs and trucks have accounted for more than two-thirds of all new car sales in the province in 2016.