Ottawa car loans made easy
Our network of Ottawa lenders and dealers has a unique specialty: getting you behind the wheel fast, even if you have bad credit or no credit. Just provide us with some basic information (we don't require a social insurance number), and we'll match you up with a lender or dealer in your part of town. Our car loans are easy to apply for, easy to understand, and easy to get.

Fast
Applying only takes a few minutes.

98% approval
Bad credit or no credit? Don't sweat it.

Discreet
Only the dealer sees your info.

Large loans available
Our auto loans can be up to $40,000.
Free
There's no charge to use our car loan service.

Fair interest rates
Our auto loan rates in Ottawa are market-competitive.
I have bad credit. Will I be able to get a car loan?
Yes. We work with all Ottawa drivers, regardless of your credit score.
How do I qualify for a car loan?
You must be at least 18 years old, earn $1,500 a month, be employed, have a driver's license, and be a Canadian resident.
I live in a town outside of Ottawa. Can I still get a car loan through your site?
Yes. We offer car loans to Ontario drivers throughout the Ottawa Valley. It doesn't matter if you live in Orleans or Manotick, Kanata or Carlsbad Springs, or anywhere else in Ontario, we'll match you up with a dealer nearby who can connect you with financing.
How much tax will I have to pay when I buy my car in Ottawa?
You'll have to pay a sales tax (HST) of 13%.
Can I roll the HST into my car loan?
If you're buying from a dealership, you can. In fact, many dealers include HST in the price they advertise. 'Out the door' pricing means the price you see listed is the price you pay — including all tax.
How much will the interest rate be on my car loan?
The details of your car loan will be handled at the dealership level. Dealers in Ottawa set auto loan rates based on your financial profile (credit, monthly income, etc.) and the amount of your loan. Borrowers with a healthier financial picture tend to get lower interest rates.
How does the length of the car loan affect my monthly payment?
Taking a longer loan will decrease the size of your monthly payment. On the flipside, you'll end up paying more interest over the total life of the car loan.
Here's how your monthly payment would look over different lengths of time on a $10,000 car loan: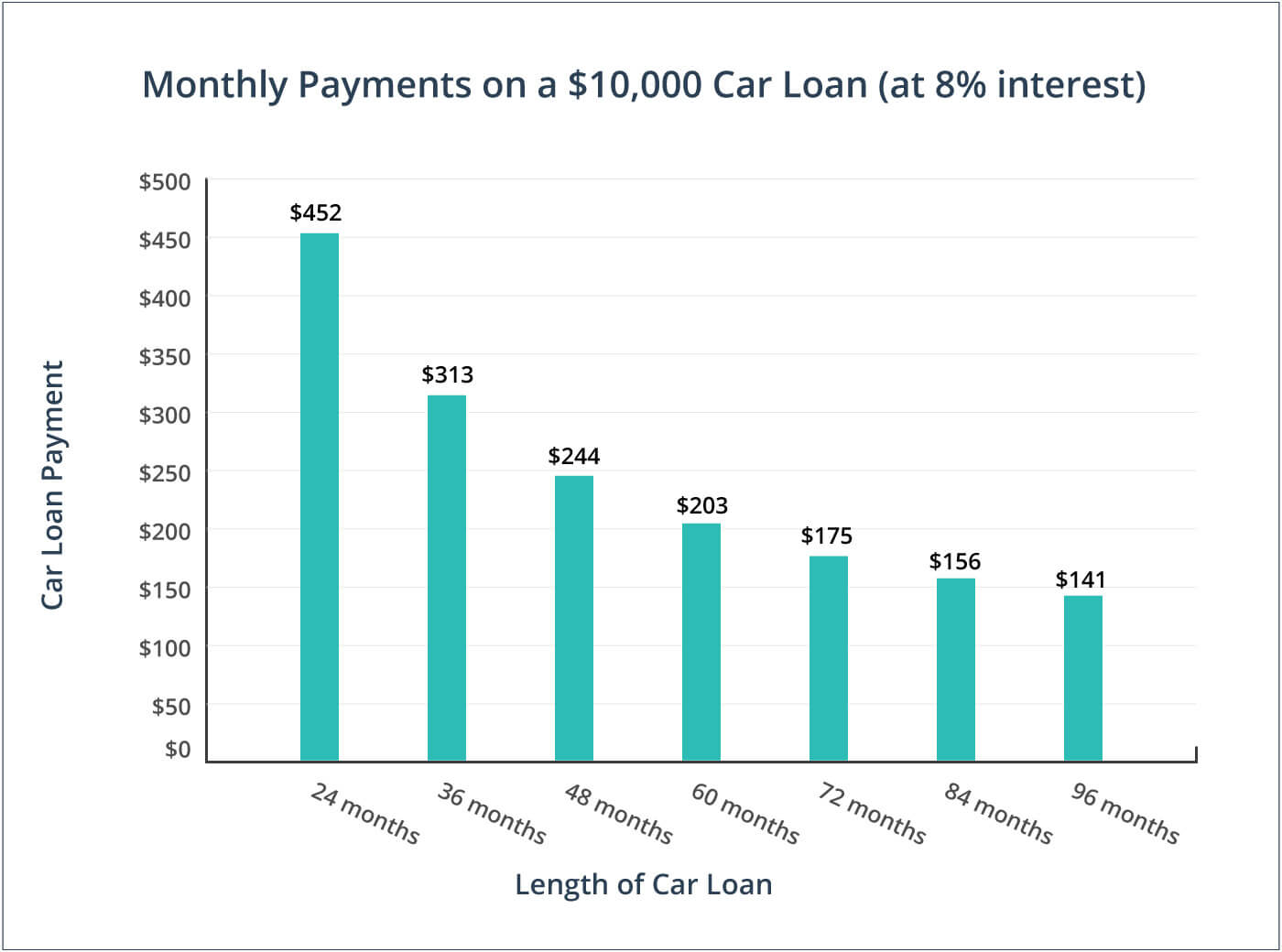 Negotiate your car loan before you negotiate the price of the vehicle
Always separate your financing from the vehicle you're interested in buying. Negotiate the terms of your loan first — how much can you borrow, at what rate, etc. Then shift your focus to the actual amount you want to pay for the car.
Understand the other costs that come with owning a vehicle
Is the car you want to buy cheap to insure in Ottawa? Does it have a good reliability and safety record? Remember, a car payment is only one part of the total cost of operating a vehicle.
Buy from a registered Ottawa dealer
Why go with a dealer in Ottawa? Easy — registered dealerships have to follow a variety of consumer protection practices and disclose important information about the vehicles they're selling.
Go for a test drive
Always take a vehicle for a test drive before you purchase it. Evaluate how the car performs in stop-and-go traffic and at highway speeds. For example, in Ottawa, highways 416 and 417 both allow you to drive along quite fast.
Ottawa car loan myths
Bad credit car loans are hard to get in Ottawa because most lenders require a minimum FICO score of at least 670. False. You can get a car loan in Ottawa no matter how low your credit score is. In fact, 25% of all auto loans are non-prime (borrowers with FICO scores less than 670).
You should buy from a private seller rather than from a dealer. False. Used car buyers gain access to the safeguards and protections provided by the Ontario Consumer Protection Act if they purchase a vehicle from a registered dealership.
There's a 'cooling off' period for used car buyers in Ottawa. False. Used car sales are final in both Ottawa and the rest of Ontario.
Bad credit car loans can't be longer than 60 months. False. Bad and no credit car loans often exceed 60 months. The lenders and dealers participating in our car loan service offer bad credit auto loans in Ottawa that are 72, 84, or, in some cases, even 96 months long.
Fun facts
The average car loan in Canada is now 74 months long, according to the Financial Consumer Agency of Canada.
Taking out an 84-month car loan at 8% means you'll have to pay almost twice as much interest as you would on a 60-month loan.
Dealers in Ottawa must disclose if a vehicle was previously used in a rental fleet or as an emergency services vehicle, limo, or taxi.
Ontario law requires used car dealers to include all fees and charges in the advertised price of a vehicle, with the exception of HST and the cost of adding the license plate.
Your Ottawa car dealer is required by Ontario law to formally provide you with the vehicle's mileage, make, model, and year before completing the sale.