Get this card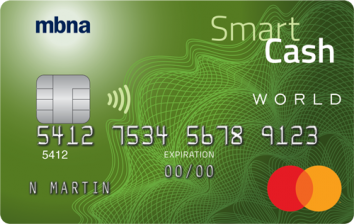 MBNA Smart Cash® World Mastercard®
This offer is not available for residents of Quebec. For residents of Quebec, please click here.
Apply Now
Network Provider

Mastercard

Provider

MBNA

Type

Rewards

Annual fee

$39

Purchase interest rate

19.99%

Cash advance rate

24.99%

Balance transfer rate

22.99%

Credit Needed

Good (650-749)
Card description
Accelerate cash back on common purchases!
Get 5% Cash Back†† on eligible gas and grocery purchases for the first 6 months (until the total gas and grocery purchases in the applicable month reaches $500)
Get 2% Cash Back‡ on eligible gas and grocery purchases thereafter (until the total gas and grocery purchases in the applicable month reaches $500)
Get 1% Cash Back‡ for all other eligible purchases
$39 annual fee
Standard Annual Interest Rates of 19.99% on purchases, 22.99% on balance transfers✪ and access cheques, and 24.99% on cash advances
A suite of comprehensive insurance**
Your personal annual income must be greater than $60,000, or your household annual income must be $100,000 or greater††††
Take advantage of a card that provides Cash Back on eligible purchases. Apply now for the Smart Cash® World credit card.
About This Card
The MBNA Smart Cash® World Mastercard® is a cash back credit card that allows cardholders to earn 5% cash back in the first six months on eligible gas and grocery purchases.
One thing to make note of is that there is a spending cap in place for eligible purchases: the max you can spend on gas and groceries and still earn 5% back is $500. If you exceed the limit, your earn rates drop to the base rate (more on that below).
Once the introductory period ends, cardholders get 2% cash back on gas and grocery purchases each month. They can also earn 1% cash back for all other eligible transactions.
There's also an annual fee of $39 and you must have a personal annual income of at least $60,000 — or a household annual income of $100,000 or more — to be eligible to apply.
The card does have a no-fee counterpart in the MBNA Smart Cash® Platinum Plus, but the latter won't earn you cash back quite as quickly as the Smart Cash® World will; with the Platinum Plus version, you only early 0.5% on purchases other than gas and groceries.
The MBNA Smart Cash® World Mastercard® comes with comprehensive insurance coverage, protecting you in a range of situations. If an item you bought with the card is damaged or stolen within 90 days, you're covered with MBNA's purchase protection policy. And, if you're in a collision in a rental car, you may qualify for a damage waiver from MBNA.
The Smart Cash® World is also equipped with some interesting shopping benefits. For example, if you make a purchase on the card and later find the same item somewhere else at a lower price, MBNA will refund you the difference — up to $500 at a time. This perk only applies for items sold in Canada and there's a $1,000 annual cap.
With a purchase APR of 19.99%, a balance transfer APR of 22.99%, and a cash advance APR of 24.99%, the MBNA Smart Cash® World Mastercard®'s interest rates are pretty standard compared to the rest of the market.
As far as cash back credit cards go, this is a solid — albeit no-frills — offer from MBNA.
Why get the MBNA Smart Cash® World Mastercard®?
Competitive introductory earn rate - Get 5% back on the first $500 you spend on eligible gas and grocery purchases per month, for the first six months.
Continue to earn cash back after you've hit the $500 cap - Once you've spent $500 each month, keep getting cash back at the base earn rate for all new purchases.
Protect your purchases - Enjoy comprehensive insurance for what you buy. Coverage is provided by Allianz Global Risks US Insurance Company.
Low annual fee - Pay only $39 per year to access cash-back opportunities.
Apply Now