Get this card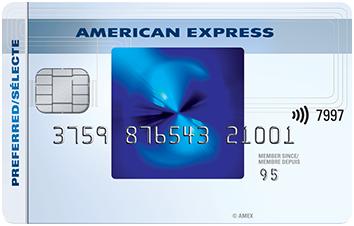 SimplyCash™ Preferred Card from American Express
Apply Now
Network Provider

American Express

Provider

American Express

Type

Rewards

Annual fee

$99

Purchase interest rate

19.99%

Cash advance rate

21.99%

*provided you make your minimum monthly payments on time

Balance transfer rate

N/A

Credit Needed

Good (650-749)
Card description
New SimplyCash™ Preferred Card from American Express card members can earn 10% cash back on all eligible purchases (up to $400 cash back) for the first 4 months of card membership
Earn 2.0% cash back when your welcome rate ends
No limit to the amount of cash back you can earn
No annual fee for additional cards
Penalty APR on missed payments ranges from 23.99% to 26.99%
Access to memorable experiences with American Express Invites®
Extensive insurance coverage and 24/7 customer service
American Express is not responsible for maintaining or monitoring the accuracy of information on this website. For full details and current product information click the Apply now link. Offer subject to change without notice. Conditions apply
Card Features
24/7 Customer Service
Entertainment Benefits
Extended Warranty
Purchase Protection
Rental Car Insurance
Travel Insurance
About This Card
The American Express SimplyCash Preferred Card credit card is a premium cash back card for people with a good credit score. Like many premium cards, the SimplyCash Preferred comes with an annual fee of $99, but it doesn't have a minimum income requirement like many similar higher-end cards.
The American Express SimplyCash Preferred Card's main feature is its big 10% cash-back rate for new cardholders. It's only available for the first six months but allows users to earn cash-back faster than they would at the regular rate, which is set at 2%. Unlike other cash-back cards, the cash-back rate applies to all purchases, not just on certain categories. So even without the special introductory rate, you still stand to earn more cash back with this card if you stick with it.
The card has a standard annual interest rate of 19.99% on purchases and 21.99% on cash advances.
Why get the SimplyCash™ Preferred Card from American Express?
Entertainment benefits - Cardholders can take nights out on the town to a new level with American Express Invites. Once they register, cardholders can purchase tickets for a variety of events before they go on sale to the public. They'll also be able to access tickets specially reserved for American Express members and will receive special offers on exclusive experiences like advanced film screenings.
All the latest payment options - In addition to chip-and-PIN purchases, you can also tap the card for contactless payment, or use Apple Pay or Android Pay with your smartphone and smartwatch.
Get covered automatically - The SimplyCash Preferred Card comes with a comprehensive coverage plan that includes insurance for out-of-province and international emergency medical coverage, car rental theft and damage insurance, flight delay insurance, lost or stolen baggage insurance, hotel burglary insurance, and last but not least, purchase protection on most items you can buy using your card. The manufacturer's warranty will be doubled and eligible items are covered against accidental damage and theft, which can save you hundreds of dollars.
Apply Now