Review: The American Express SimplyCash Preferred Card
By: Dominic Licorish on

September 21, 2017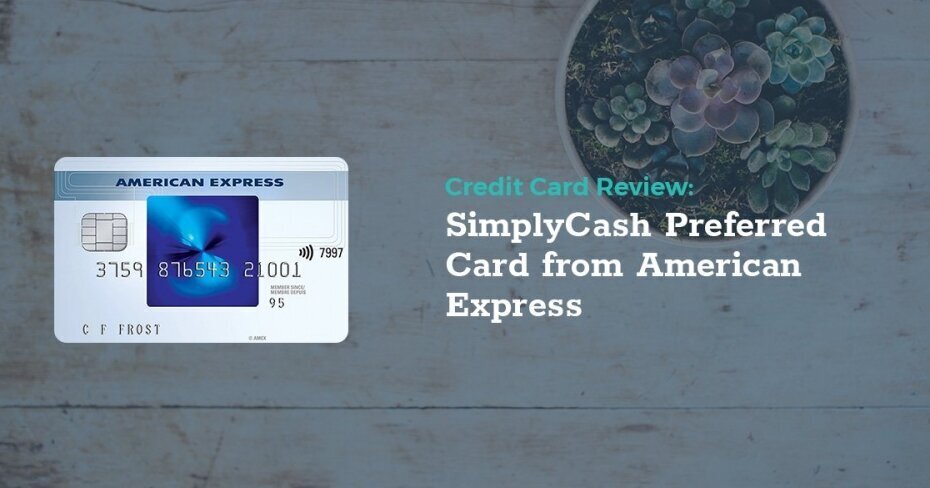 I've had at least one credit card since I was a teenager, but I was always kind of afraid to use it, because I didn't want to spend money I didn't have and ruin my credit score.
Of course, I ended up doing that anyway and causing all sorts of problems for myself. But once I put that behind me and got my score to a respectable level, I decided to look for a card that would make the most of my day-to-day spending, especially since the cash-back rate on one of my credit cards was recently cut in half.
With an introductory cash-back rate of 10% and base rate of 2% for all purchases, the American Express SimplyCash Preferred card reads like it would blow away the competition when it comes to earning cash-back.
But since I actually have the card, I've come to realize that it has some shortfalls. If you're looking for a high earning cash-back card in Canada, this could be it. But there are some caveats.
Let's take a look.
The features
The SimplyCash Preferred card is the premium version of the American Express SimplyCash card. Both come with many of the same or similar features, but of course, the Preferred Card comes with a few more perks, as well as a $99 annual fee, which isn't out of the ordinary for a premium card.
Here's a quick snapshot of the card's features:
Purchase interest rate:    19.99%
Cash advance rate:        21.99%
New SimplyCash™ Preferred Card from American Express card members can earn 10% cash back on all eligible purchases (up to $400 cash back)
Earn 2% cash back on all purchases when your "Welcome Rate" ends
No limit on how much cash back you can earn at 2%
$99 annual fee
No annual fee for Supplementary Cards
Access to exclusive concert ticket offers and experiences through American Express Invites
Travel medical insurance
Flight delay insurance
Lost or stolen baggage insurance
Extended warranty
Purchase protection
Rental car insurance
Secure contactless mobile payments with Apple Pay and Android Pay
The card has a competitive suite of premium features including allowing you to access advanced ticket sales and reserved seating selection for concerts, theatre productions, and other events through the American Express Invites program.
Another feature worth mentioning is its automatic insurance coverage. Extended warranty and Purchase Protection covers accidental damage and theft on most items. Travellers benefit from a comprehensive travel insurance policy including emergency medical coverage, delayed flights, lost or stolen baggage, car rental coverage, and coverage for your hotel room.
How it stacks up against the competition
When I compared options, I focused on cash-back rates — specifically, how much I would earn if I put all of my monthly spending on the card. I found the biggest competitors to this card are actually the regular American Express SimplyCash Card and the Tangerine Money-back Credit Card.
Taking a look at where and how I spend my money, I quickly decided that I didn't want high cash-back rates that are limited by purchase categories like gas and grocery, mostly because I do a lot of spending on apps, bar nights, and fast food. Even though the Tangerine Money-back card lets you earn 2% at two merchant categories of your choice (or three if you get your money deposited into a Tangerine account), I needed something that would earn consistently more than 1%.
The regular SimplyCash card earns 1.25% back on all purchases after the intro rate period ends. Not as high as the Preferred card's 2%, but it also lacks the $99 annual fee that comes with the Preferred card. Because of this, the Preferred card can actually earn less than the non-preferred if you spend less than $1,100 per month on average. At that spending level, you'll earn the same amount of cash back with both cards even after the fee. Anything more and the Preferred card has the advantage. Of course, the additional perks and insurance coverage means that even if you spend a bit less than $1,100 per month, you're still getting a good premium card, just not the highest earning card for you.
Drawbacks
This card somewhat suffers from the same problem all Amex cards suffer from. While it does have a large payment network, it is much less commonly accepted than Mastercard and Visa, especially outside of North America. It makes it impossible to maximize my spending on the card to get the full benefit of my cash back.
The annual fee is also a slight drawback, because it means you have to spend a lot more than you would with a no-fee card to get the same cash-back reward.
Who's this card for?
This card is a good fit for entry-level young professionals that spend more than $1,100 a month on their credit card. It's also well suited for people who need to rent cars and travel out of province multiple times per year and want easy travel coverage.
With its high flat rate, it's good for those who want to earn a lot of money back on their spending, but not if they want to use their earned bonus for anything other than lowering their credit card balance as its cash-back reward is only paid out as a statement credit.
Final verdict
The SimplyCash Preferred Card is a great cash back card if you spend at least $1,100 a month on your credit card — that's where its 2% rate really shines. However, because of its $99 annual fee, if you're spending less than that, its non-preferred counterpart is the way to go.