Do you know where all that poppy money goes?
By: Rebecca Lee on

November 11, 2016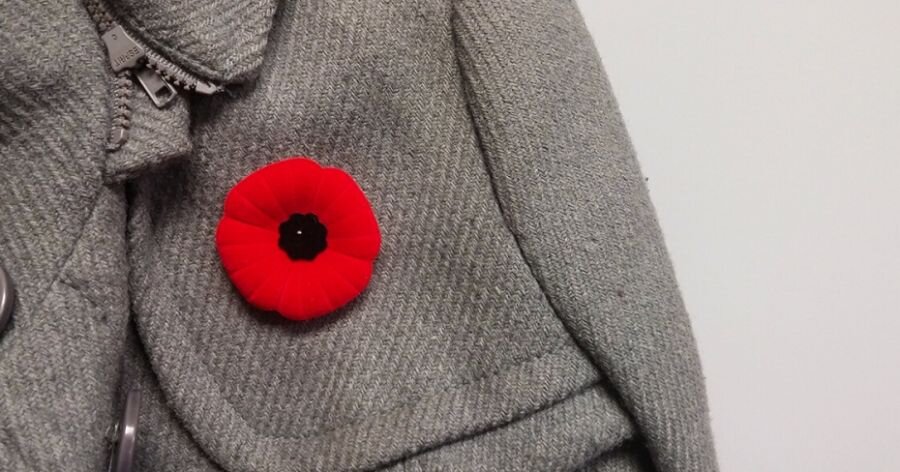 Once the Halloween mania clears, we instantly turn our attention to the weeks ahead: Black Friday, Cyber Monday, Christmas. And somewhere before those consumer-frenzied events, there's Remembrance Day.
Every November, we sport poppies on our coats, smile politely at Veterans in the subway station, and (without fail) lose the poppies from our coats. That's just the way the season goes. Or that's how it feels.
We may tweet "Lest we forget" every November 11th, but do we really give Canadian Veterans our time or attention? For example, do you know how your poppy supports Veterans? I didn't.
So let's do more than just wear our poppies this year. Let's talk about why we're wearing them.
Giving to the Poppy Fund
Poppies are free, but your donations are welcome and valued. All proceeds go to the Legion Poppy Fund and are used to support Canadian Veterans (Canadian Armed Forces, RCMP) and their families. The money is collected by the Royal Canadian Legion and then the money is "held in trust at every level of the Legion." So in case you were wondering, that poppy money is carefully managed and done so by a group that's made up (⅓) of actual Vets.
Every year, members of the Legion (Legionnaires) raise approximately $6.5 million to give back to the community and volunteer over 4.3 million hours of their time. In 2014, approximately 21,000,000 Canadians wore poppies, and the Legionnaires raised $17 million for the Poppy Campaign.
How that poppy money's used
It may be dollars and cents to you, but Poppy Fund donations go a very long way for Canadian Vets. The Legion published a list of all the ways this money is used, but I'll share some of the uses here as well.
1. Supporting and caring for Veterans
The Poppy Fund provides shelter and care for Veterans and their families. Here's what it pays for:
Housing accommodation and care facilities

Food, heating, clothing, medication, medical equipment, essential home repairs, and emergency shelter or assistance

Veteran Transition Programs related to the training, education, and support needs of Veterans and their families

Accessibility modifications that enable Veterans with disabilities

Relief donations for affected Veterans in the event of a federal- or provincial-declared disaster

Community drop-in centres, meals-on-wheels, and senior services for applicable Veterans
2. Remembering Canada's Veterans
Aside from providing financial assistance and other support directly to our Veterans, the Poppy Fund is also used to promote Remembrance Day and similar initiatives. After all, the Legion works not only to help our Veterans, but also to honour them.
Why that poppy money's so important
Well, for all the reasons stated above. But with any charitable initiative, you'll encounter both the generous and the skeptical — "Why are we raising money for Vets?" or "Why can't they help themselves?" If you don't have any insight into the problem, I think it's reasonable to have some questions. But you need to be willing to listen to the answers.
There isn't much concrete data on the number of homeless Veterans in Canada, but homelessness remains a persistent and troubling issue. Accompanying and contributing to that issue are addiction and mental health problems, at least according to a research study completed by the University of Western Ontario. That same study also identified that "Veterans often became homeless one decade after leaving the service," and that "the transition from the military to an unstructured civilian life was a particularly vulnerable period".
Take note of that second statement. That's why organizations like the Legion and VETS Canada exist: to help Canadian Veterans successfully reintegrate into civilian life.
And that's why our poppy money is so important. Our donations support the men and women who served our country, but who may have otherwise struggled post-service without our help.
A poppy for your thoughts
Yesterday, I finally stopped to donate to the subway station Veteran that I'd passed all week. I saw him every morning, standing between the Tim Horton's booth and the Presto self-serve machine. I should have donated sooner, but I was always in a rush and never wanted to stop and dig through my backpack for the money. There's already a lesson there.
When I finally spoke to him, he pinned my poppy and said, "You must wear it on your left, closest to your heart, so you'll always remember." Silly me didn't know that's where I was supposed to wear it, but he responded to that embarrassing confession and kindly said, "You learn something new every day, right?"