Review: American Express Essential Credit Card
By: Dominic Licorish on

October 19, 2017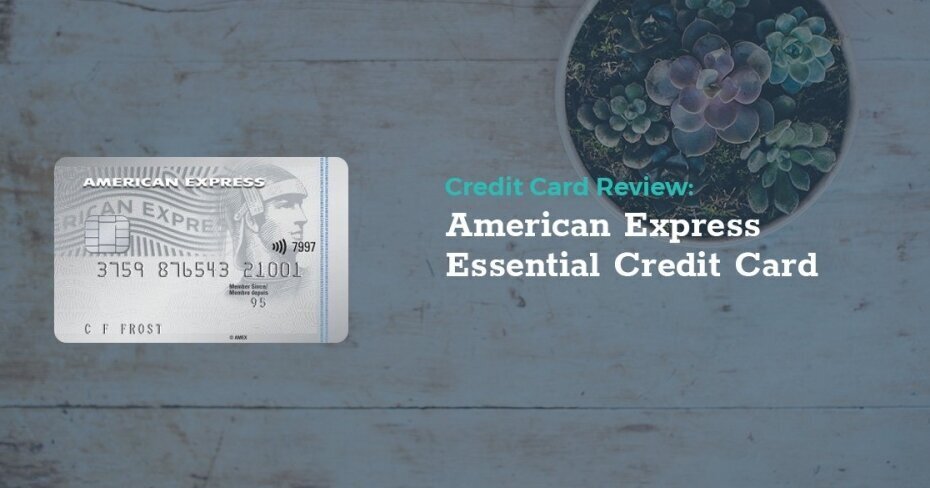 The American Express Essential credit card is a no-frills, low-interest credit card that can save users money by making it cheaper to carry or transfer a balance on their card. For people who struggle to pay their balance off in full every month, this card is for you.
Shop around for a credit card these days and you'll increasingly find yourself looking at points-based reward cards. Credit card providers have noticed that people spend more when they can earn points and it's turning the whole credit card industry down that path.
As a card that offers neither rewards points nor cash back, the Amex Essential card bucks the trend, especially being part of the American Express lineup, which is known for its premium rewards offerings and perks.
Below, we take a look at what this card offers and whether it belongs in your wallet.
The features
The Essential card offers one of the lowest fixed interest rates on the market, at 8.99% APR. Transfer another card's balance to it and that rate gets even lower — just 1.99% for the first 6 months. And even though there are no rewards with this card, you'll still get to take advantage of some American Express perks.
No annual fee
Up to nine no-fee supplementary cards
Competitively low 8.99% interest rate on purchases and cash advances
New cardmembers enjoy a special 1.99% introductory interest rate on balance transfers in the first six months (this offer's only available at the time of application). For comparison, the 8.99% normal balance transfer rate
Access to advanced and reserved event tickets with American Express InvitesTM
Up to $100,000 of Travel Accident Insurance coverage
Free extended warranty and purchase protection coverage
24/7 Customer Service
Despite all the perks, this card's main claim to fame is its 8.99% APR and lack of an annual fee. With most credit cards, you get a 19.99% APR on purchases — and often even higher on cash advances. That means this card actually competes with the lower interest rates typically found with personal loans and lines of credit (provided you can take advantage of the six-month 1.99% window). Not only is a credit card more convenient and flexible as a borrowing product, it's easier to qualify for and has a simpler application process. Keep in mind that its greatest feature is more of a privilege than a right. Missing two payments will jack the card's interest rate way up to 23.99% and/or 26.99% for purchases and cash advances, respectively.
To qualify for the Essential card, you just need to be a Canadian resident that has reached the age of majority in your province or territory and have at least a good credit score, meaning 650 or higher. American Express also requires applicants have a Canadian credit file, so if you don't have any credit history here, you'll have to build some before applying.
Aside from offering low rates and a low barrier to entry, the Essential card includes some insurance coverage protection on merchandise that can also save you money when you least expect it. That includes $100,000 of travel accident insurance, which protects users against accidental death or dismemberment when travelling on a common carrier (plane, train, bus, ship) and you charge your tickets to the card.
The extended warranty automatically doubles the manufacturer's original warranty on items charged to the card. Similarly, protection against damage and theft is automatically applied to eligible purchases made on the card. It's a feature often overlooked by credit card users, but it can save you lots of money if used correctly.
Amex Essential cardholders also enjoy access to the American Express Invites lifestyle club. As a member, you can purchase advance Front Of The Line® tickets to major concerts and events. Members can also purchase Front Of The Line® reserved seats set aside exclusively for American Express cardholders.
How it stacks up against the competition
When it comes to fixed low-interest credit cards, the Amex Essential Card stands at the top of the rankings. Its interest rates aren't quite the lowest available on the market, as some variable rate cards are indeed lower, but the Essential card offers the most savings across the board. To compare, here's how it stacks up against other leading low-interest credit cards.
Its closest competitor is the variable rate MBNA True Line® Mastercard. It offers the lowest standard interest rate of any credit card in Canada at 5.99%, but there's a catch — you have to qualify for that rate. The True Line offers a rate that ranges between 5.99% and 14.99%, meaning that not all users will get a rate lower than the Amex Essential card. Aside from that, it competes directly with the Essential card, offering no annual fee, purchase protection, and travel insurance protection.
Another major competitor for this card is the MBNA Platinum Plus® MasterCard®, another no-fee option, but one that specializes in offering 0% balance transfers. Its standard purchase and cash advance interest rates aren't anything special at 19.99% and 24.99% respectively. There's no going lower than 0% on balance transfers, however even if it's only for the first 12 months. So, the Platinum Plus is a better card for balance transfers, but the Essential card offers more long term flexibility with its savings.
Drawbacks
There aren't really any drawbacks to this card, other than it doesn't offer any special rewards or cash back. For savvy spenders who pay their balance off in full, this card would not be a good fit.
The other weakness this card has is one common to American Express cards — fewer merchants are able to process American Express payments, meaning it will likely be difficult to use as a reliable everyday purchase card.
Who's this card for?
This card holds the most value for shoppers who tend to carry a balance on their credit card. With its relatively low purchase and balance transfer rates, you can save money on interest by putting the bulk of your credit load onto this card.
Final verdict
For those who want to make the most out of their everyday shopping, the lack of rewards or cash back make the American Express Essential credit card an unattractive choice as a primary card. On the other hand, it can work well as a secondary card. Just make the majority of your purchases on your rewards card and transfer any unpaid balances from those higher interest cards to this one. Even if it isn't as low as the 0% balance transfers some other cards offer, it offers a low fixed rate as opposed to the limited-time offers most other cards have.
The best rewards credit cards
Our comparison tool lets you easily browse and compare Canada's best rewards credit cards.
See cards