Climate change is upending the home insurance industry. And it's going to cost you
By: Lisa Coxon on

April 25, 2019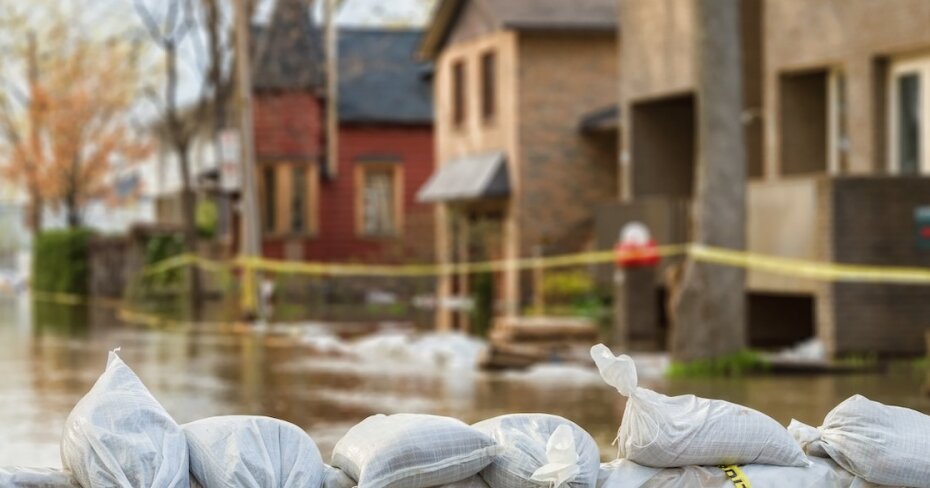 If you spend some time talking to Blair Feltmate, head of the Intact Centre on Climate Adaptation at the University of Waterloo, you'll hear him make a lot of references to "the file."
Insurance Bureau of Canada? "They know the file very well."
Property and casualty insurers? "They're on the file."
Canada's ministries of finance? Feltmate is working to "put the file on their radar screens."
Like a dossier being passed around from industry to industry, the "file" Feltmate is referring to is climate change adaptation. And following recent news that Canada is warming at twice the rate of the world, extreme weather risks are now staring the home insurance industry square in the face.
When the insurance industry looks at extreme weather events, it's usually in terms of dollars. Between 1983 and 2008, catastrophic loss claims (meaning any claim resulting in over $25 million worth of damage) averaged $405 million per year. From 2009 to 2018 (inclusive), catastrophic losses cost insurers an average of $1.8 billion a year, according to the Insurance Bureau of Canada.
"What's happening with the climate is crazy," says Daniel Mirkovic, President and CEO of Square One Insurance. "A lot of things that are happening now we never would have expected."
The insurance industry is taking climate change seriously. TD Insurance recently announced the creation of an Advisory Board on Climate Change — a seven-person team made up of engineers as well as professors from five Canadian universities that have been conducting research with respect to the impact of climate change and severe weather. And Intact announced on April 25 that it's donating $2.3 million to 16 charitable partners like WWF-Canada that are exploring real solutions for managing climate change.
Insurers care about climate change not because they have big hearts, but because they know they'll bear the brunt of its financial devastation.
So what, exactly, are we headed toward, and how are insurers going to cover it?
 
Canada's greatest risks
When people ask Feltmate if Canada is headed in the right direction with regards to adapting to climate change, he tells them yes, but includes this metaphorical caveat:
"You could be in a little compact car heading down the highway in a certain direction," he says. "If you look in the rearview mirror and see a great big tractor trailer coming down right directly behind you at twice your speed, you going in the same direction isn't good enough. You've gotta speed up. And right now the tractor trailer is climate change and extreme weather risk."
The main threat to Canadian homes as a result of climate change is, as Feltmate likes to put it, "too much water in the wrong place." He's talking about flooding — residential basement flooding, in particular.
Water-related losses accounted for more than 50% of the increase in catastrophic insurance payouts. We can blame climate change for flooding but we also have to look at the loss of natural infrastructure: wetlands, forests, fields, and marshes. "These are places where water has historically gone and absorbed and discharged slowly," says Feltmate. "We've either paved them over or we've turned them into agricultural land."
What's happening with the climate is crazy. A lot of things that are happening now we never would have expected
Either way, both are human-driven issues.
On average, having to replace a flooded basement costs $43,000, according to the Insurance Bureau of Canada. But a flooded basement can affect more than finances; it has psycho-social repercussions, too. The Intact Centre reported that after the 2017 Montreal floods, where 200 households were affected by flooding, almost 70% of people reported suffering from anxiety, sleep disturbances or problems concentrating.
"So this is also now an issue for life and health insurers," says Feltmate. "We're documenting elevations in prescription medications, which are life and health insurance coverage, to deal with the stress associated with flooding that people experience.
"The average person that has a flooded basement misses 7.1 days from work, which is also a claimable issue for life and health insurers (lost time from work) and that's to deal with contractors and people you need to fix up your home."
Next on the threat list is fire, which Alberta-based FireSmart Canada has aimed to address since 2008. Now a national program, FireSmart includes recommendations for communities and homeowners on how to protect against wildfires. Things like removing vegetation around forest-surrounded cities (dead zones) so that there's a decreased chance wildfires have anything to feed off of as they approach communities; using fireproof siding, shingles, and cladding; removing any shrubbery around the house, and not storing wood outside it.
Feltmate says some home insurers will even give discounts if homeowners have some of these measures in place. The problem is, the FireSmart program isn't mandatory. It's just a bunch of recommendations. Part of the Intact Centre's goal is to turn those recommendations into formalized standards.
 
Changing policies and rising premiums
If we now know that more unpredictable and extreme weather is already happening and will continue to happen, wouldn't it make sense for insurers to start including perils like overland and coastal flooding — which are almost always available only as endorsements — in their base policies? Well, not if you're trying to run a business.
In fact, Mirkovic says he's actually seeing insurance companies doing the opposite. "Providers seem to be pulling stuff out of their comprehensive policy and making it an option," he says, referring to things like coverage for sewer backup, hail, wind, and inland flooding.
"A lot of these companies are saying 'we're not going to offer that as a base policy anymore because we need to charge different prices based on the risk, or we want to limit our exposure by introducing sub-limits or deductibles." The onus, then, will increasingly be on homeowners to decide what coverage they need to protect from extreme weather events.
So, is this the home insurance industry trying to capitalize on climate change? Mirkovic and Feltmate say no. It's merely evidence of a struggling industry making every effort it can to stay afloat.
There's that saying that the only certain things in life are taxes and death. I'd probably add rising insurance premiums as a third
"If you were to ask most home insurance companies in North America if home insurance is profitable for them, most are going to say it's not," says Mirkovic. "They spend a lot of their time on auto insurance. There are more cars on the roads than homes in the streets, and the premiums for car insurance tend to be higher."
So home insurance companies need to be mindful how they approach coverage for perils that will be exacerbated by climate change. "No home insurance company wants to put through a 20% price increase," says Mirkovic. "That disrupts their customer base, and they know that's going to cause people to go shopping. So when they're putting through a 20% increase, it's really out of desperation. The industry, and individual companies, are trying to get to the place where insurance goes up at the cost of inflation. But that hasn't been happening in the last number of years because climate change is driving more losses than at the rate of inflation."
The home insurance industry is in a bit of a tough spot, then: more extreme weather means more frequent and costly claims, which means premiums have to rise as well. But insurers also can't afford to drive away all of their business, either. We're already seeing an increase in home insurance premiums as a result of climate change and it's showing no signs of stopping.

"There's that saying that the only certain things in life are taxes and death," says Mirkovic. "I'd probably add rising insurance premiums as a third."
 
The cost of climate change
A big part of Feltmate's job involves trying to convince powerful people that climate change isn't just an environmental concern — it's an economic threat, too.
He has no trouble getting the insurance industry on board with this concept. "They're the most motivated because they know risk better than anybody," he says. "It's their business."
With ministers of finance, it helps to start by highlighting the growing uninsurability of Canadian homes. This past January, the Intact Centre released a report that indicated Canadian homes aren't prepared for catastrophic events. In fact, some 1.7 million homes are at risk of the types of flooding that aren't included in standard home insurance coverage.
Feltmate's been warning about uninsurability since at least 2013. Lately, he's been working on relaying that message to federal finance minister, Bill Morneau, and Ontario's Finance Minister, Vic Fedeli.
The feeling of the banks is that some people will get through the first round without insurance for flooding, by cashing in mutual funds or drawing on rich relatives or whatever it might be — but probably not two
He's focussed on showing them how an increasingly uninsurable housing market will inevitably hurt the mortgage market. Having to pay out of pocket for water-related damages — or any home repair for that matter — could effectively bankrupt people, raising the likelihood of mortgage payment defaults, and hurting the mortgage market as a result.
"Right now we're tracking about 25 cities in Canada that have experienced a lot of flooding, where insurance has been pulled back or is in many cases non-existent," says Feltmate, who, on a regular basis, receives calls from mayors across the country because a growing number of their constituents can't get insurance coverage. These mayors aren't calling from remote communities, either. Feltmate says there are lots of places in Toronto, for instance, where owners of multi-million dollar homes can't even get insurance coverage, either due to making too many flooding claims themselves or living in a neighbourhood considered high-risk due to an abundance of claims.
"As the next big storms hit, we're trying to see if we see spikes in the per capita mortgage defaults in those communities, given that they no longer have insurance coverage."
You'd think this would concern mortgage lenders, like the big banks, who, as personal finance columnist Rob Carrick has put it, "live off mortgage lending." But Feltmate says that's not the case.
"The banks have been more or less asleep at the switch on this file until now," he says. "Until they actually start to see on a large scale people defaulting on mortgages, they don't believe something's material."

"The feeling of the banks is that some people will get through the first round without insurance for flooding, by cashing in mutual funds or drawing on rich relatives or whatever it might be — but probably not two."
 
"Taking the risk out of the system"
Feltmate can talk about the problems coming our way all day, but his team also has to pitch solutions.
"Up until about two or three years ago, 95% of the discussion about climate change in Canada was focussed on mitigating greenhouse gas emissions and lowering our carbon footprint," says Feltmate. "All of which is fine. But there was virtually nothing on adaptation and extreme weather risk, which is on the ground now and is going to get a lot worse going forward."
A major initiative that Feltmate's team is spearheading is a flood-risk mitigation plan for homeowners called the Home Flood Protection Program (HFPP), a homeowners outreach program that shines the spotlight on what can be done at the individual household level, with a little help from the government. Being proposed is a government subsidy for homeowners to make certain changes to their home that will help minimize the damage caused by flooding.
That includes things like disconnecting the downspout from the eavestrough and redirecting it via an extension three metres away from the foundation of the house. Or putting plastic covers over the window wells so that when the water hits the windows at ground level, it doesn't fill the window well and flow into the basement. And installing a second sump pump with an extension that directs water away from the foundation, as well as a backup battery supply for the pump(s) in case the power goes out.
"With a little bit of subsidy from the government, combined with an incentive from retailers like Canadian Tire and Home Hardware, and the homeowner putting a little bit of dough on the table themselves," says Feltmate, "we can put those measures in place for about $250 per house."
Feltmate is careful to point out, however, that "none of this is flood prevention. This is flood protection. If Noah's flood hits, a house can still be flooded. But we have a very doable solution to take risk out of the system relative to basement flooding that is inexpensive to executive on, technically not challenging, and the political capital is astronomically high."
The expectation — or the hope, rather — is that other provinces will follow on the heels of Ontario in implementing a flood-protection plan.
"The rest of the provinces will have to come on board," says Feltmate. "You can't have somebody owning a home in Ontario or Alberta that's flood-protected and then all of a sudden Manitoba or Saskatchewan say well we're not going to do this for our people. That's not going to fly."
 
Educate and motivate
So, where do we go from here?
Well, there's lots of work to do. Surprisingly, the hard part isn't in coming up with a viable solution; it's getting people to adopt it.
"The technical part is not the limitation," says Feltmate. "It's motivating people and/or organizations to act. Whether that's federal, provincial or municipal governments, real estate associations, insurance brokers, banks — it is motivating action."
On the topic of flood-protection, which remains our biggest threat, the Intact Centre is launching training for the Insurance Brokers Association of Canada (IBAC), home inspectors and real estate agents. IBAC, which represents some 38,000 insurance brokers, will be able to earn professional credit for completing Intact Centre's five-module course (15 minutes for each course) on climate change and extreme weather risk and basement flood risk, which is expected to debut soon. The hope is that brokers, home inspectors and real estate agents will be able to confidently explain to their clients some of the vulnerabilities of the home and measures they can take around their home and in the basement in order to protect from flood damage before it's too late.
"People still believe, I think very wrongly so, that we have the luxury of time on this file," says Feltmate. "Which we do not."