I survived Black Friday shopping at the Eaton Centre
By: Maureen Genore on

November 28, 2016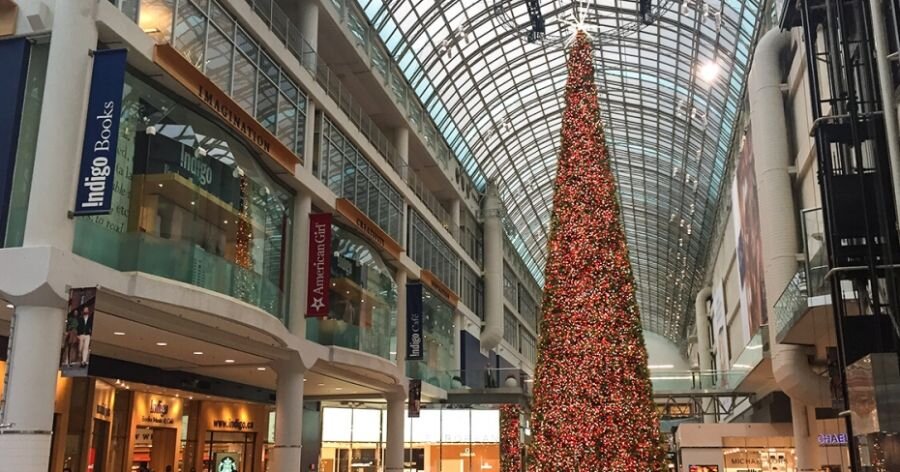 Yup. I'm the crazy person who willingly decided to go shopping on Black Friday when the Eaton Centre opened. Here's what happened:
It wasn't even that busy
I woke up, got ready in record time, skipped breakfast, and headed to the mall. I arrived shortly before 7:00 AM, coffee in hand, fully expecting the chaotic craziness that is almost always the Eaton Centre at this time of year. But then something weird happened: it wasn't even busy. I know — I was surprised too. There were other shoppers, sure, but it was nothing like I expected. I didn't have to climb over other shoppers to grab for sizes, there were no queues to get into stores, and I certainly didn't have to wait in lineups to buy anything.
I'm definitely not complaining about the shopping calm, but I'll admit that I was a little shocked. Where was everyone? I was at one of Canada's busiest malls on what is supposedly the biggest shopping day of the year (apparently it's even bigger than Boxing Day), and it felt like a sunny Wednesday afternoon in July. I went Black Friday shopping at the Eaton Centre a few years ago, and it was far more hectic then than it was this year.
Maybe Canadians are finally spending within their means when it comes to holiday shopping, or maybe people just prefer to shop online. Or maybe Torontonians just aren't morning people — I do think the mall will get busier as the day goes on and people finish work. Whatever the reason, what I thought would've been prime time at one of Canada's largest shopping destinations turned out to actually be a great time to get some uninterrupted shopping done!
Okay, but were there deals?
You're probably wondering, if the mall wasn't busy, were the sales even good? Well, that depends on what you're looking to buy. Some places had great deals that spanned across the entire store. Others just had regular priced items and then a tiny sale section squished at the back with a measly offer of an 'additional 10% off'.
Since I wasn't shopping for any big ticket items, I skipped places like Best Buy and Canadian Tire and headed to my favourite clothing and department stores. The most common sales I saw were percentage discounts offered across the entire store (The Gap advertised 50% off storewide while Forever 21 was offering 21% off everything), but other stores offered a variety of 'buy one get one' deals. So if you're open to browsing and don't have your heart set on a specific item, you can definitely find some decent deals.
But if you're looking for specific items that are likely to sell out, your best bet would be to shop online. That way you can avoid the hassle of getting to the store only to find out that what you want is already sold out. It's much easier to deal with the sadness of missing out on a coveted item when you're at home in your pajamas (I speak from experience).
Generally, many stores didn't have great deals, or if they did, the sales were clearly just on their overstock. And the people who were shopping were mostly flocking to places selling special holiday gift sets (ahem, Sephora) and grabbing them by the basketful. Sure, they may make good gifts, but I'm convinced most people grabbing them were only grabbing them because they were a special Black Friday item.
Was it worth it?
Is going early morning Black Friday shopping at a big mall in Canada worth it? My verdict: it can be. If you're looking to grab a few gifts for a good price before the real craziness of the season starts, Black Friday is a good time to do it. For many people it's easier to just shop online or, if you're feeling frugal, not partake at all and make it a 'buy nothing day' instead.
But if you are going to go, my advice is to go early and beat the crowds that are likely to head out later in the day. You know what they say — the early bird gets the worm. Or in my case, a pair of pants and a few Christmas gifts.