Young Money: This millennial takes odd jobs and travels North America on her motorcycle
By: Dominic Licorish on

July 27, 2017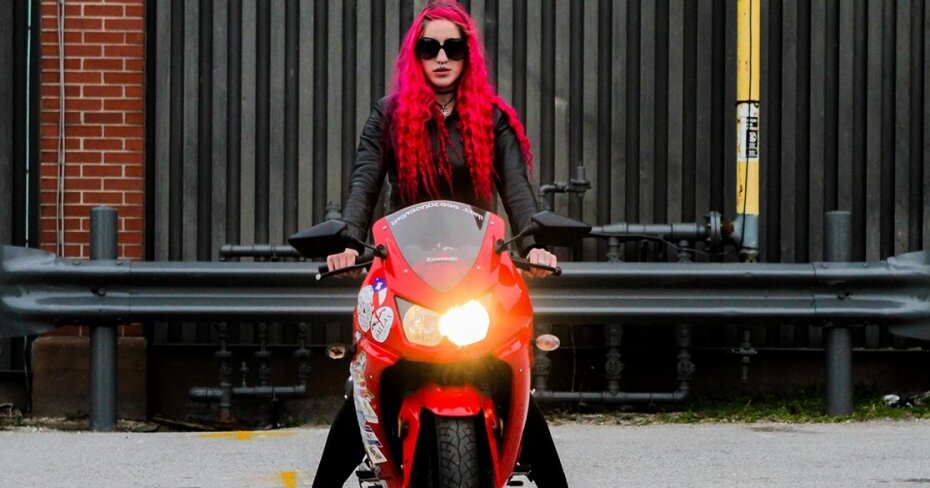 Most of the people I know aren't huge fans of the "rat race," (chalk it up to being a millennial, or my arts school background). Instead, they're striving to break out of the cycle by making enough money until they don't need to regularly work anymore, and can instead focus on doing something they love.
Safia Miletus is one of those people. Instead of getting a job and moving into her own place, she bought a tent and a motorcycle and decided to drive across Canada and the United States. In 2014, she fled the Canadian winter and went on a six-month long trip from Toronto to Key West, and then over to Texas and Kansas City before turning back and heading north again for the summer. Since then, she's done plenty of short trips.
Safia has many reasons for her journey, including drawing inspiration from the minimalist movement. It's a movement that has gained popularity in recent years, thanks to films like Minimalism: A Documentary About the Important Things. The basic idea behind minimalism is to declutter our lives of physical possessions and to focus on what matters, like experiences and friendships. Of course, focusing on what really matters means something slightly different for everyone.
Safia's home is the road. Her bed is wherever she can find one, whether out under the stars, on a generous stranger's couch, or even the occasional motel. She's reinvented herself as The Vagabondesss, and here's how she makes her minimalist, no-roots lifestyle work.
The first step is letting go
Safia caught the travel bug when she was 19 after her first major trip to another country. She chose Egypt and fell in love, staying eight months before returning to Canada. She eventually realized that it wasn't just Egypt she'd fallen in love with, but the experience of meeting different people, seeing new places, and gaining new experiences.
It would be years after that trip before she completely unrooted herself. She decided that if she was going to travel all the time, she'd start reading up on how others have done it. There are plenty of bloggers out there who have successful, sustainable lives travelling and living out of vans and boats.
While she is interested in owning a van some day, Safia originally chose to drive a motorcycle because she needed a cheap way to get from Mississauga to Toronto on a regular basis. As soon as she hopped on a full-speed motorcycle at driving school, she was hooked.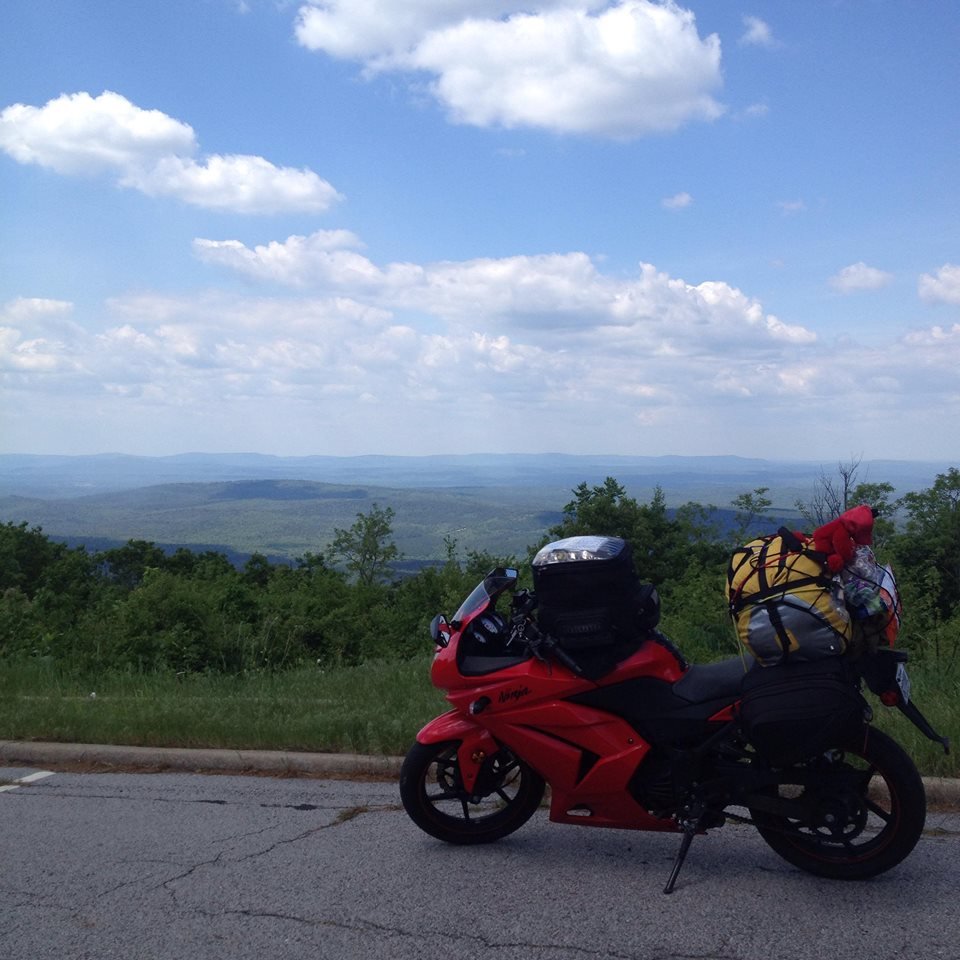 Safia paid $3,800 for the red Kawasaki Ninja she now rides and spends $75 a month on insurance and registration. While she acknowledges the limitations her motorcycle places on her travels, she also appreciates those limits.
"There's only so much stuff I can take with me, so whenever I'm buying something, I have to ask myself how important it is I have it," she says. "I have friends who'll see a nice dress at a store and they'll just buy it. I can't do that."
Strict budgeting is your best friend
When she's on the road, Safia manages to live on about $500 per month.
For many people, travelling is an inherently expensive lifestyle, but for Safia, it actually costs her less to live her dream life. She believes entertainment shouldn't cost a thing, and prefers enjoying time spent meeting new people or just admiring the interesting places she passes by.
"When I'm in Toronto, even for a few weeks, I notice just how much more I'm spending compared to when I'm on the road," she says.
Safia is a big proponent of tracking spending as the first step to budgeting. She's used a few apps to keep her finances on track, but her main one is called Daily Budget for the iPhone.
Here's how Safia breaks down her monthly spending:
Food: $200
Gas/transportation: $150
Insurance/licence/registration: $75 (added up and divided per month)
Phone: $17/month
Online backup service: $8
Bank fees: $15
Toiletries/hygiene products: $15
Supplements: $20
Coming from Toronto, she was used to a high cost of living. Cutting down her expenses was a huge step if she was going to make this work. Not paying rent or utilities obviously saves her a ton of money, but comes with a bit of a tradeoff, since she's on a motorcycle and not a sheltered vehicle. Where possible, she sets up camp or finds people to stay with using websites like CouchSurfing.com and freecampsites.net.
Safia was able to save money on her cell phone bill by buying a used iPhone and using a 3GB data-only tablet plan from Fido instead of paying $80 a month for a full plan. Instead of a traditional phone service, she uses free apps such as iMessage, TextNow, and Whatsapp, which allow her to keep in touch with most people, even if they use regular phone service.
Her spending on gas can vary depending on how she travels. While she does plan her routes, she typically accounts for making stops and detours along the way to enjoy her trips. She might stay in a place for a week or she could be gone by the next morning. Everything depends on how she feels.
Making money with no roots
The most important piece of the nomadic lifestyle puzzle of course is how you're going to be able to sustainably afford it. To do this, Safia has a combination of steady remote work and supplementary income from side jobs she finds along the way. She works as a virtual assistant for online businesses, utilizing a wide variety of skills from customer service, content creation, social media management, and web design. She learned everything she knows about her work from studying free online resources. She says that the money she makes isn't a lot, but it pays her bills, and she can do her work from anywhere as long as there's WiFi.
Apart from her online work, she's picked up a host of jobs while travelling, some of which paid money, but others that just covered her room and board. She told me that, after getting into an accident once, a friendly tow truck driver took her in and let her stay with his family for a whole week while he fixed up her bike. In return, she helped him out with random work around his home. She says Craigslist can be a good way to find quick gigs, but one of the most effective ways was to simply mention to people that she needed work. She was able to pick up shifts as a server this way.
Safia also mentions farm work is relatively easy to find, as is work on campgrounds. She recommends buying a mailbox (unless you have someone that is willing to let you use their address as your home base) and opening a local bank account when you're out of your home country.
To help her keep track of how much money is coming in, she uses another tracking app: Hours Keeper.
It's not for everyone
Being a nomad isn't quite like taking a vacation. For some, "travelling" means getting on a plane, staying at a predetermined location, and coming home to your regular life after a certain amount of time. Usually, this involves waiting to build up a certain amount of funds before going on your trip, even if that trip takes you around the world.
What Safia does isn't all fun. There are plenty of times that being on the road has been scary or hard. She hasn't always been able afford to eat properly. She's been stranded. There were times she felt personally vulnerable, especially as a lone woman.
Yet, despite close calls with weather or unsavoury strangers, she says it's well worth it for the mostly kind and interesting people she meets and the fantastic landscapes she gets to explore. She says that it's something people should think about trying, even if only for a short time.
"Everyone's different. Some people are made for the city," she says. "I think one day I see myself settling down in a more affordable place like South America, but until then, I'm going to do this."