Toronto: should you buy a house or should you move on?
By: Rebecca Lee on

November 7, 2016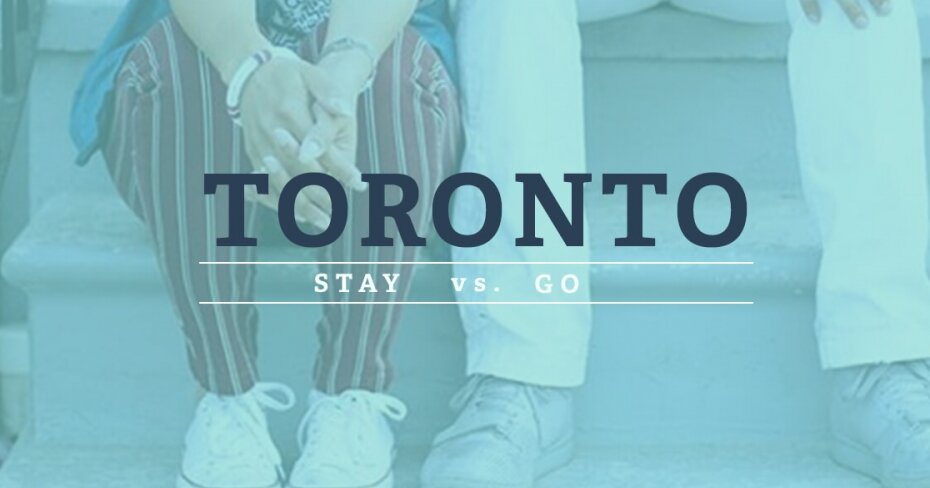 Just in case you've been living under a rock ('cause you couldn't afford anything else in the city), here's our current dilemma: Toronto's crazy hot housing market has priced out so many would-be homeowners, that people are considering leaving Toronto altogether.
It's the only way they can afford to buy a house.
When you compare the Toronto housing market to just about any other market in Ontario, the price difference is ridiculous. Buying a single-detached home in Toronto will bring you to the $1M mark. Buying a single-detached home somewhere else, like in Hamilton? Try half that. It's easy to understand why people are packing up and leaving Toronto in their dust.
Of course, that's not the case for everyone. Big-city lovers are still dead set on Toronto and willing to make the relationship work.
So the question is, how do you know if you should stay or if you should go?
We don't have the answer, but we asked our friends what they did and why. Maybe getting the inside scoop on someone else's big huge life decision will help you with yours.
Team Stay on finding 'The One' in Toronto
Name: Jessica Moorhouse
Age: 30
Status: Married
Profession: Blogger, podcaster, speaker, and digital marketer
Bought a house in: Toronto
Type of home: Townhouse
Purchase date: August 2016
Approx price: $450,000
One word to describe your house: Home (I know that's cheesy, but this is the first place I've lived in besides my parents' place that's actually felt like my home).
What are your top reasons for staying in Toronto? After moving here from Vancouver, there's no way I could leave. It has all of the opportunities and liveliness I could ask for.
What do you love most about where you live? I live in a fairly residential area, so it's nice and quiet. But I'm a 5-minute walk from the subway and train station, you can't beat that!
What sucks about where you live? There's an apartment across the street with the brightest light in the world. It's taken 2 blackout blinds to make the bedroom ok to sleep in!
What's your advice for people who want to live in Toronto, but are worried about the housing costs? You'll be paying a premium to live in any major city. But if you value experiences over square footage and don't mind sticking to a strict budget, go for it!
Team Go on moving forward with a Hamilton home
Name: Zahra
Age: 35
Status: Married
Profession: Landscape designer
Bought a house in: Hamilton
Type of home: Attached townhouse
Purchase date: December 2014
Approx price: $175,000
One word to describe your house: Cozy
What are your top reasons for leaving Toronto? Family and housing affordability. We didn't want to sink everything we had into a 1-bedroom Toronto condo we weren't sure we'd be able to sell again. Plus, my in-laws had already been living in Hamilton for several years.
What do you love most about where you live? I love that Hamilton is an old, walkable city. We didn't have a car for our first 2 years living here and, honestly, you don't really need one. The Hamilton Farmer's Market, unique neighborhoods, and close proximity to the Niagara region were also definite draws.
What sucks about where you live? If you plan on working in Toronto while living in Hamilton, the commute kind of sucks. The first year, we commuted every day on the GO in a haze. By the second year, we were crashing with family and friends in Toronto twice a week and house sitting for friends and colleagues in Toronto.
What's your advice for people who want to live in Toronto, but are worried about the housing costs? We love Hamilton and would advise anyone concerned about the affordability of housing in Toronto to visit and see if it's for you. There's also a vibrant creative community here, a burgeoning food scene, great live music, and there's no place we'd rather be.
Your move
I'm not in the market for a house at the moment, but I can't imagine ever straying too far from the city — no matter how scary the costs are. Can you? Will you stay in Toronto or will you go?
Let us know (for real!) because we'd love to find out how other Toronto residents (past, present, or future) are dealing with the affordability question in Toronto. Reach out on Facebook or Twitter and maybe we'll be featuring your story here next time.
Image courtesy of Sans Script