Infographic: The Detached Dream — GTA Edition
By: Rebecca Lee on

May 16, 2016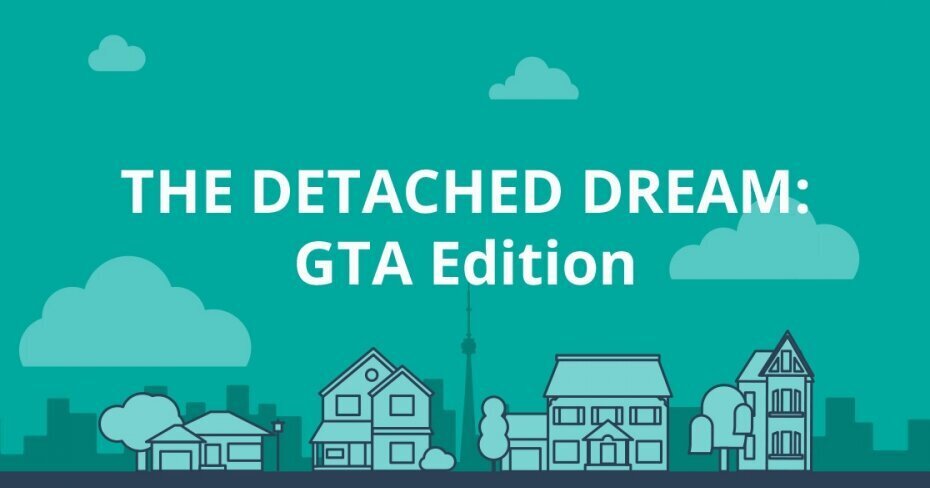 A simple, detached house nestled in the heart of the GTA. Call it the great Canadian dream. Or call it crazy, stupid expensive.
Yes, home prices in the GTA are rising, and no, we're not flush with cash. But we're not ready to give up. We continue to fantasize endlessly about owning a home — and that's okay. The problem is that we don't spend as much time calculating how much money we need to buy one.
So we did the dirty work for you (math) and figured out exactly how much it costs to buy a detached house in the GTA.

Every year since 2014, the average price of a detached house has increased by over 10%
Houses aren't getting any cheaper, and, to be frank, they probably never will. But if the detached house of your dreams comes with a $900K or million-dollar price tag, your savings need to be ready. The house price sets every other cost in motion: your down payment, mortgage size, monthly payments, CMHC insurance, and land transfer tax. These are the upfront or ongoing costs you need to plan for whenever you buy.
CMHC's new mortgage rule just made your minimum down payment way more expensive
Before the new rule, the minimum down payment was 5% down on the entire price of the house. As of February 2016, the Canada Mortgage and Housing Corporation (CMHC)'s new down payment rule is in effect: you have to pay 5% down on the first $500K of your house's price plus 10% down on any amount over $500K.
We'll use the average price of a detached home in 2016 to show you how this rule works:
Down payment on $910,375 detached house
= ($500,000 x 5%) + (410,375 x 10%)
= $25,000 + $41,038
= $66,038
How the new rule affects your budget: If you're buying in 2016 and beyond, you have to fork over a down payment that's approximately 45% higher now than it would have been before the new rule. That means you need to save more and save for longer.
Don't overlook the closing costs of buying a home in Toronto
These are the costs we often forget to plan for: mortgage insurance, land transfer tax, and admin fees. But in some cases (refer to killer infographic above), your closing costs can be almost equal to your down payment.
Here's what you need to know about the closing costs:
If you only cover the minimum down payment, you're automatically required to buy mortgage insurance from the CMHC.

When you get billed: on an ongoing basis. Lenders generally roll this premium into your mortgage payments.

When you buy a house in Toronto, you're hit with a land transfer tax double whammy: you have to pay a provincial land transfer tax and a municipal tax.

When you get billed: right away. You pay land transfer tax upfront when the transaction closes.

Administrative costs, like legal fees and land surveys, creep up on your budget. We dedicated $2,000 to admin costs in our infographic.

When you get billed: during the home buying process.
Securing a low mortgage rate can help offset rising home prices
We'll talk more about this in an upcoming blog post. But just so you know, mortgage rates are near record lows, and, yes, that is a big deal. You can save a lot of money over the course of your mortgage if you lock in a lower rate off the bat.
2017 may bring higher home prices and way higher down payments
Here's how we arrived at that projection.
The home price: Based on current trends, odds are that home prices will rise by at least 10% in 2017, bringing the average price for a detached house in the GTA to $1 million or more.
The down payment: If prices exceed $1 million, everything changes. On a million-dollar house, detached home buyers will suddenly be faced with a whole new obstacle: a minimum 20% down payment. Yeah, that's $200,000 down.
The mortgage payment: Your monthly mortgage payment may actually be cheaper on a million-dollar house than on today's $900K house, especially if mortgage rates stay low. Why? That mandatory $200K down payment leaves you with a smaller mortgage left over.
The mortgage rate: We calculated your potential monthly payments using two different mortgage rates: the average LowestRates.ca 5-year fixed rate from 2016 (2.34%) and the average LowestRates.ca 5-year fixed rate from 2014 (2.97%). Now you know what your payments might look like if rates stay low and if rates go up.
So can you afford to buy a detached house in the GTA?
You have the average numbers, you've learned the CMHC rules, and you know what 2017's market might look like. Tomorrow we'll explain how we calculated the "Approx. household income needed to buy" and what that really means.
In the meantime, you have to do your own math to answer these questions:
Should you just cover the minimum down payment and buy now? Are you better off saving toward a 20% down payment and buying next year? Or is it time to consider buying in other locations or shopping for other types of homes?
Tell us what you think. Share your home buying thoughts, questions, and stories with us on Twitter or Facebook.
Share the infographic on your blog or website by copying and pasting the following code: