Why 2017 will be the best year ever to sign up for a rewards credit card
By: John Shmuel on

December 28, 2016
Credit card companies are currently engaged in an all-out-war to get you to sign up and use their loyalty rewards cards.
Credit is slowly becoming the dominant form of payment in Canada. Market and consumer information firm Gfk says that 42% of transactions in Canada are done by credit card, while only 25% are done in cash. In the next few years, it's likely that credit will be used in more than half of all transactions in Canada, as cash use has gradually been declining.
Every time you use your credit card, the companies who own that card make money. So it's a no-brainer that they'll provide any incentive they can to make sure you're using it frequently. Enter the growing incentives, known as sign-up bonuses, card providers are now offering customers.
Because so many cards have flooded the market, credit card providers are set to offer bigger and better incentives to get you to pick their cards over the rest. Below, we look at some incentives we could see in 2017.
Bigger sign-up bonuses
Sign up bonuses have been getting bigger in recent years. Take the current war between American Express and Chase for credit. American Express' offerings, such as the American Express Gold Rewards and the The Platinum Card often top the list of best rewards cards available to Canadians.
Signing up for The Platinum Card nets you 50,000 bonus membership points if you make $1,000 worth of purchases during the first three months of membership. Those points can be converted to travel points, such as Air Canada's Aeroplan, which net the equivalent of $1,500 worth of free flights. A pretty impressive deal.
Chase has entered the fray with its own eye-popping sign-up bonus to challenge American Express. The Chase Sapphire Reserve card offers 100,000 bonus points if you spend $4,000 or more in the first three months. In some cases, that could net you a flight worth more than $7,000. 
New credit cards hitting the market
Unfortunately, the Chase card is not available in Canada yet. We reached out to Chase to see if there were any plans to bring it to Canada, but looks like Canadians will have to keep waiting.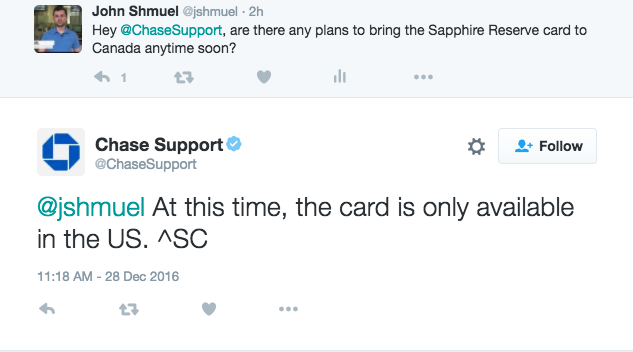 While we might have to wait a bit before Chase lobs its Sapphire Reserve volley into Canada, other credit card providers are already offering new sign-up bonuses and better rewards offers to entice you. MBNA has been courting Canadians this month by offering $100 if you sign up for some of their rewards cards. 
Better travel rewards
Other credit card providers could be eying the disgruntled customers left in the wake of the Air Miles fiasco earlier this month. Air Miles upset some customers after they announced that they would not be expiring their loyalty points at the end of 2016 as originally planned. For anyone looking for alternatives, Rewards Canada has broken down the best ways to collect travel rewards beyond Air Miles. 
Air Miles, in a bid to smooth over customer unrest, could respond with bigger and better offers in 2017. So stay posted to that as well.
Keep watching for new cards and offers in 2017
As mentioned above, some of the all-out wars between credit card providers seen in the U.S. have yet to hit Canada. But when they do, expect a choice of more credit cards and better offers for signing up to them. 
If you've had your rewards card for a while, it will pay to start shopping around for a new card in 2017. The competition for your business is going to heat up. And as long as you make sure you're paying off your credit card balance every month, you — the consumer — are the ultimate winner.