REPORT: Interest in usage-based car insurance increases by 43% during pandemic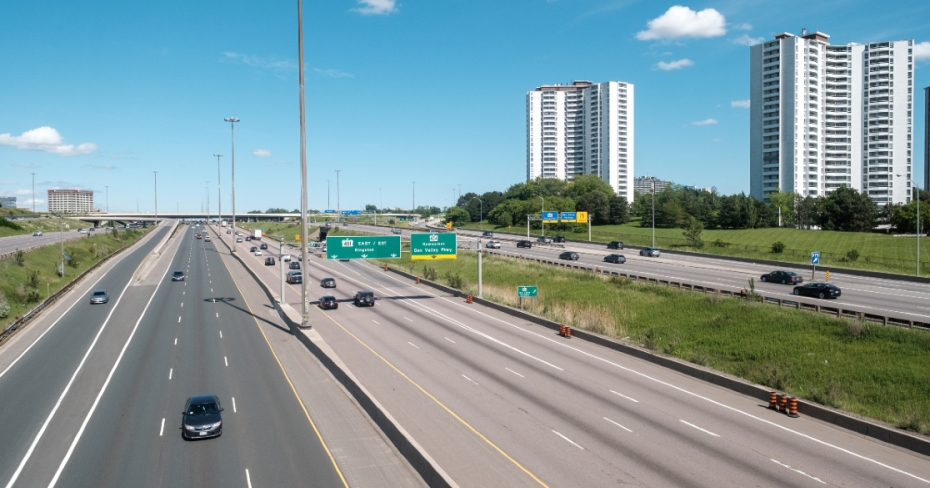 Interest in usage-based car insurance (UBI) shot up by 40% during the pandemic. UBI technology monitors the number of kilometres you log, as well as your driving behaviour. Drivers with UBI can find savings on insurance.
The COVID-19 pandemic has had a major effect on Canadians' driving habits. Thanks to stay-at-home orders, widespread business closures, and a surge in work-from-home arrangements, drivers spent less time on the road in 2020 than ever before. And despite the fact that many insurance companies introduced rebates at the start of the pandemic, we still saw average premiums increase at the end of 2020. Needless to say, Canadians are on the hunt for savings. And according to recent LowestRates.ca data, drivers may be turning to usage-based car insurance (UBI) to find them.
When a driver visits our website to get a car insurance quote, they can opt in to a number of discounts, one of which is UBI. With usage-based car insurance, companies use telematics to monitor a person's driving habits (braking, cornering, speeding) and reward them with a discount for safe behaviour. If the data indicate that you are a low-risk driver, you might be eligible for a discount on your premiums of up to 30%.
At the end of the car insurance quote process, LowestRates.ca asks customers whether or not they would be willing to install an app on their phone that scores their driving habits for a potential discount. When a customer selects yes, it doesn't automatically sign them up for UBI, but it indicates to the insurance companies and brokers we work with that they're willing to explore it. We reviewed data from 2019 to 2020 to see whether there was an increase in the number of people opting for the UBI discount during the pandemic. As it turns out, there was a significant rise in drivers saying yes to this discount across the provinces where UBI is currently available.
Key findings:
Interest in usage-based insurance in the provinces where it's available increased significantly in 2020 compared to 2019. We saw a 43% year-over-year increase in the percentage of drivers opting in to the UBI discount when filling out a car insurance quote on our site.
The COVID-19 pandemic appears to have contributed to the increase in interest for usage-based car insurance.
Interest in usage-based insurance grew the most in Nova Scotia (61%) and Alberta (59%). 
Drivers have the opportunity to save up to 30% on their car insurance premiums when switching to usage-based insurance.
More drivers interested in usage-based insurance across Canada
Where usage-based car insurance is available in Canada is dependent on the insurance companies operating in that province, not the province itself. Based on what we know so far, UBI is available only in Quebec, Ontario, New Brunswick, Nova Scotia, Alberta, and Prince Edward Island. That said, you won't see data for P.E.I in this report because UBI became available in the province only in February of this year, nor will you see data for New Brunswick, where our current customer base is too low to show meaningful data. We're also unable to gather data for provinces in which car insurance is publicly administered by the government, like British Columbia, Saskatchewan, and Manitoba.
According to the data we do have, we saw a 43% year-over-year increase in the number of Canadians opting in to the usage-based car insurance discount in 2020. At the provincial level, we saw the biggest increase in Nova Scotia, where those opting in to the usage-based car insurance discount increased by 61% year-over-year.
Drivers in Nova Scotia are dealing with a significant increase in the price of car insurance premiums. Despite the fact that the number of car accidents in the province has remained steady, insurance companies told CBC that drivers shouldn't expect premiums to go down any time soon because the cost of repairing newer and more technologically advanced vehicles is "skyrocketing."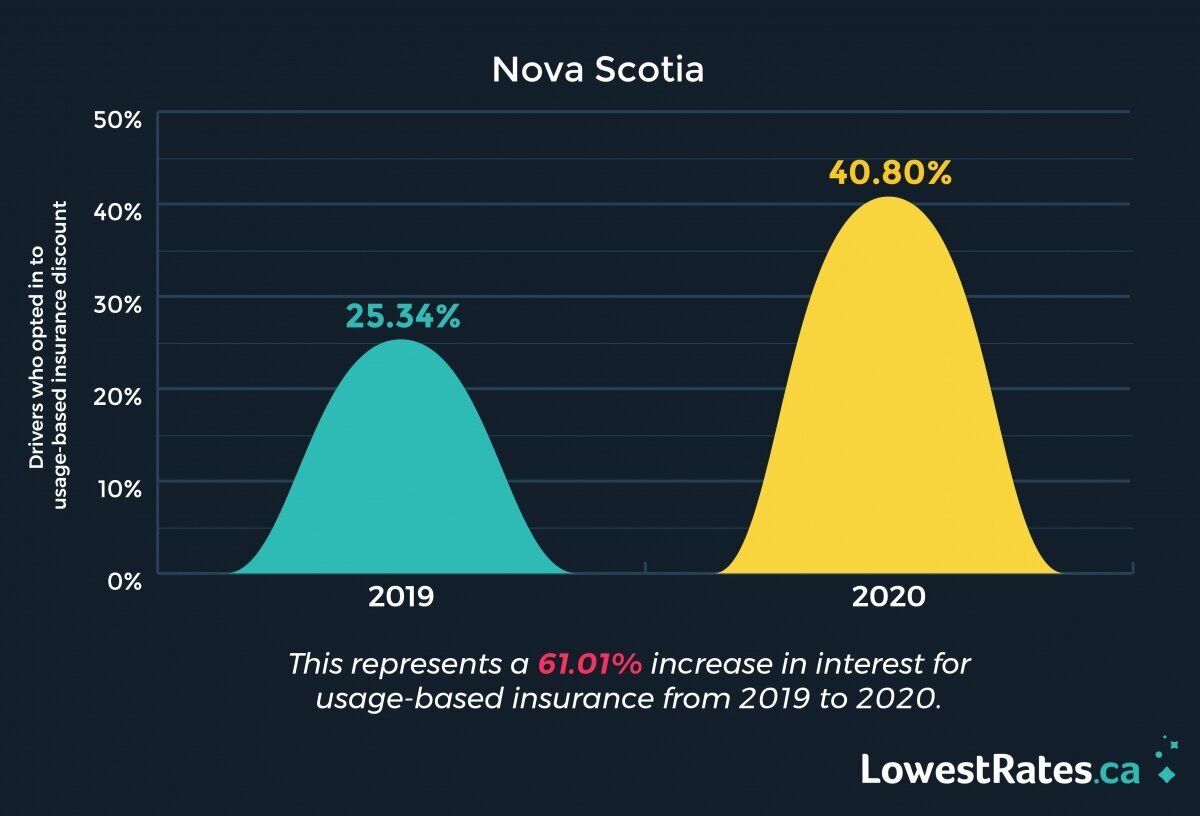 Next up is Alberta, which saw a 59% YoY increase in UBI interest in the same period. As Alberta prepares to move to a no-fault auto insurance system under the changes proposed in Bill 41, some experts predict the size of the usage-based insurance market could expand even more in the province. That's because the bill will also make it easier for insurance providers to track drivers' behaviour using telematics.
Affordability in Alberta's car insurance space continues to be an issue, too. Prices have risen following the removal of a limit on insurance premium increases in 2019. In the fourth quarter of 2020, our latest auto insurance index shows that prices seen by those shopping for insurance increased by 29.5% compared to last year. This could also be contributing to an increased interest in UBI in the province, as Albertans continue to look for ways to save money on auto insurance.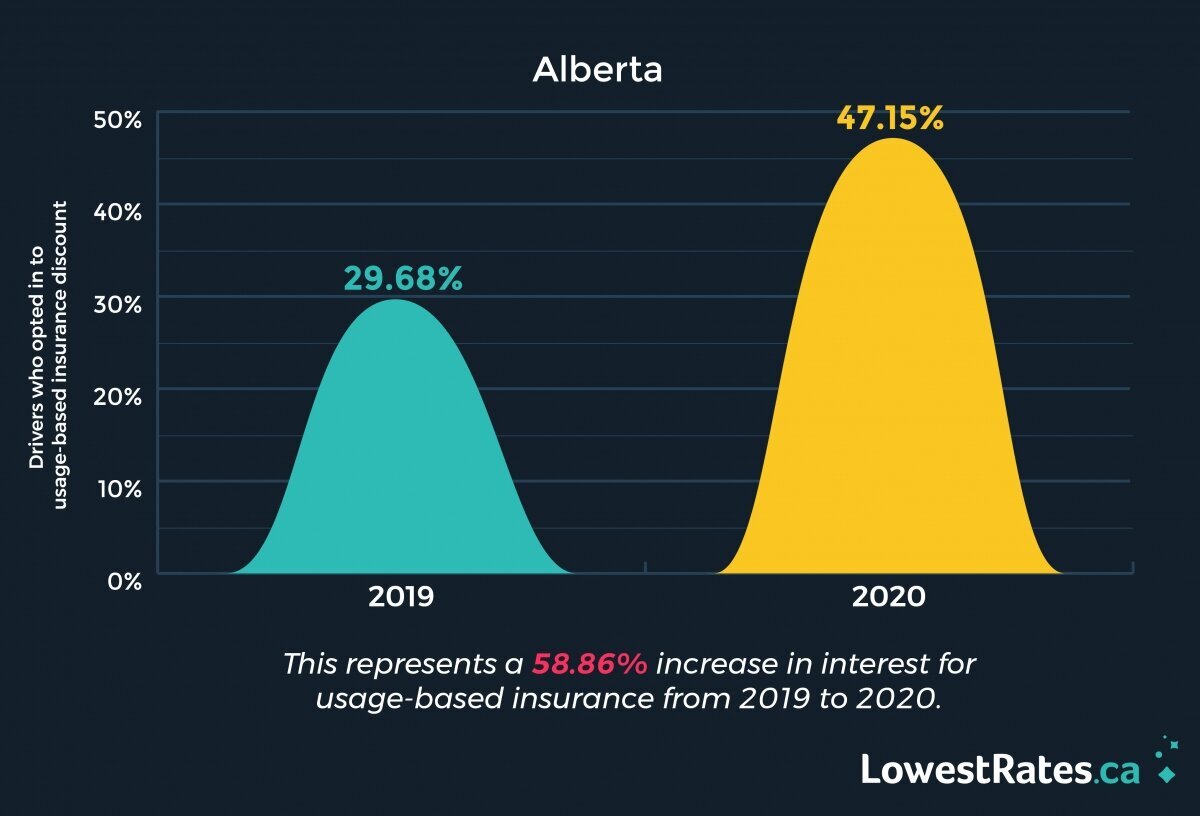 In some provinces, like Quebec, if you're seen as a higher-risk driver based on data collected by your car insurance provider's telematics app, you can be penalized in the form of surcharges added to your premiums. Despite this law, we saw interest for UBI rise by 42% last year compared to 2019. While it's difficult to pinpoint exactly why UBI interest has increased in Quebec, rising car insurance rates across the country may be playing a role, as drivers look for ways to lower their premiums.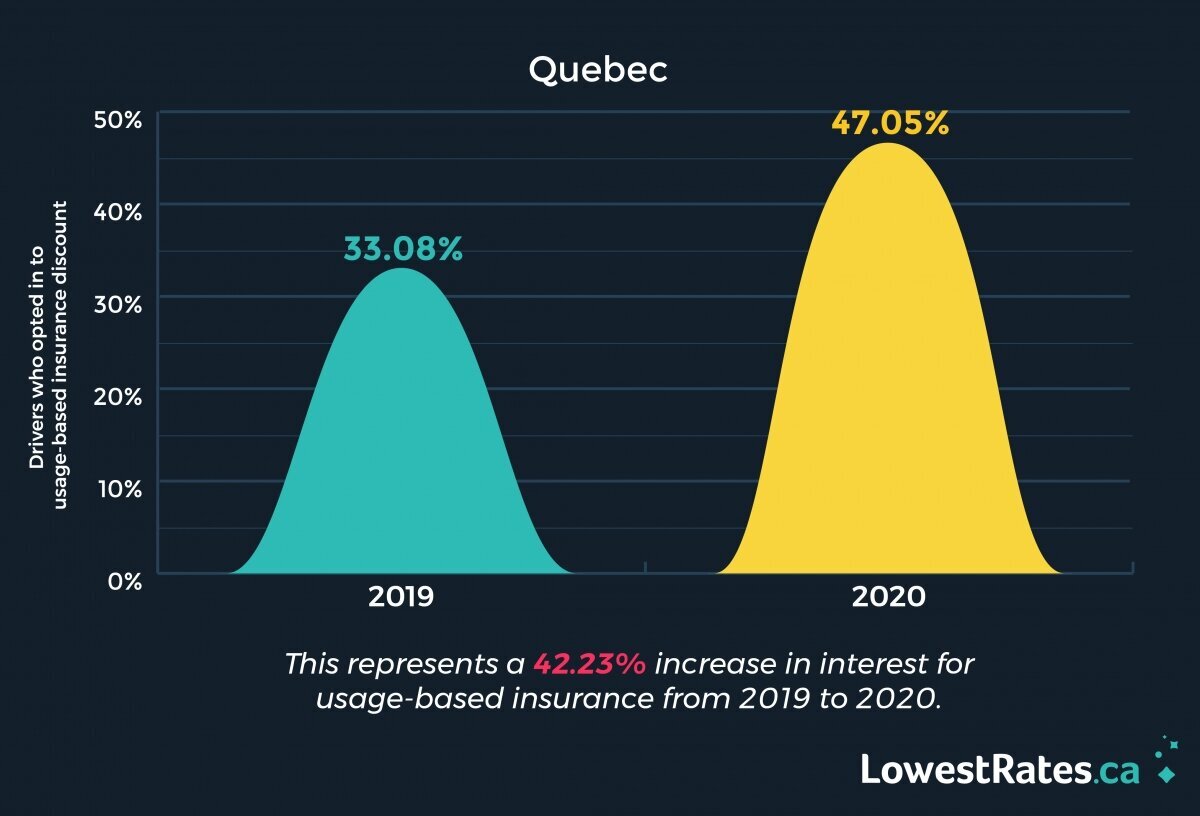 And lastly we have Ontario, which saw the smallest YoY increase in UBI interest, at 37%. Ontario is following in the footsteps of Quebec when it comes to UBI regulations. The Financial Services Regulatory Authority (FSRA) of Ontario announced last November that it will also now allow insurance companies to penalize UBI drivers in the form of surcharges for high kilometres and other driving behaviour considered risky.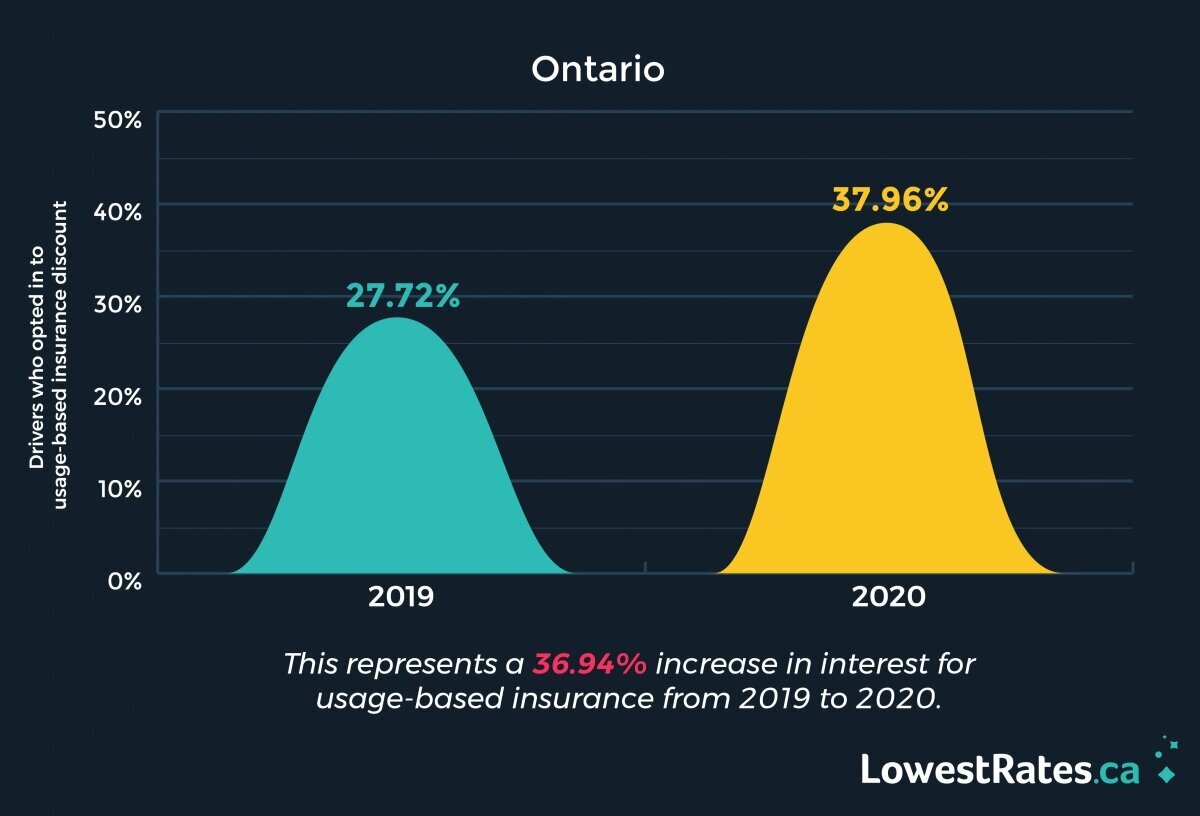 COVID-19 and usage-based insurance: the incentive drivers needed? 
We're not the only ones who saw a dramatic change in usage-based insurance trends last year. CAA Insurance recently announced a 300% increase in the number of its customers who have signed up for its UBI program, CAA MyPace, over the last 10 months. The company's pay-as-you-go insurance keeps track of how many kilometres you drive and is designed for drivers who travel fewer than 9,000 kilometres per year.
Not only does UBI track how safely you drive; it also tracks how frequently and how far you drive. This introduces another potential reason for the surge in UBI interest: change in driver behaviour due to the pandemic. The more infrequently people are driving, the more they could be saving on car insurance by opting in to a UBI program. 
Generally speaking, Canadians also have more awareness and are more accepting of UBI than when it first hit the market in 2013. Early iterations of UBI technology meant that a driver had to install a device in their vehicle. Now, most insurance providers simply use an app to collect driver behavioural data, so it's as simple as downloading the app on your phone and having it with you in the vehicle when you go somewhere.
How usage-based auto insurance can save you money
There are several advantages to using UBI programs for car insurance. Many insurance companies give drivers real-time feedback about how they drive and provide tips for how to improve. And statistics show usage-based car insurance can typically save you up to 30% on your annual premiums. 
That said, it's taken Canadians a while to come around to the concept of being monitored while they drive. A major concern when it comes to telematics and data collection in general is privacy. Critics argue that the information gathered may be shared with third parties or used to deny claims.
"Quite frankly, while the data collected will indicate where you've been, that's not data that can be used," says Hugh McTavish, president of InsureMy Inc., a Calgary-based insurance brokerage. "The data doesn't discriminate. It doesn't do anything other than say, this is how you drove. And this is your score."
For a long time, critics were also concerned that usage-based insurance plans for vehicles could work against drivers. In places like Quebec and Ontario, that's turned out to be true. If an insurance provider determines that you are a high-risk driver based on your telematics data, your premiums will likely rise.
According to McTavish, though, the power is still in the hands of the driver. 
"Control your insurance cost by changing your behaviour," he says. "If you want to pay less, then drive better. Your score will reflect that. You will save money, and in turn, roads are safer, and the cost of insurance goes down."
Methodology
Opt-In UBI represents the number of users that said "Yes" to the UBI discount when filling out a car insurance quote on LowestRates.ca. 
%Opt-In is the percent of users that opted in to the UBI discount.
Percentage increase in user interest for UBI is calculated by dividing the %opt-In number for 2020 by the 2019 number, subtracting 1, and multiplying by 100. 
These data represent LowestRates.ca customers over the age of 25.
Save 30% on average on car insurance
Compare quotes from 50+ Canadian providers in 3 minutes.
About the author
Zandile is a freelance personal finance journalist. She previously worked as a personal finance writer at LowestRates.ca and before that, the content editor for Real Estate Management Industry News. As a self-proclaimed budget warrior, Zandile dedicates most of her time to advocating for financial wellness.