Ontario's winter tire car insurance discount: what you need to know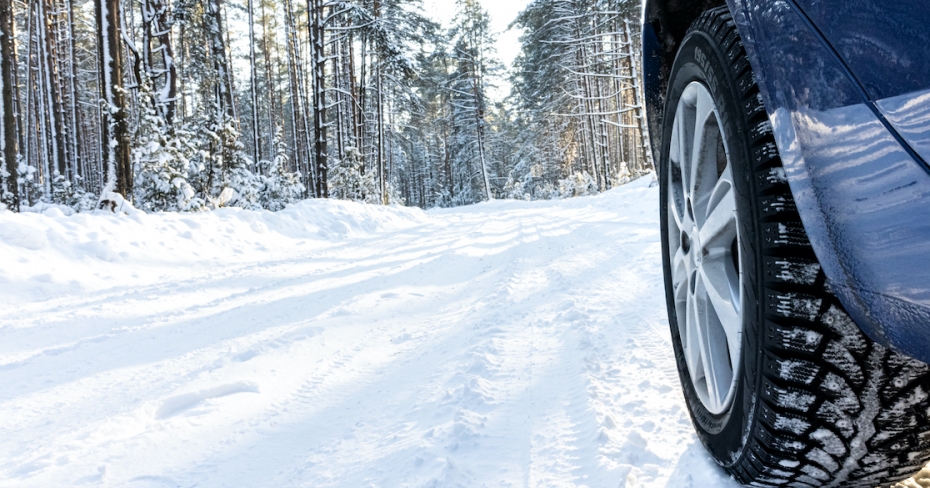 Winter tires can increase stability and traction in colder temperatures, gripping icy and snowy roads better than all-season tires. A nice bonus: installing winter tires can save you money on your auto insurance, too.
This article has been updated from a previous version.  
As snow falls, and the weather changes, thick slush and translucent black ice will coat driveways, sidewalks, and roads. Winter conditions are hazardous to drivers, often reducing visibility and increasing the likelihood of collisions. 
Fortunately, winter tires are one way to safeguard yourself during harsh winter conditions. Thanks to their ability to withstand cold temperatures and maintain grip, winter tires reduce the likelihood of your vehicle sliding over translucent and slick black ice.  
And, if safety wasn't incentive enough, a winter tire insurance discount can lower your car insurance premium, too.    
What is a winter tire insurance discount? 
As of January 2016, all insurance providers in Ontario must provide a discount to customers who install winter tires on their vehicles between specific dates, usually December through March. Ontario drivers can get a winter tire insurance break of up to 5%, though the exact amount varies by the insurance company. 
Here are the three steps drivers must take to qualify: 
Purchase a set of four winter tires, carefully checking for the winter tire emblem — an illustration of a snowflake inside a mountain peak. All-season tires, identified by their signature "M + S" marking for mud and snow tires, do not qualify for a discount. 

Inform your insurance company that you've purchased and plan to install winter tires. You may be required to provide proof, such as a receipt, invoice, or photograph. 
Install your winter tires before your insurance provider's specified dates.   
Typically, the winter tire insurance discount applies for the duration of your auto insurance policy; however, you should also inquire about the discount upon renewal or when switching auto insurance providers. 
Are winter tires mandatory? 
Winter tires are mandatory only in Quebec and British Columbia. While winter tires aren't the law in other provinces, insurance companies recommend them to increase road safety and reduce claims. 
According to the Traffic Injury Research Foundation (TIRF), cars with all-season tires need nearly twice as much stopping distance on icy roads than those with winter tires. A vehicle with winter tires has better traction and needs only 6.4 metres to stop compared to the 12.1 metres that a car with all-season tires requires. 
The TIRF also warns drivers that crash-avoidance technologies, such as electronic stability control, may not work if the tires have inadequate traction. 
When should you install winter tires? 
Drivers must install winter tires from December 1 to March 15 in Quebec and October 1 to April 30 in British Columbia. However, you'll need to speak to your insurance agent or broker about when to put on winter tires in Ontario to get the insurance discount. 
To get the winter tire insurance discount in Ontario, you may be required to have winter tires between November to April or from December to March. Nevertheless, one other factor may determine when to change your winter tires apart from insurance requirements — the weather. 
All-season tires begin to stiffen and lose their grip at seven degrees Celsius — a temperature Ontarians usually start to see in mid-October. So, when the temperature drops to seven degrees or less, even if it's before your insurance company's guidelines, you should consider booking time with your mechanic. 
When can you remove your vehicle's snow tires? 
As with installation dates, insurance providers have specified dates for when to take off winter tires in Ontario. Typically, the end date is in March or April. 
And even though it's unlikely that your insurance provider will check in on the status of your winter tires, they have the right to deny your claim if you're caught without them during the specified dates. The reasoning behind this is that the insurance company is giving you a discount in exchange for your agreement to use snow tires. The winter tires are part of the insurance policy; therefore, you can void your policy by not having them. It is deemed as a material misrepresentation, a clause in most auto insurance policies. 
The best way to keep your winter tire insurance discount in Ontario is to know the dates and keep your tires on during that time. 
How much can you save on auto insurance with a winter tire discount? 
Drivers who install winter tires can save up to 5% on their auto insurance premium. This amount might not seem like much at first, but the savings can add up over time. 
Here is a hypothetical example: 
Carl pays $1,500 for auto insurance annually. This year, he decided to install winter tires and called his insurance broker. Carl gets a 5% discount, resulting in $75 in savings in the first year. Now, Carl pays $1,425 for his auto insurance policy. Five years later, Carl has $375 more in his pocket than he would without the snow tire insurance discount.  
Winter tire safety tips 
According to Transport Canada and the Tire and Rubber Association of Canada, drivers should follow a few simple guidelines when choosing winter tires, including: 
Install four winter tires. Installing only two winter tires on the front can cause your car to oversteer; two on the back will cause your car to understeer. However, a full set (four winter tires) will allow for maximum effectiveness and safety. 

Avoid mixing tires. If possible, use winter tires with the same tread patterns and size. Mixing winter tires can reduce stability. 

Check each tire's wear. You should not drive your winter tires in the snow if the tires are worn close to the tread-wear indicators. 

Inflate your tires. Drivers should check their tires pressure at least once a month in the winter. Proper tire pressure can increase overall safety and the lifespan of your tires. 
The insurance rebate for winter tires in Ontario is an incentive to promote road safety and lower car insurance rates. However, there are even more ways to save. Many insurance providers offer auto insurance discounts for all ages and experience levels.  
Interested in creating content with LowestRates.ca? Reach us at [email protected]. 
Save 30% on average on car insurance
Compare quotes from 50+ Canadian providers in 3 minutes.
About the author

Hayley Vesh is an editor/writer in the personal finance space. Her work has also appeared in Global News. She is passionate about financial literacy and the pursuit of knowledge through lifelong learning.