REPORT: Home and condo insurance prices are rising across Canada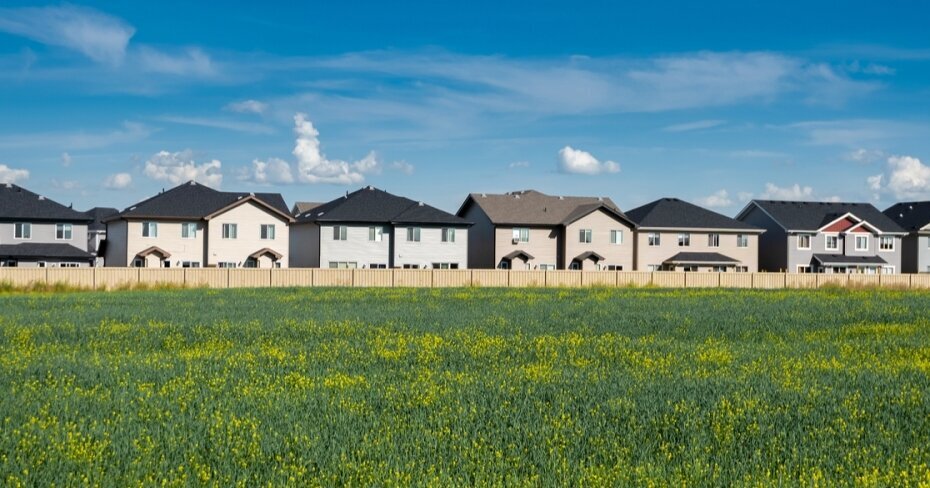 From climate change to the COVID-19 pandemic, many forces are currently affecting home insurance prices. Our data show that residential property insurance prices have mostly risen in the past year in Ontario, Alberta and B.C.
From climate change to the COVID-19 pandemic, many forces are currently affecting home insurance prices. 
That's why we're introducing the LowestRates.ca Home Insurance Price Index. We want consumers to be quickly able to see how prices are changing and explain why.  Our data shows that residential property insurance prices have mostly risen in the past year in Ontario, Alberta and B.C.— echoing a trend that has been observed in the industry for the past several years.
Key highlights from the report:
The financial impacts of climate change: Overall, property insurance premiums have increased over the past year. Experts attribute this to both inflation and climate change. 
COVID-19 has not impacted premiums the way many feared: While more people are working from home, this change hasn't led to higher insurance prices for consumers. 
Condo insurance premiums have increased by 16% in some provinces: This is likely due to several factors, including a surge of new condos being built and potential issues with quality, as well as water and weather event damage due to climate change. 
Comparing prices can help you save: Shopping the market can save you money on property insurance. 
The reasons for these increases can be attributed to a number of factors, as described above. These include increased replacement costs as the value of Canadian homes rise with inflation coupled with the increased risk of severe weather events, such as flooding or ice storms, posed by climate change. 
This report also looks at how COVID-19 has impacted home insurance premiums in Canada as well as the double-digit increase in condo insurance premiums some provinces have seen over the past year. 
Lastly, the data confirms that shopping the market is still the best way homeowners can ensure they're getting the best deal on their property insurance premiums. Our data shows that between Q3, 2019 and Q3 2020, LowestRates.ca users have seen average premiums have decreased in Ontario, while rising between 1-6% in B.C. and Alberta. That compares to increases in the broader home insurance market of up to 10%. 
How to use this index: It's true that property insurance can be complicated. That's why LowestRates.ca has organized its data into an index to improve comprehension and smooth out market irregularities. Here's how it works: Our baseline is set at 100. This means that if our index increases from 100 to 101, prices have increased by roughly 1%. Our index represents the online marketplace on LowestRates.ca and it shows who's shopping for property insurance and the prices they're getting.
Part 1: Provincial breakdown of house and condo insurance rates (Q3 2019 - Q2 2020)
Home insurance rates in Canada saw increases in all segments across Canada, with the exception of a 1% decrease in Ontario.  Condo insurance prices, on the other hand, have seen considerable increases in all three provinces. We start our report with a look at the trends, before diving into the analysis. 
Ontario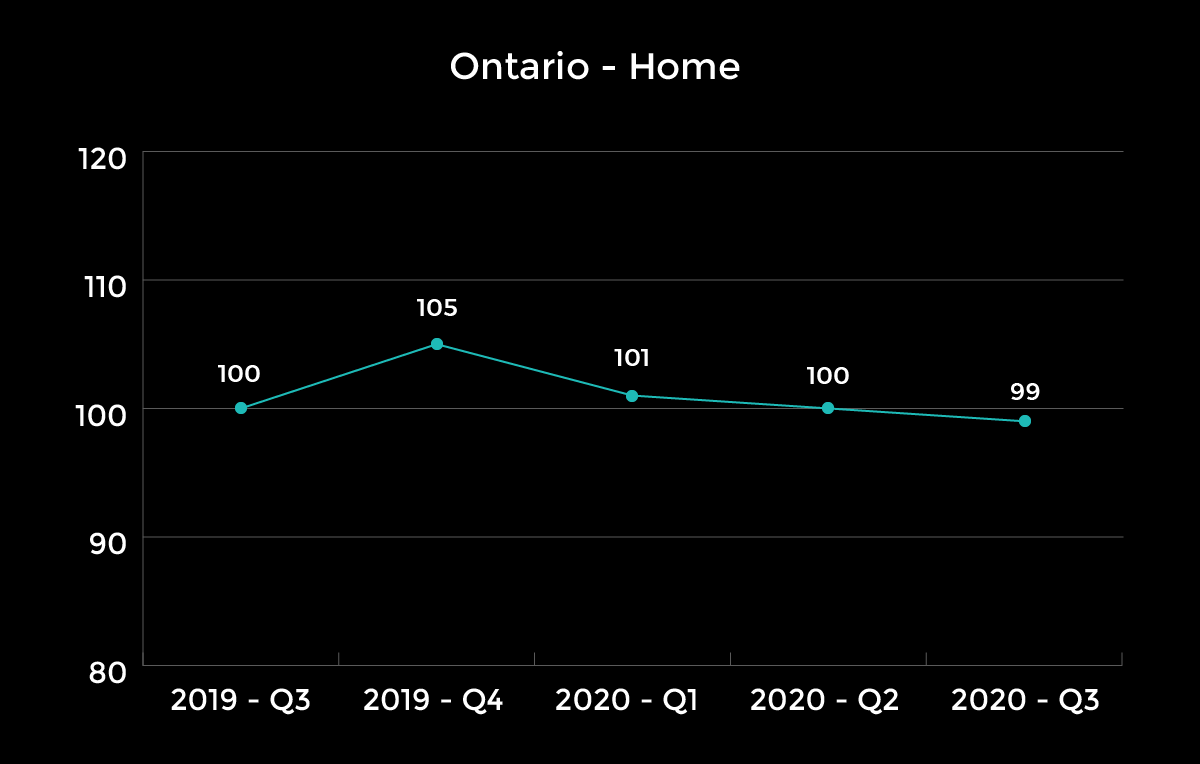 Alberta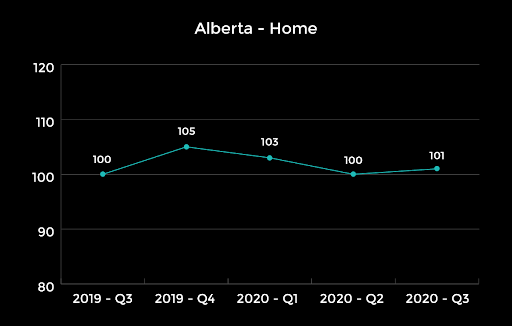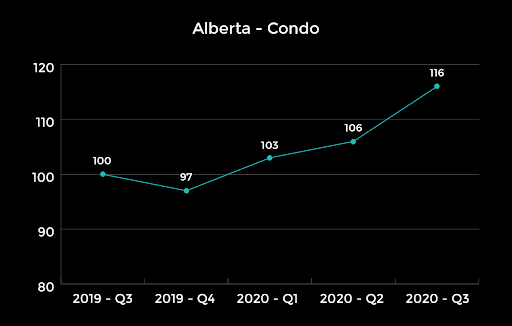 British Columbia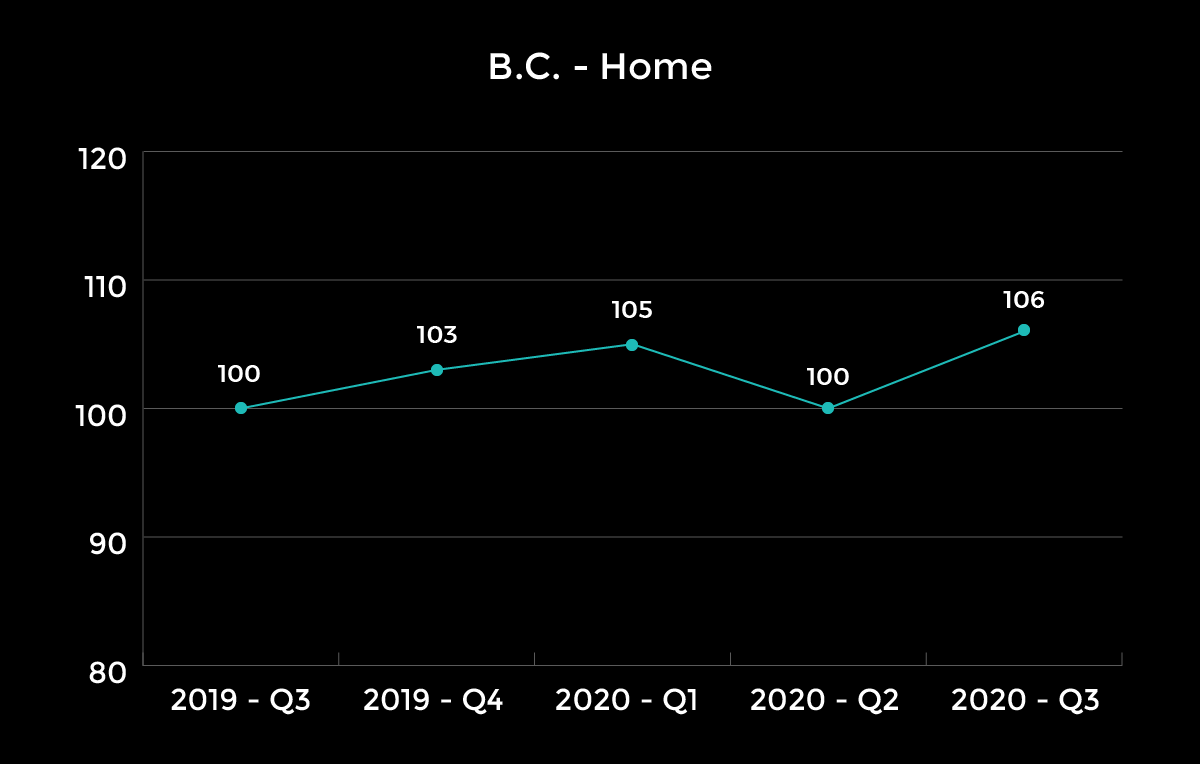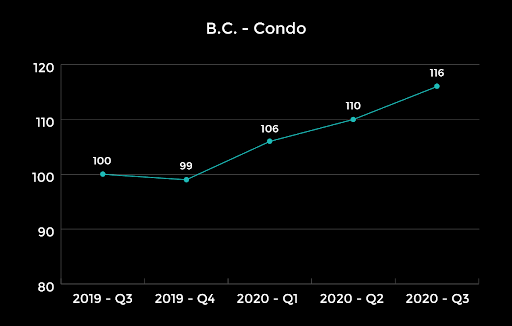 Part 2: Weather, inflation lead to higher home insurance premiums 
Home insurance has been going up steadily for several years due to a combination of inflation and climate change. Specifically, these costs can be attributed to rising replacement costs due to the effects of inflation on home prices combined with an increased risk of weather-related events. 
The Insurance Institute echoes these concerns and predicted in a 2020 report that the amount paid out by Canadian insurance companies for extreme weather-related claims could double to reach $5 billion over the next 10 years. Those rising costs will no doubt be increasingly passed on to consumers, making finding the best rate more important than ever. 
LowestRates.ca data shows increases as well, although they're mainly concentrated in condo insurance. From Q3-2019 through Q3-2020, condo insurance premiums have gone up consistently in Ontario, B.C. and Alberta, with increases ranging from 3% to 16%. As for homeowners insurance, rates have remained mostly flat in Ontario and Alberta, while rising 6% in B.C. 
According to LowestRates.ca COO and insurance industry veteran Dave Dyer, water-related incidents are a major cause of these increases, which are consistent industry-wide. 
"A lot of that is caused by water," says Dyer. "That's having an inflationary impact on the cost of homeowners insurance. This is pretty much happening everywhere, but Quebec, Alberta and Ontario are the big ones. You have some aging infrastructure and you have more weather events."
Elektra Hilton, the Director of Operations at DirectRate.ca, agrees that home insurance rates have — and will continue to be — impacted by severe weather events. 
"Climate change has affected home insurance. For example, flash flooding and hail have been major events in recent years which resulted in significant costs to the industry. Home insurance rates will likely continue to be impacted by severe weather events," she said regarding the data. 
Stefan Tirschler, an underwriting manager with Square One insurance, explained that because insurance premiums are calculated based on data collected from previous years, the effect of climate change is already represented in premiums today based on increased water damage and wildfire occurrences over the past decade. 
"When we're looking at the changes in rates, when we're setting rates and determining what they should be in the future, we're setting them based on past trends," he explained. This also means, he added, that the premiums of the future will take into account the weather-related events we're seeing today. 
"We do know that the effect of it is already there based on what we've seen in the past. The conditions that lead to certain types of loss are becoming more acute," he stated.  
Therefore, it's likely that the increases we've seen across the provinces will begin to rise more aggressively as climate change gets worse and weather-related damages become more extreme. 
Part 3: COVID-19 has not impacted property insurance rates — yet
LowestRates.ca's data can confirm that COVID-19 has not caused an increase in home insurance premiums over the past several months. 
LowestRates.ca COO Dave Dyer explains that any increases we're seeing in home and condo insurance can be largely attributed to non-COVID factors — such as climate change and inflation — rather than the increase of Canadians working from home. Unless working from home poses additional risks to the structure or contents of the property, most Canadians don't have to worry about seeing increases in their property insurance premiums anytime soon. 
Just because home insurance premiums haven't increased yet, that doesn't mean the higher volume of people working from home won't cause premiums to increase in the future. This is because we don't yet know what the impact of working from home en masse will be. 
It very well might mean more damage to homes due to increased use — and therefore more claims filed. It might also mean less damage to homes due to increased monitoring — and therefore fewer claims filed. Stefan Tirschler of Square One explained this phenomenon. 
"People are working from home all the time. That alone doesn't mean home insurance needs to cost any more. This may very well mean an increase in the types of damage we're seeing in the home. What we're going to have to watch for is, what is the actual effect of so many people being at home," Tirschler said. 
Regardless of how COVID-19 will impact insurance in the future, at the moment, consumers aren't seeing higher prices due to it. 
Part 4: Condo premiums in B.C. and Alberta increased by 16% year-over-year
Condo insurance premiums in B.C. and Alberta increased among LowestRates.ca users by a factor of 16% between Q3 2019 and Q3 2020 These increases are largely concentrated in Alberta and B.C., but may eventually creep into other regions as well. 
The increases are rooted in the skyrocketing deductibles for condo corporations of buildings in B.C. and Alberta. A deductible is the amount of money a person or business has to pay out of their own pocket as part of an insurance claim. So for instance, if you have a $1,000 deductible, you would have to pay $1,000 of your own money if you make a $5,000 claim. 
In B.C. and Alberta, condo corporations are seeing their deductibles massively increase due to more claims and an increase in the average amount of claims. This is due to several factors, including climate change leading to more claims from things such as water or wind damage, and more expensive materials and labour costs leading to an increase in the average value of those claims. 
Higher deductibles hit condo owners as well, and more claims mean that individual condo insurance for owners also rises. When a building makes a claim on something such as water damage, the condo corporation's insurance cost goes up and those costs get passed on to owners in the form of higher maintenance fees. Condo corporations may also ask that owners use their insurance to cover certain damages, such as if negligence results in a tap being left open and flooding damaging the owner's condo, as well as multiple units below it. 
When more condo owners make claims on their own policies, that raises their premiums and a rising number of these claims means an increase in the price of condo insurance overall.
On top of this, some insurance companies have scaled back offering insurance to condo corporations in B.C. and Alberta due to a rise in claims and more frequent claims. Less competition means that the providers left can charge higher prices. 
"In addition to the steep increases in condo insurance on the commercial side, deductibles are also being increased on building policies. As a result, a condo unit owner has to be covered for the new, higher deductible on their personal condo policy to bridge the gap — higher coverage results in higher premiums," explains Hilton of DirectRate.ca.
In response, both the B.C. and Alberta provincial governments have introduced new legislation that puts caps on the amount that the unit owner can be assessed for. While this helps, experts expect this will be an issue that spreads to other provinces.
"It's flying under the radar and it's costing consumers money," says Justin Thouin, CEO of LowestRates.ca. "We'll be watching to see if the new government policies actually work."
While we're not seeing the same increases in Ontario, it's something that warrants watching. On top of the issues in B.C. and Alberta, our experts point out that a massive amount of new condos have been built in many cities in the past decade. Some cities, such as Toronto, have rushed to build condos to keep up with a rapidly increasing population. Condos being built so quickly increases the risk of lower workmanship, potentially resulting in building problems that may require an insurance claim later on. This could contribute to the trend of a rising number of claims.
For now, with condo insurance prices only up 3% in Ontario year-over-year, we have yet to see a major impact on consumers. But it's certainly something that the insurance industry is aware of and we'll continue to watch and report on if it leads to a surge in prices in Ontario. 
Part 5: Shopping the market means lower rates  
While there is still some uncertainty about what the next few years will bring for home insurance premiums, one thing is true — shopping the market means you'll likely find a better rate. 
Price increases on LowestRates.ca are, on average, lower than the increases being seen across the industry today. 
Insurance industry experts said in 2019 that the property insurance sector expected to see increases in home insurance premiums of 5%-10% related to weather-related incidents on top of a 2%-4% inflationary increase due to rising home prices. 
"While the industry predicts increases in the double digits on home insurance for consumers, we're seeing much smaller increases for consumers comparing home insurance on LowestRates.ca — and even seeing decreases in some cases . That's the power of shopping," Thouin explains.
Conclusion 
Home insurance premiums can be difficult to track because of the lack of public regulation around the sector (unlike auto insurance, which is regulated provincially). However, LowestRates.ca data can provide insight into how premiums have changed over the past year as well as the benefits of comparing the market. 
Key Takeaway #1 - The financial impacts of climate change. 
Home insurance experts agree that home insurance rates have increased due to climate change over the past several years, and that this trend is likely to continue. Experts confirmed that water-related weather events, such as flooding, have played a primary role in premium increases across Canada. 
Furthermore, experts add that home insurance premiums are largely calculated based on claims history from previous years. Therefore, as climate change worsens and the impacts of this trend become more severe, this will retroactively be reflected in home insurance premiums. 
Key Takeaway #2 - COVID-19 has not impacted home insurance rates, yet. 
Canadians fear that working from home en masse will cause home insurance premiums to increase. LowestRates.ca data can confirm that this is not the case. Over the past year, premiums have remained relatively flat among many markets and have seen expected increases in others. 
One expert warns however, that we don't yet know what the impact of working from home will be on the number and type of claims filed this year. We'll know more about the impact of COVID-19 on home insurance premiums when next year's rates are calculated. 
Key Takeaway #3 - Condo insurance prices in B.C. and Alberta are surging.
Condo insurance premiums in B.C. and Alberta have increased substantially between Q3 2019 and Q3 2020. This can be attributed to strata building deductibles increasing by astronomical amounts due to the frequency and severity of claims, driven by severe weather events and rising rebuilding costs.
While this problem is currently isolated to B.C. and Alberta, many experts expect this to become a national issue. 
As well, we'll continue to watch whether claims costs will rise in provinces such as Ontario as a huge amount of new condos continue to be built in Toronto. Condos being built so quickly introduces the possibility of workmanship issues, which may result in more insurance claims and higher premiums for consumers. 
Key Takeaway #4 - Shopping the market helps Canadians save money on house insurance. 
While the industry predicts that home insurance prices rose 5-10%, on top of inflation,in the past year, users on LowestRates.ca are seeing smaller increases than this on average. This is a testament to the power of comparing the market to save money. Even if all home insurance companies are raising their prices, not all are doing so equally. You can take advantage of that to ensure you always get the best price.
Save 30% on average on home insurance
Compare quotes from 50+ Canadian providers in 3 minutes.
About the author

Jessica is the former Associate Editor for LowestRates.ca. Before joining the team, Jessica worked as a National Online Journalist with Globalnews.ca and previously spearheaded the launch of the Business Section at one of Canada's largest technology websites, MobileSyrup.