The 4 sharing economy side hustles you're tempted to try
By: Rebecca Lee on

October 14, 2016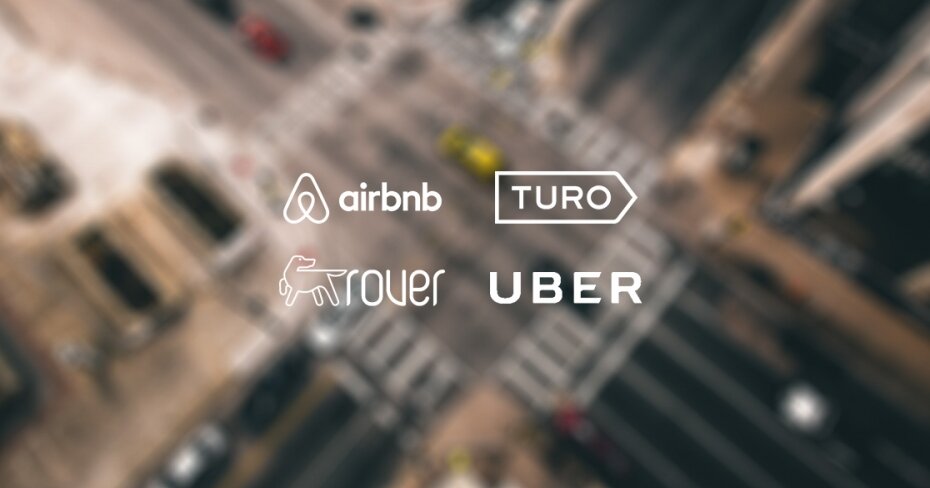 It seems like everyone's got a side gig nowadays, and I credit the entrepreneurial spirit of the sharing economy (y'know, Uber, Airbnb, etc.) for that.
Now most people I know want a side hustle. Some go conventional (freelance, launch apps, etc.), but others are intrigued by the currently unconventional: the sharing economy.
The thing about the sharing economy
Our legal systems and insurance industries haven't got it all figured out yet, but the sharing economy makes a lot of cents (yes, I love puns).
In the sharing economy — aka the peer economy — people put their personal property up for rent by direct consumers. Uber and Airbnb are the best examples of this business model.
Here's what I find fascinating about these two companies and those that followed:
They turned your liabilities into assets — i.e. screw your money-sucking mortgage and use Airbnb to rent your spare bedroom to travellers.

They made these tech-savvy, on-demand side jobs seem normal and appealing — i.e. everyone's driving for Uber and why didn't we start doing this years ago?
So the question is, how can you earn extra money in the sharing economy? Well, you've got options.
1. Driving for Uber
The OG of the sharing economy. Uber is super prominent in and around Toronto and for 99% of the Uber drivers I've interacted with, Uber serves as a part-time, after hours job that offers a great payout.
Where it operates: In Ontario, Quebec, and Alberta.
Is it legal? Yes — at least in select Ontario and Alberta cities. Meanwhile, Quebec's Uber pilot project still hasn't been launched. Let's just say ride-sharing services like Uber are still a complicated issue in Canada.
Is there insurance for Uber? Yes. Ride-sharing insurance is available in Ontario and Alberta and the market's slowly becoming more competitive. Insurers are ready to roll out ride-sharing coverage in Quebec, but they're on standby for now.
 
2. Becoming an Airbnb host
Whether you rent or own, there's no denying that your home eats up your money. But if you put your home up on Airbnb, your home can become less of a money hole and more of an income generator.
Where it operates: Throughout Canada.
Is it legal? It's a bit of a grey area, but there are no laws that expressly forbid Airbnb or short-term rentals.
Is there insurance for Airbnb? Yes. Airbnb automatically extends Host Protection Insurance ($1 million in liability coverage) to all its Canadian hosts. You should also check the limits of your personal home insurance policy.
3. Renting out your car on Turo
In the words of Turo itself: "Turn that depreciating asset into an earning engine by renting it out to our community of approved drivers". How do you argue with that buzzy language, especially when you've got gas and insurance bills to pay?
Where it operates: In Ontario, Quebec, and Alberta.
Is it legal? Yes. You just need to notify your insurer because only drivers insured by specific companies can list their car on Turo.
Is there insurance for Turo? Yes. Turo's partnered with several Canadian insurance companies (Intact, belairdirect, etc.). As long as you have auto insurance with one of these insurers, you'll be protected by $2 million in liability coverage.
 
4. Sharing your driveway with Rover Parking
Meet the only Canadian company on my list — Rover, the Airbnb of parking. Consider the scenario: you're at work, your driveway is empty for hours, and you live in Toronto where your parking spot is the envy of drivers. Renting out your spot while it's not in use is basically the sharing economy's version of passive income.
Where it operates: Mostly in the GTA, but I've found sporadic Rover listings in Montreal, Calgary, etc.
Is it legal? It's another grey area. Toronto hasn't really gotten around to dealing with Rover yet. Too busy with Uber and Airbnb I suspect.
Is there insurance for Rover? No. Rover insurance hasn't been raised as an issue yet, but you should probably speak with your home insurance provider before you start renting out your driveway.
And those are the four most tempting sharing economy side hustles in Canada — at least in my opinion. They're also the ones that can probably make you the most money. The point is that none of these companies seem weird anymore and we're pretty open to sharing (and entrusting) our personal property with people we don't know.
Just remember to take the necessary precautions before you start dabbling in a trendy side hustle. And if you do start dabbling and maybe become filthy rich after your Airbnb ventures, DM us on Twitter at @LowestRates_ca and share your story.