The banks don't care about you. Here's how to stop giving them your money
By: John Shmuel on

March 21, 2017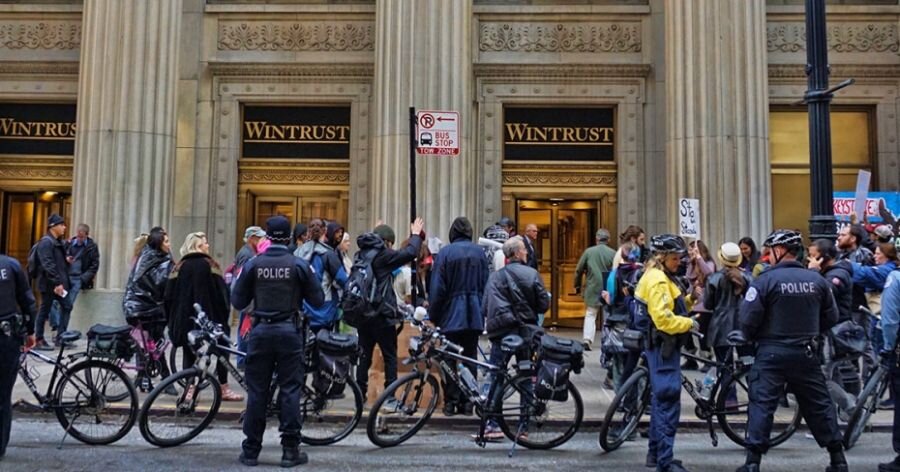 It's time for a financial uprising.
In case you missed it, recent investigations by the CBC have uncovered allegations of some serious fraud going on at the Canadian banks — all at the expense of customers.
Hundreds of current and former employees from the Big Five banks have come forward to say that they've felt incredible pressure to meet sales targets. Because of the pressure, the employees say they've increased credit limits on accounts without customer consent, sold mortgages at high interest rates and even opened new credit cards for clients without telling them.
This should make you mad. It's an incredible breach of trust and it puts our entire economy at risk. It's something that you, as a Canadian consumer, need to take action against. And we're going to tell you how.
Canadians have for a long time been complacent when it comes to their finances. After the financial crisis, we bragged about how our financial system escaped the greed and corruption that nearly toppled the American economy. But all that smugness was for naught: it's clear our loyalty to the Big Banks has been taken advantage of.
So it's time to fight back. Think about switching your accounts and moving your cash to competitors. Not only will it send a message, but it will also probably save you a lot of money. The Big Five banks charge outrageous fees on chequing accounts, sell overpriced mutual funds and their GIC rates stink.
Here's how you can go about finding alternative financial services.
Make the switch to a robo-advisor
Your savings are important. Maybe the most important part of your finances. Because of that, Canadians have been hesitant to explore their options on how to invest their savings. It's understandable. You don't want anything to happen to your retirement fund or your childrens' education account.
Unfortunately, that hesitancy also means that many Canadians have sunk their money into mutual funds at the big banks: paying, in some cases, upwards of 2% in annual fees just for the privilege of holding them. Combined with 2% inflation, many mutual funds have miniscule-to-no returns.
Enter robo-advisors. Essentially, these online companies offer investment accounts that cut out the human middle man. They use algorithms to determine your investing style and risk tolerance through a series of questions about you. Their fees are much lower than the conventional options, and using detailed infographics, give you a slew of information about your investments.
Wealthsimple is among the most famous of the robo-advisors in Canada. But the options in this space are growing every year (alternatives include Nest Wealth and Wealthbar), giving you lots of choice to settle on a company that makes sense for you.
Use rate comparison websites
Sure, this one's a little self-serving. But there are no shortage of options in this space. The best way to stick it to the banks is to get informed. And websites that allow you to compare mortgages, credit cards and auto insurance will make you an informed consumer.
Websites like ours are gateways to financial knowledge. You get to see all the options that are hidden from you when you walk into a bank branch. Hopefully, this leads you to scrutinize and compare all aspects of your financial life.
So, if in the upcoming months and years you find yourself making a big financial decision, use a rate comparison website. Shop around. Get informed. Because the more choice you have, the harder the banks will have to work to keep your business. And healthy competition benefits everyone.
Take your business to a credit union
Credit unions have an interesting history in Canada. They were founded more than 100 years ago as a way to provide financial service to average Canadians at a time when the Big Banks only had the interest of wealthy clients in mind.
Well, now with Canada's recent banking scandal, it might be time for more of us to look at credit unions. According to the Canadian Credit Union Association, Canada's credit unions have been seeing strong growth in assets under management in recent years. As of last year, the top 100 largest credit unions in the country have combined assets under management of $201.4 billion. That's a lot of Canadians entrusting their money to these institutions.
While credit unions are most popular in Western Canada and Quebec, there are still a lot of options throughout the country. There are more than 70 credit unions in Ontario alone, with the largest being Merdian ($13 billion in assets under management).
Opt for non-bank lenders when shopping for a mortgage
A mortgage is one of the biggest financial decisions you'll ever make in your life. And yet, in a recent study, we found that Canadians spend more time planning a vacation than they do exploring their mortgage options.
Let's illustrate just how big a difference shopping for a mortgage can make. If you go to a big bank like TD Canada Trust right now, you can get a five-year variable mortgage rate of 2.60%. On our website, the lowest rate currently advertised is 1.74%.
Right off the bat, on an average $1 million home in the Greater Toronto Area, you're paying $8,600 more a year for the TD mortgage. Add that to a 25 year mortgage payment schedule and you're talking about paying $215,000 more over the lifetime of your mortgage.
$215,000.
Why are you giving your business to the banks again?
Cancel your bank-branded credit cards
Many of us get our first credit cards in high school or college from a big bank, usually the same institution our parents banked with (guilty). Which is fine, your choices are much more limited as a student.
But credit is a rapidly evolving space. This year, Canadians will have more choice than ever before when it comes to credit cards. If you explore your choices, you'll quickly find that the big banks rarely offer the best cards out there in terms of loyalty points or cash back.
So, if you have a bank-branded card, get out there and compare your options. You're likely to find a card from another provider that does what your card does — except better. Of course, before you cancel, take a moment to understand how it can impact your credit score.
It's time for change
Now that you're armed with information, go out there and explore your options. Every dollar pulled from the big banks sends a clear message that you're not going to turn a blind eye to their bad behaviour.
Hopefully, this forces the banks to clean up their act. And the end result should be a more competitive, healthier financial system for every Canadian.