Review: BMO Air Miles World Elite Mastercard
By: Maureen Genore on

July 26, 2017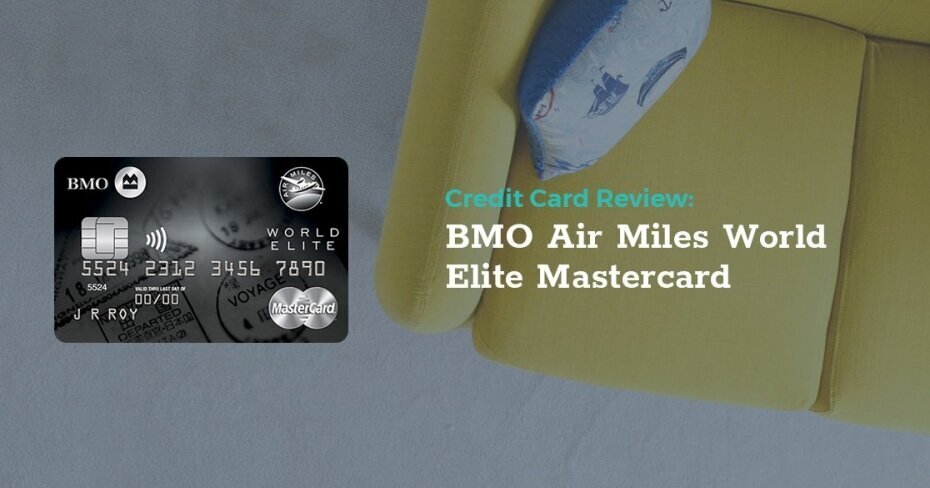 Update: This article was updated on Aug. 18, 2017, to reflect changes to the signup bonus on this credit card.
I've been bitten by the travel bug recently. And while I prepare for some travel in the next year, I realized it's time to upgrade my card and take advantage of travel points.
I'll admit I'm not the most seasoned credit card user. But in wanting to collect travel points, I started looking at travel rewards cards that would help me save some money off future flights and hotel stays. That's where the BMO Air Miles World Elite MasterCard comes into play.
While there are a number of Air Miles card options on the market, my cursory glance around the internet found that this card has quickly risen to the top as one of the best. Below, I break down the card and how it stacks up against the competition.
The features
Aside from being one of the best cards out there for earning Air Miles, the BMO Air Miles World Elite Mastercard also provides a ton of great features for cardholders.
These are the features you'll be getting with the BMO Air Miles World Elite Mastercard:
Earn one mile for every $10 you spend on your credit card
Exclusive 25% flight discounts on all Air Miles flights in North America with no blackout periods
Exclusive access to VIP airport lounges worldwide (valued at over $150 US per year)
Travel and medical protection
Complimentary roadside assistance program
Free additional cards
Extended warranty
Purchase protection
BMO concierge service
24/7 Customer Service
Airport lounge access
As you can see, with this card, you'll be getting plenty of standard benefits, like extended warranty and purchase protection — in addition to a few great extras. One of the most exciting of those extras is the exclusive access you'll get to VIP airport lounges across the globe — a real treat for any jet setter.
As for earning Air Miles, this card has the best earn rate of any Air Miles credit card out there, since there are no restrictions on where you can earn miles. At participating Air Miles partners, you can even double up on earning miles by using your credit card in addition to showing your Air Miles card. You'll redeem your miles through Air Miles, not BMO, and will have access to discounts on flights, hotels, car rentals, attraction tickets, merchandise and more.
Lastly, we can't forget to mention the signup bonus available right now: you'll get 1,000 Air Miles bonus miles after your first purchase. If you spend an additional $3,000 in the first three months, you'll get an additional 2,000 Air Miles. That's enough for a short-haul flight in North America (fly to New York City or Calgary, for example).
If you spend $2,000 a month, you'll be earning 200 Air Miles per month, or 2,400 per year. Combine that with the welcome bonus, and this card will get you two short-haul flights in your first year. Or, if you choose to spend your miles on one flight, 5,400 points will pay for a flight to nearly anywhere in the continental U.S., Canada, Mexico or the Caribbean. See the map below.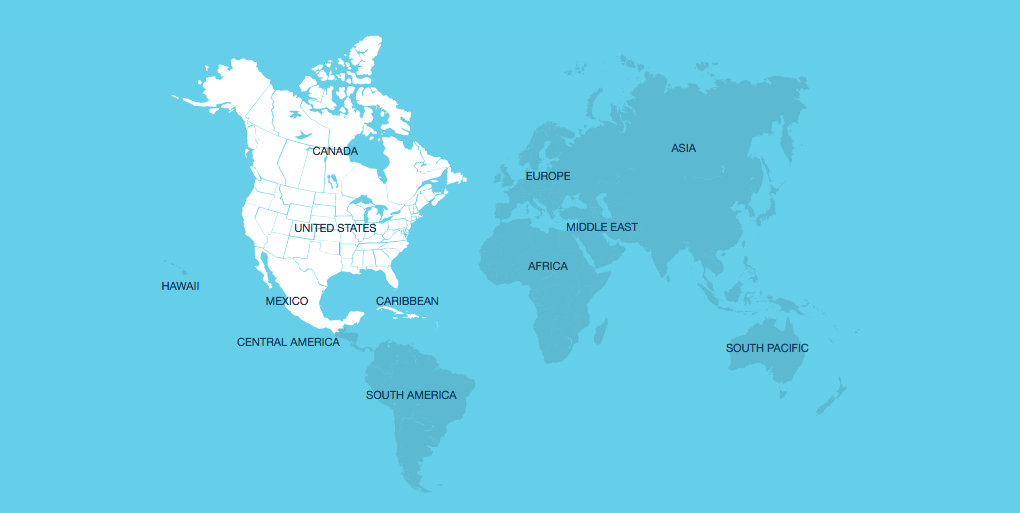 How it stacks up against the competition
There are lots of great travel rewards credit cards on the market for Canadians to choose from. Two of the most popular, the American Express Gold Rewards Card and the BMO World Elite Mastercard, will enable you to earn rewards points that are redeemable for discounts on travel, among other things, at a very solid rate. Both cards also have enticing bonus offers and waive the annual fee for the first year.
When comparing to the American Express Gold Rewards, the bonus offer plus a monthly spend of $2,000 will earn you fights faster than this particular card. What the BMO card has over American Express, however, is that as a Mastercard, it will be accepted at more retailers.
The BMO card also doesn't require you to spend a minimum amount of money to get the first 1,000 Air Miles points. In comparison, the American Express Air Miles card, which comes with a 2,000 Air Miles signup bonus, requires you to spend $1,500 in the first three months to collect your bonus. BMO's card comes with a welcome offer of  2,000 Air Miles as a sign up bonus, and the $120 annual fee will be waived for the first year
Perhaps where this card shines most is its Air Miles earn rate. At one point for every $10 spent, it outperforms the competitors — the American Express Air Miles only offers one point for every $20. If you're looking to earn Air Miles fast, this is the best option out there.
Drawbacks
There are a few drawbacks to consider if you're thinking about applying for this card. The biggest is the annual fee of $120, meaning this won't be a great option for someone who'd prefer a no-fee card.
Aside from the annual fee, the only other potential downside of this card has to do with the Air Miles program itself. When redeeming miles, cardholders may have to be flexible with travel dates as well as possibly be willing to take non-direct flights.
Who's this card for?
This card is a great option for anyone that uses (or wants to use) Air Miles as their primary loyalty program, as it's one of the best Air Miles cards on the market. It's also very well suited to high earners who travel frequently.
Final verdict
If you're a fan of Air Miles and are looking for a credit card that will allow you to earn as many miles as possible — this card should be your go-to. However, if you're interested in travel rewards cards in general, there are options out there that can help you pay for flights quicker.
Love collecting rewards?
See all of your options by comparing the best rewards credit cards using our comparison tool.
Compare cards