Review: American Express AeroplanPlus Gold
By: Max Berger on

August 30, 2017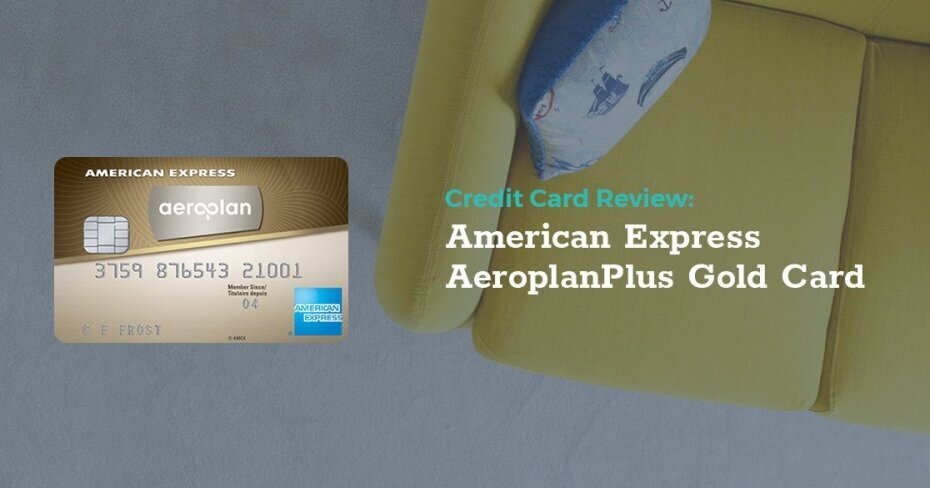 As an aspiring traveller, I was immediately intrigued by the American Express® AeroplanPlus® Gold Card (a travel rewards card with a reasonable annual fee?). So, with almost zero preconceived notions about what it offered, I dove right in to find out.
First, the card itself. Contrary to what one might expect, it actually features very little gold in its colour scheme. Save for a thin streak running diagonally across the midsection, it is shades of tan and brown that dominate the rectangular frame.
The visual package was a bit of a letdown — I was anticipating a design befitting its regal name. But like they say, never judge a book by its cover.
The Features
With the American Express® AeroplanPlus® Gold Card, the main draws are mainly centred around travel and rewards opportunities:
One Aeroplan Mile for every $1 in card purchases (increases to 1.25 Miles per $1 after spending $10,000)
Bonus 15,000 Aeroplan miles for spending $1,500 within first three months of Cardmembership
Receive two free additional cards
Earn additional miles at Aeroplan Partners
Diverse rewards catalogue highlighted by travel rewards
Range of travel insurance benefits
Shopping coverage
High-quality customer service
What really stands out about the features on the American Express® AeroplanPlus® Gold Card is how fast you can collect Aeroplan miles. With the introductory bonus, the 0.25 Mile increase per dollar after spending $10,000, and the wide array of Aeroplan partners (which include Costco and various online retailers like Indigo, The Bay, and the Apple Store), cardholders have plenty of ways to build up points.
The two free additional cards shouldn't be overlooked as a method of point accumulation either. With extra spenders, points collect much faster and the amount of time it takes before you can start capitalizing on the deep rewards catalogue lessens.
Speaking of which, let's take a look at what your Aeroplan miles can get you. As mentioned above, the highlight of the catalogue is the travel rewards. You can travel essentially anywhere in the world, and you'll have the option to do it in either economy (or premium economy, for some flights), business, or first class, depending on how many miles you're willing to save/spend. Round-trip flights range from 15,000 to 280,000 Miles, with one-way trips costing half of that. For true travel aficionados, there is even a slightly more expensive "Around the World" option that gives you a maximum of five stopovers and one crossing for both the Atlantic and Pacific oceans.
Beyond flights, there are a handful of other ways to cash in on miles while traveling. You'll be able to rent cars, book hotels, and sign up for vacation packages as well.
For those who prefer to spend their points at home or outside of the basic "travel" designation, there is a lot to choose from there, too. Cardholders can buy merchandise, attend events and shows, purchase gift cards, or even donate miles to charity.
And finally, don't forget about those awesome travel insurance benefits. Anyone with an American Express® AeroplanPlus® Gold Card gets up to $500 in flight delay insurance, baggage delay insurance, lost or stolen baggage insurance, hotel/motel burglary insurance, and more.
How it stacks up against the competition
In a lot of ways, the American Express® AeroplanPlus® Gold Card lives in the shadow of its relative in the AmEx family, the American Express Gold Rewards Card. The latter is a hybrid card that gives you the flexibility to take advantage of travel benefits and rewards, while also opening the door for a bit more in terms of other things. It has a slightly higher annual fee than the AeroplanPlus® Gold Card (though it is free for the first year) but boasts a better package in terms of insurance and accelerated rewards.
Still, there is something to be said for the AeroplanPlus® Gold Card and what it offers in comparison to other Aeroplan and travel rewards cards. None of the non-AmEx Aeroplan credit cards in Canada offer free additional cards as this one does. It is also far less restrictive than a lot of other rewards credit cards, with the only eligibility requirements being that the applicant is a Canadian resident with a Canadian credit file and is of the age of majority in his or her province.
When it comes down to it though, the AeroplanPlus® Gold Card lags behind in some key categories. The American Express Gold card is actually a superior earner when it comes to collecting Aeroplan miles, as is the Starwood Preferred Guest American Express.
The card is a superior earner to some low-fee Aeroplan cards on the market, such as the CIBC Aero Platinum, which has a fee of $39 a year. Factoring in welcome bonuses, someone spending $2,000 a month would earn 42,500 miles by the end of his or her first year with the AeroplanPlus® Gold Card, while a CIBC Aero Platinum cardholder would earn just 21,000. That disparity amounts to what it would cost to redeem many round trip flights through Aeroplan.
Of course, if you look at a competing card like the American Express Gold Rewards, your first year would net you 61,000 Aeroplan points if you spend $2,000 a month and use your 25,000 point signup bonus. That's quite a gap.
At the end of the day, the AeroplanPlus® Gold Card's introductory bonus opportunity is very average; other cards offer double or nearly triple its value. Even from an insurance standpoint, where it does provide coverage for a number of situations, there's little that sets it apart from other Aeroplan cards.
Drawbacks
The AeroplanPlus® Gold is a charge card, meaning that balances must be paid in full each month, or else the cardholder must pay interest. Unlike the typical 19.99 per cent interest rate that most charge cards have, this one is a staggering 30 per cent. So it's certainly a risky move for anyone who isn't fully confident in his or her ability to pay that balance in full on a monthly basis.
Also, AeroplanPlus® Gold is offered by American Express, which means that its usability is somewhat limited in Canada. While it is accepted at Costco and other official partners of the Aeroplan program, it will be far from universally accepted. Perhaps this won't be an issue for someone who does the majority of their shopping and purchasing online, but it is certainly an inconvenience for Canadians who use their credit card for lots of minor in-store purchases.
What's especially disappointing about the AeroplanPlus® Gold Card is that it has scaled back the sweetness of its offerings in the past few years. The arrangement for the introductory bonus used to be that you could get 25,000 Aeroplan Miles for spending $500 during the first three months of being a cardholder, but that has since been downgraded to 15,000 Miles for $1,500 in those first three months. There also used to be a referral program that could net you 10,000 miles if anyone signed up as a result of your reference.
Oh, and for people like me who care about aesthetics, the design of the card is a bit of a drawback as well. It's pretty bland and certainly doesn't convey a sense of lavishness.
Who's this card for?
This card really makes sense for someone who plans to travel quite a bit, rack up major charges, and shop at retailers/websites that accept American Express. Anyone who doesn't check all three of those boxes is better off setting their sights elsewhere.
While the mid-level annual fee of $120 saves you more money than some of the other cards in class would, the true benefit of the AeroplanPlus® Gold Card really only kicks in once you pass the $10,000 threshold and begin earning miles at the accelerated rate. So, for big spenders who don't tolerate big annual fees, there's a case to be made for this card.
That said, the cardholder still needs to be in a position where enough of his or her purchases can actually be made using American Express. In Canada, that may prove difficult.
Final Verdict
The American Express AeroplanPlus Gold Card is a solid option for users who are most closely aligned with its benefits and requirements, but even then, it hardly blows you away. You pay a middling annual fee, get an average return on your introductory bonus and Miles collection, and get some decent perks.
Sure, the extensiveness of the rewards catalogue is great, but you'll be getting that with any Aeroplan card. And if you're the type of big spender that this card makes sense for, there's a good chance you'd be better off with the American Express AeroplanPlus Platinum Card, which has a higher annual fee, but also a much higher welcome bonus and a greater accelerated return.
Love collecting rewards?
See all your options by comparing the best rewards credit cards using our comparison tool.
Get started