Renovating your condo? You'll need to personally insure the improvements
By: Brianna Bell on

November 25, 2020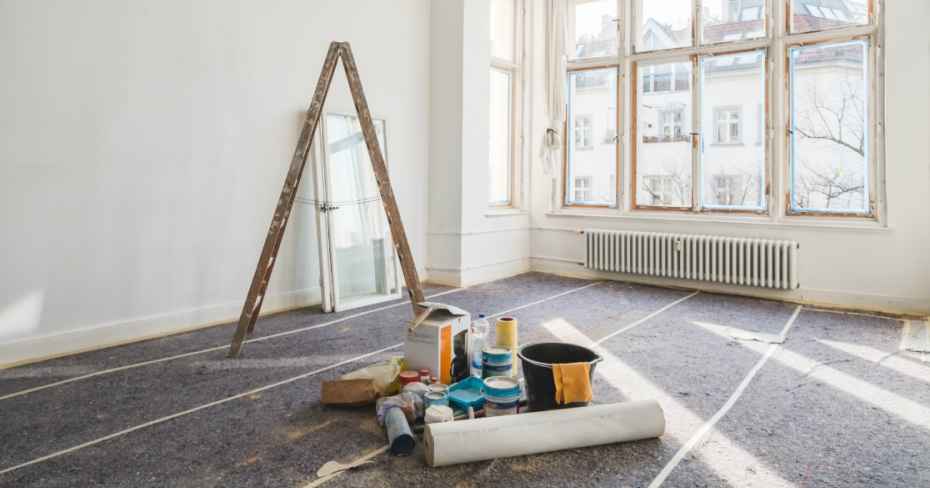 Picture this: You moved into your condominium 20 years ago, when everything felt fresh and new. Now, the old linoleum on your kitchen floors are stained and peeling, and the cupboards are outdated and covered in a film of grime even the toughest elbow grease can't remove. You decide to invest in some kitchen upgrades, but discover that the condominium corporation won't insure the renovations. What are your options? 
Most condominium corporations offer some type of home insurance coverage for individual unit owners — but what exactly is covered is an important question to ask. Most of these insurance policies include coverage for only the exterior of the property, such as damage to the roof and windows (but it's best to check your policy, since the rules vary). If you want to renovate the interior of your condo unit, you'll need to personally insure the work.
Get insurance with 'betterments and improvements' coverage
Condominiums are run by condo corporations, which operate somewhat like mini-governments. They outline declarations, by-laws and rules that unit owners must adhere to that aren't typical for freehold homes, such as a no-pets policy, or window coverage requirements (e.g., no bed sheets as curtains). By purchasing or renting a condo, you're opting into a unique community, which is represented by the condo corporation. From an insurance perspective, that can make things tricky if one day you decide to make upgrades to the inside of your unit.
Even freehold homeowners should notify their home insurance provider if they're taking on a major renovation because renovations will typically increase the value of your home, which is important for your insurer to know should they one day need to cover the cost of replacing it. However, condo owners need to take a somewhat different approach.
According to Pieter Louter, CEO of Onlia, a provider of home and car insurance, condominium corporations will generally not include coverage for "betterments" or "improvements" to individual units. That means it's up to the condo owner or renter to secure this kind of coverage themselves. If they already have separate home insurance, they can see if it's included in their policy.
In general, people should check with their insurance company so that they understand what their situation is
Either way, if you own or rent a condo it's best not to rely solely on the condo insurance provided by your condo corporation — especially if you're planning to renovate someday. Purchasing your own supplemental home insurance will provide you with the security you need. 
"The condo corporations' obligation is to rebuild the unit to the original construction regardless of whether the unit owner has made improvements or upgraded the unit," says Elektra Hilton, Director of Operations of HUB Customer Central. This could become a problem if your hypothetical new oak cabinets are destroyed by a fire, and the condominium insurance only pays for cheap pressed wood as a replacement.

According to Louter, however, a condo corporation may provide less coverage than expected for the total amount of original construction, so it's important to know ahead of time what's included in the commercial policy.
When you have separate insurance that includes betterments and improvements coverage, your insurance will cover the value of your home with those upgrades — not just the original construction. So if you own a condominium and only have access to the insurance provided by the condo corporation, you may want to rethink your plans. 
Call your insurance company before you start renovations
Renovations can get messy. For example, let's say you decide to install a brand new dishwasher, after installing engineered hardwood floors, but you find that something has gone wrong and suddenly you have a flood to deal with. You'd want to make sure that you have insurance to cover the replacement of the newly installed floors. That's why it's crucial to communicate with your insurance provider early on.
"If you are making a fairly major renovation it is wise to call your insurance provider," says Louter. 
Condo insurance also provides coverage for special insurance assessments that might be made by the condo corporation. But there are other benefits beyond renovations coverage that separate condo insurance can give you.
"It also provides protection for unexpected events, like if you unintentionally damage another unit, or if someone injures themselves inside your condo," explains Hilton, who recommends that condo owners purchase supplemental condo insurance, in addition to the insurance provided through the corporation — even if they're not undergoing any renovations. 
A condo unit owner should review their improvements and betterments coverage limits to ensure that the amount available will cover the total value of all unit improvements/upgrades
"Any renovation over $5,000 should be reviewed with your insurance provider." 
Onlia, for example, offers coverage for 50% of the home's contents for betterments and improvements, as well as $1 million dollars of liability coverage. "Our customers must choose their limit for personal property when binding their policy," says Louter. "We offer choices of limits between $25,000 and $150,000. Our policy then provides betterments and improvements insurance in the order of 50% of the personal property limits."
Do your due diligence
If you're hiring a contractor to do the work for you, it's important to make sure they also have the correct insurance in case something goes wrong with the job. Both Louter and Hilton agree that ensuring your contractor has their own insurance is essential before you hire them. 
She also adds that if the renovations are improving your home, the value of your home will likely increase. Make sure that the betterments and improvements coverage is sufficient for the new value of your home. 
Always ask for clarification from your home insurance provider, instead of making assumptions. It's better to be prepared than find out too late that you don't have coverage for renovations that went sideways. 
Once you've done your due diligence you can enjoy both the security of knowing you have the right home insurance coverage, and the beautiful new upgrades to your condo.