Young Money: This 27-year-old worked three jobs to open the geek bar of her dreams
By: Dominic Licorish on

January 23, 2017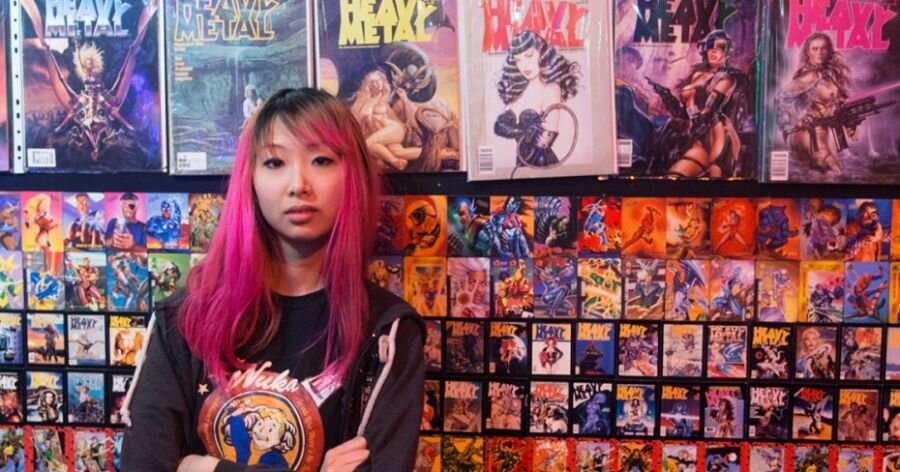 Young Money is our five-part series chronicling young Canadians and the lessons they learned making big financial decisions. Click here for a recap of the entire series. 
Name: Sara Nguyen
Age: 27
Where: Toronto, Ont.
What she does: runs a geek-themed bar
Dreamers are the weirdos and creatives, oftentimes seeing the ways the world could be made more interesting in ways that we can't. Sara Nguyen is one such dreamer.
The 27-year-old is the mastermind of See-scape, a bar/cafe that caters to comic nerds, sci-fi fans, gamers, and everyone in between. There are, of course, other bars where you can play video games in the city, but those bars probably don't host virtual reality nights, robot fights, and the occasional burlesque performance.
See-scape's quirk is why, after just a year of being open, the bar has grown into one of the hippest hangouts in Toronto's trendy Junction neighbourhood.
To get here, however, Sara had to make a lot of sacrifices. She spent years working three jobs to raise the cash. The bar faced tight profit margins in the first few months, narrowly bringing in enough money to pay rent.
Sara eventually made her dreams come true with the opening of See-scape. And here's how she did it.
Step 1: the ascetic years of saving
It was 2011 when the idea for See-scape came together. Sara, a broke 22-year-old college student, had just missed one of her favourite events of the year — Toronto's Fan Expo. The annual gathering is a place where fans of nerd culture could get together, dress up and celebrate their passion. 
Missing Fan Expo led to a revelation: why wasn't there a place in Toronto that does what Fan Expo does, except all-year round?
Sara drew up a business plan, assessing the startup costs — everything from rent, to buying kitchen equipment and applying for a liquor license. In Toronto's expensive commercial rental market, it wasn't going to be cheap.
In total, Sara figured she'd need at least $100,000 in her first year and an extra $20,000 for incidentals. But while $120,000 sounds like a lot, she very nearly blew through it just getting the doors open.
In Toronto's expensive commercial rental market, it wasn't going to be cheap
Like most people looking to start their own business, Sara needed a lot more cash than most millennials have access to. The natural solution is to seek out investors or secure a loan. Sara did neither of these things. Instead, she worked like a maniac and saved until she could finance the venture herself.
For the next three years,  she slaved day and night in various jobs while still a part-time student. During the day, she worked her full-time job. Then after going home, grabbing a quick bite and maybe a nap, she, like many of her 20-something peers, headed to a nightclub. Unlike the majority of her peers, she was there to work, not party. By the time she was 26, she was ready to put her plan into action.
Step 2: you have to spend money to make money
The money was saved, but the longer it took to open, the more anxious Sara got. She was burning through her life savings, and if she failed, she'd be broke, with nothing to show for her hard work.
Even now, after more than a year of being open, talking about that time is difficult for her.
"I would cry so so much during that period, because I was overthinking things and started doubting that I would open," she says. "I honestly thought I had failed before I even got to open."
As bad as things got, however, Sara says she got through it by learning to compartmentalize her emotions and deal with problems in a logical matter.
"When working with people, my advice would be to keep your cool," she says. "It is so easy to get annoyed or mad when things don't go your way. Do not let emotions take control over an issue, it can get really messy. If someone in your team is having doubts, if you are the owner, step in and reassure them you know what you are doing. Always project confidence."
She dealt with construction delays, zoning problems, liquor licence issues, contractor issues, and just about anything you can imagine.
I would cry so so much during that period, because I was overthinking things and started doubting that I would open. I honestly thought I had failed before I even got to open
Every delay cost her money, since she was paying rent whether the bar was open or not. Rent was $5,000 per month and it took her five months to get up and running. That was $25,000 down the drain, not including construction or equipment costs.
By the time See-scape opened, Sara's savings had shrank to $15,000. That meant she needed to start making money in three months or she'd lose the lease.
In the end, Sara pulled it off (with help from friends and family, who both attended and helped promote the bar). Today, See-scape pulls in a regular crowd of two dozen patrons a night and during events, it's standing room only.
No more staying up at night worrying about rent.
But Sara says this is just the beginning. She has plans to expand the space to the basement and hints at all sorts of secret ideas brewing in her brain for new events and theme nights to bring in the crowds. As a final note, she has a few tips for entrepreneurs.
Always have triple the amount of money saved up when starting your business.
Banks may not finance a startup even if you have lots of cash in the bank.
Keep track of your money. When it's deposited or withdrawn, keep a record of that and make sure to double check!
Make a goal for every month. How much money would you like to make in a month. What can you do to increase sales?
Working with other people is extremely important, too. The more connections you have the more likely you are to succeed.
If you're in Toronto, you can check out See-scape at the corner of Keele St. and Dundas St. W. They're open Tuesday to Sunday at 4 p.m. Follow @See_Scape on Twitter and on Facebook @SeeScapeToronto.