Young Money: These Calgary filmmakers spent a decade making their side hustle their main hustle
By: Dominic Licorish on

February 23, 2017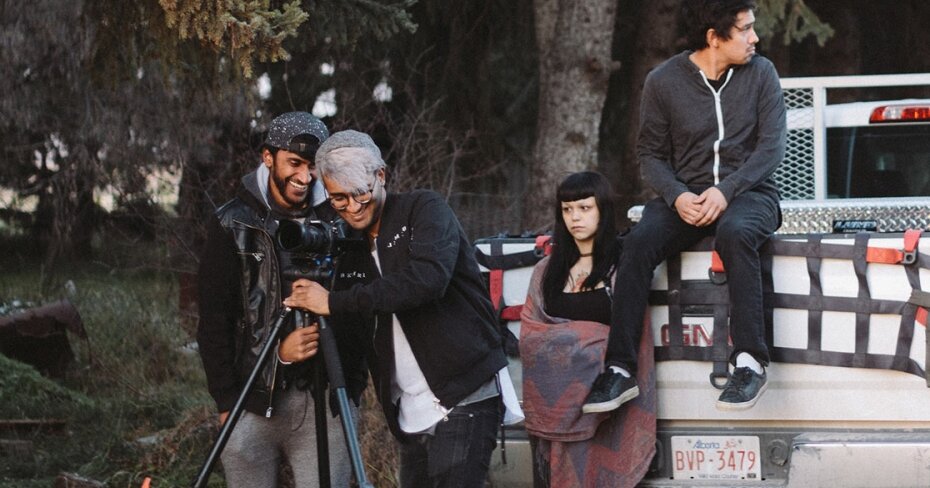 Names: Bhaveek Makan, Jashan Makan and Bhavesh Chauhan
Ages: 23-25
Where: Calgary, Alta.
What they do: Run a film production company
Young Money is our ongoing series chronicling young Canadians and the lessons they learned making big financial decisions. Read more stories here.
Calgary.
Did anything come to mind? Rodeos? Oil? The Saddledome? Steaks?
Whatever it was, I'm willing to bet it wasn't "emerging film and arts scene." For Bhaveek and Jashan Makan, however, that's exactly what the home of the famous Stampede is, and that's also why they've been able to go from making amateur home videos to running a growing video production company.
Their success has allowed them to take what was once a passion project and make it their livelihood. It's the feel-good story we all want: find what you love to do and actually make money from it.
Bhaveek and Jashan managed to do that by the age of 25.
Meet Rendering Glint Films, their production studio
The production company had humble beginnings. When the Makan brothers moved to Canada in 2001, they lived in small town Newfoundland. It was there, as teens, they began experimenting with film. Jashan became friends with an aspiring filmmaker named Aaron Powell, making action shorts with fake guns and stunt doubles made out of pillows. They had nothing but a family camera and the stuff lying around their houses, but it was enough to get them hooked. Jashan started out acting in his first film, but quickly discovered his love of editing and the technical side. Bhaveek, after seeing what his brother was doing, instantly wanted to get involved too. The experience was a life-changing one, because from then on, making films became a fun way to spend time with their closest friends.
They had nothing but a family camera and the stuff lying around their houses
In 2007 they moved to Calgary and decided to continue making films under their own name: Rendering Glint Films. It's an odd name, right? The first thing I wanted to know was what it meant and how they came up with it.
Turns out it doesn't have all that much of a story. They were simply brainstorming "edgy" names and settled on that one. It stuck.
The brothers bought a $400 camcorder and started a YouTube channel dedicated to their short films, skits, and vlogs. In their first year they weren't bringing in a ton of views, but they were having fun. They met Bhavesh in school, who shared their love of film and became the first major member of RGF beside the brothers. Having a bigger team led to more creative video ideas, and also allowed Bhaveek to step behind the camera to direct without having to act as well. Then, one day, like all Youtubers hope for, one of their videos kinda blew up.
From passion project to main attraction
The success of the Biswajit series marked a turning point for RGF. Right around the same time, one of their short films won the Youth grand prize at the Calgary International Film Festival. They started seeing more viewers tune into their skits on a regular basis, and that turned into revenue for them as their channel got a Youtube partnership. Suddenly their hobby had turned into something else: a business.
Despite the popularity, RGF was still more about having fun than making money. They all had very different career paths in mind when it came time to graduate high school and start their post-secondary education. Bhaveek was on track to go into optometry; Jashan and Bhavesh studied to become engineers.
Suddenly their hobby had turned into something else: a business
"As South Asians, it has been engraved into our minds that you're likely to fail at making a living if you pursue a creative career and because of that, you need a typical 9-5 office job to live a satisfying life," says Bhavesh, who believes that if he'd realized how fulfilling film would be, he would have skipped out on his degree and went to film school instead.
The money they made went right back into the thing they loved, and they upgraded their equipment, getting more powerful computers, a better microphone, and of course: a better camera. By no means was it top of the line equipment, but when it comes to art, it isn't the tools that matter, but the will to use them.
And use them they did. Over the next several years, they handled school and creating new videos together in their free time. They even formed a band and shot their own music videos. Everything they did honed their skills and built their portfolio. Bhavesh mentions the importance of networking when it comes to attracting client.
"It's nice to know that people constantly recommend you through word of mouth and keep coming back to you if they love your work," he says.
In 2013, they met me. An aspiring novelist taking a year off from life in Toronto to figure out just what the hell I was doing.
"Want a make a movie?" they asked.
As South Asians, it has been engraved into our minds that you're likely to fail at making a living if you pursue a creative career
And that's how Jewel Fools was born. By this time, they were no strangers to making short films, and I was no stranger to writing. Doing a full-length feature, however, was a whole different beast. We had nothing but our own money and the equipment they'd acquired over the years paying out of their own pockets. It was a fun and somewhat stressful summer. I was about to go back to Toronto, and everyone had jobs or other obligations that got in the way of filming.
It personally taught me the value of teamwork and community, as everyone called in as many friends and favours as they could to help make our movie a reality. In the end, it wasn't perfect, but the film was accepted into the Calgary International FIlm Festival in 2014. We premiered it to a packed theatre of approximately 400 guests. I think we all sort of realized at that point that even if film is a really fun hobby, it was also a dream that's totally within our grasp.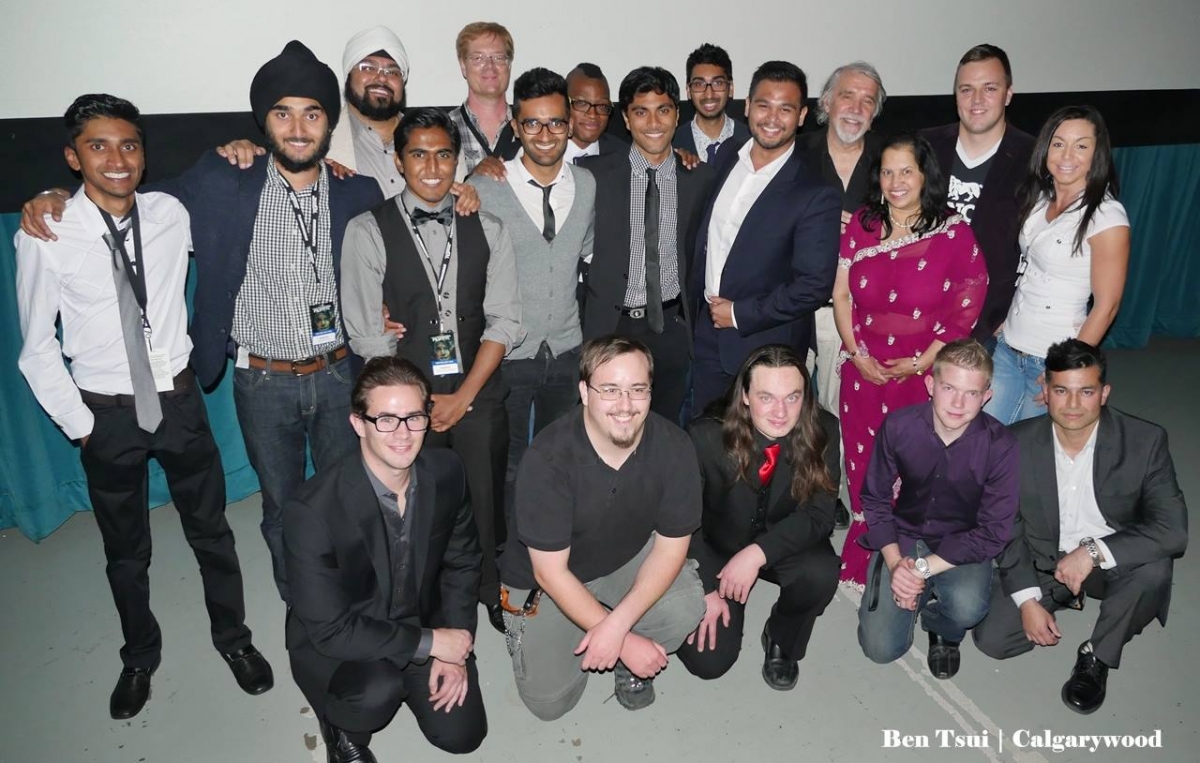 'Keep creating, imaging and grinding'
Since then, the brothers have formally registered RGF as a business and it's continued to grow. The collective has expanded into a network that creates opportunities they need to make everything from music videos, corporate videos, event coverage, weddings, and of course, their own original productions as well. Having a movie selected for a film festival is a big deal, even if it isn't as big or glitzy as TIFF or Sundance.
Even though they haven't done another movie since then, it isn't because they don't want to. They just want to do it even bigger next time around.
"We are working on a few big projects right now that I'm handling," shared Bhaveek. "A feature (or two), and some other things I can't yet mention."
In 2015, Alberta's oil crash devastated the local economy, just as they were entering the workforce. It all but destroyed Jashan and Bhavesh's chances of finding jobs in engineering. Jashan leveled with his parents: it made more sense financially to focus on video than it did to hunt for an engineering position. His brother, similarly had to level with their parents that optometry just wasn't something he felt he could do with his life. He switched to business marketing in order to apply what he'd learned in class to growing RGF as a business.
They've been doing this for a decade, but their careers are really only just beginning. Despite that, all three of them are primarily earning their money doing what they love and that's not something most people can say, especially in the arts. They aren't making huge amounts, and their finances are still primarily handled by Mom (they've yet to move out of their family homes), but they're on their way.
They've been doing this for a decade, but their careers are really only just beginning
All three of them feel like they're right on the cusp of being able to fully support themselves with their video work. "It's definitely a long process to get to that level, but right now, we're doing everything we can to potentially get there," Jashan told me.
To young entrepreneurs out there struggling to get their projects off the ground, Bhaveek says, "Try, and fail. Try and fail some more. Keep creating, imagining and grinding. It takes years. Every day when you get up, ask yourself 'What should I do today that will further my passion, and my goals?' One step at a time. Also, just enjoy."
It's been a few years since we finished Jewel Fools. Every once in a while, I think about being back in Calgary and working with them. So many of us hold onto the dream that we can turn our creative projects into a livelihood. People like Bhaveek, Jashan and Bhavesh are a reminder that we should never stop trying.