REPORT: Canada real estate and housing market forecast and predictions for 2021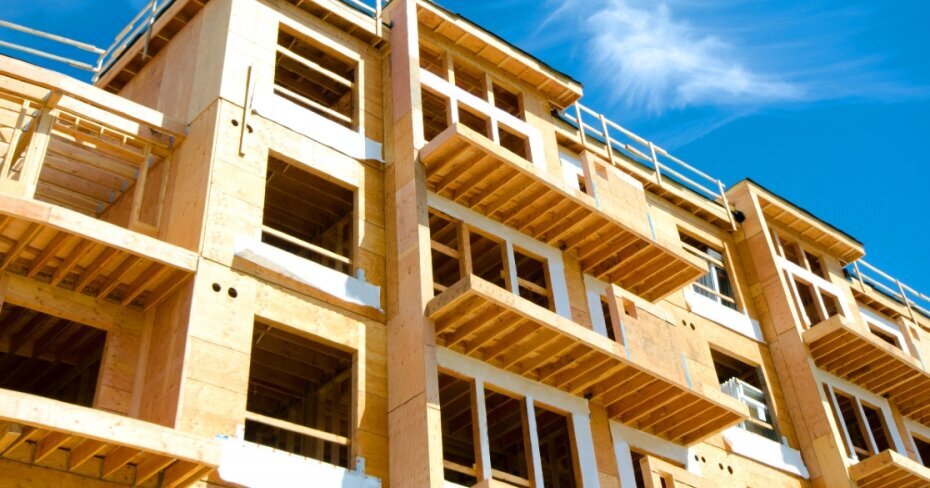 LowestRates.ca data show that out of B.C., Ontario, Quebec, Alberta, and Nova Scotia, Quebec residents put the lowest down payments on a house in Q1 of this year — at just below 15% on average.
Key findings
Despite tighter lending rules, record demand for Canadians to own real estate will contribute to strong price growth this year. 
Although five-year fixed mortgage rates are currently near historic lows, most mortgage rate predictions in Canada suggest a rise in interest rates in the second half of 2022.
The lull in immigration has hurt Toronto's condo and rental markets; recovery is expected as immigration restarts.  
LowestRates.ca data show that when looking at British Columbia, Ontario, Quebec, Alberta, and Nova Scotia, Quebec residents put the lowest down payments on a house in Q1 of this year — at just below 15% on average.
This time last year, we reported how COVID-19 had hampered the ability of Canadians to buy or sell a home. But the third wave of the pandemic didn't seem to have the same effect. Unlike our last forecast, the Canadian real estate market surged in the first half of 2021, with unparalleled demand for homes and month after month of record-breaking sales and price hikes. 
According to the most recent housing market forecast from Canada Mortgage and Housing Corporation, the number of homes sold this year might reach 602,300, up from around 550,000 last year. This could drive the average home price in Canada to $649,400 — a 14% YoY increase.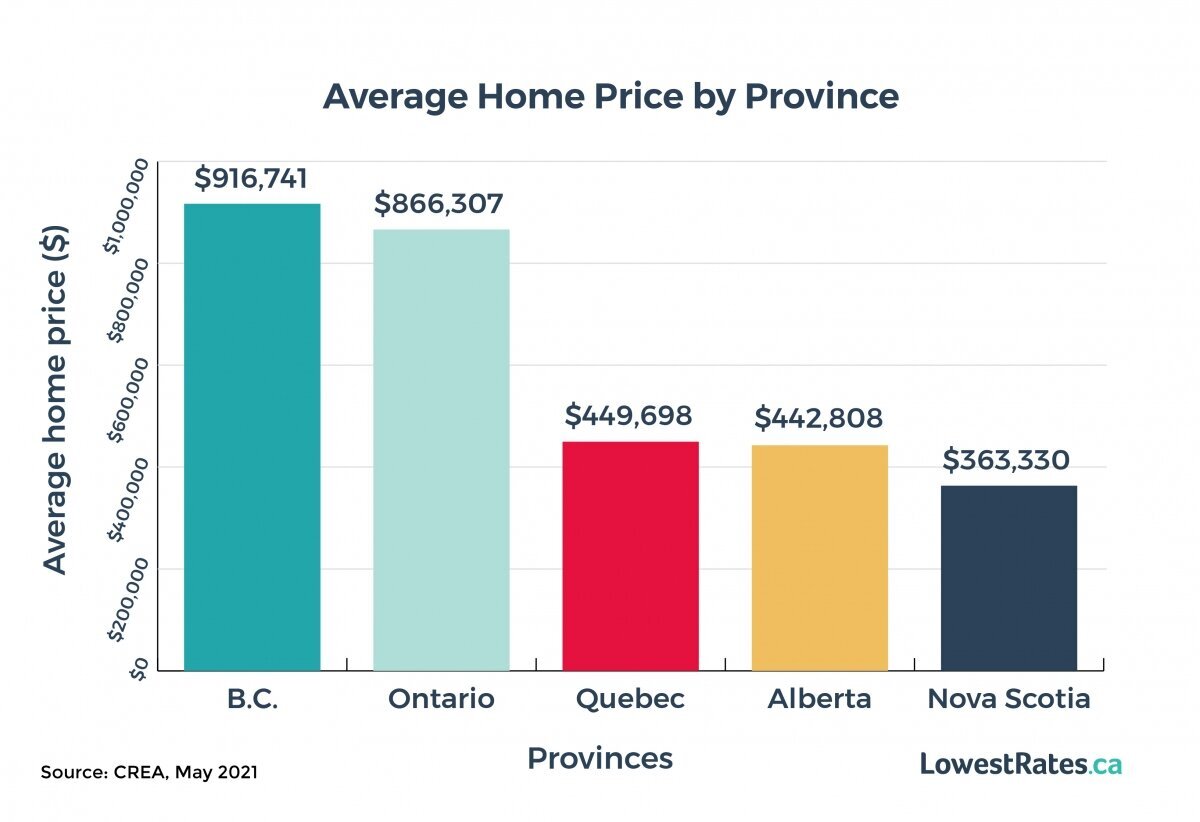 However, it appears some of the reasons for the housing frenzy (rock-bottom interest rates and demand for bigger living spaces) may begin to unwind as vaccine distribution speeds up, businesses reopen, and the economic situation improves faster than projected.
Of course, there's no telling where housing prices will go in a time as unpredictable as this. Using internal data and expert opinion, let's explore some housing market predictions for Canada for the rest of 2021.
Down payment average drops in Quebec, increases in Nova Scotia
In our December mortgage trends report, we used our mortgage quoter data to see what effect the pandemic was having on down payment behaviour in the five provinces where we see the most mortgage quotes: Ontario, British Columbia, Nova Scotia, Alberta, and Quebec. We found that residents of Ontario and B.C. put down about 20% on average, while residents of Alberta, Quebec, and Nova Scotia put down much less than 20% on average.

To see any new trends in the first quarter of this year, we tracked down payment percentages in the same five provinces from January through April 2021.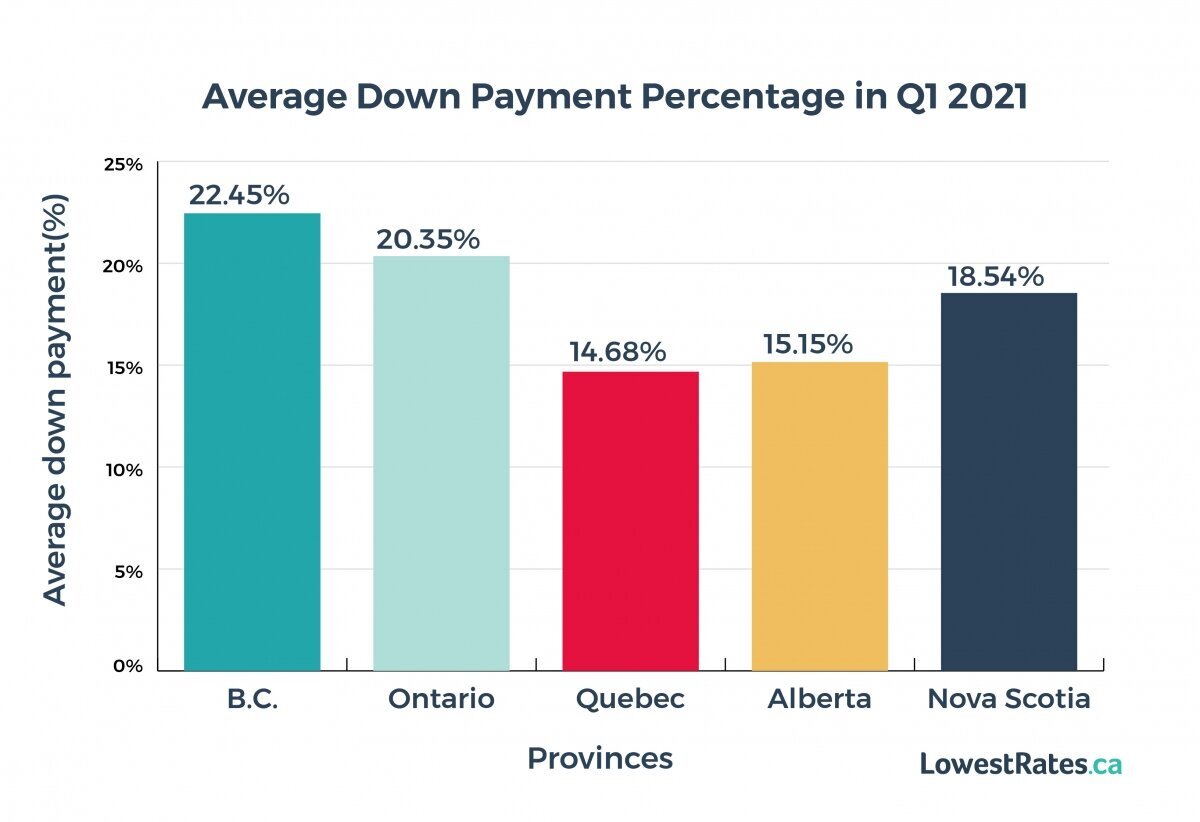 The average down payments in Ontario and B.C. remained around 20% because the average home price in those provinces is close to $1 million. A home worth $1 million or more is not eligible for CMHC mortgage insurance, so the down payment must be at least 20%. 
Residents in B.C. put down $159,762 on average, while residents of Quebec put down the lowest down payments — 14.68% on average— with a total of $58,571. That's a $101,191 difference.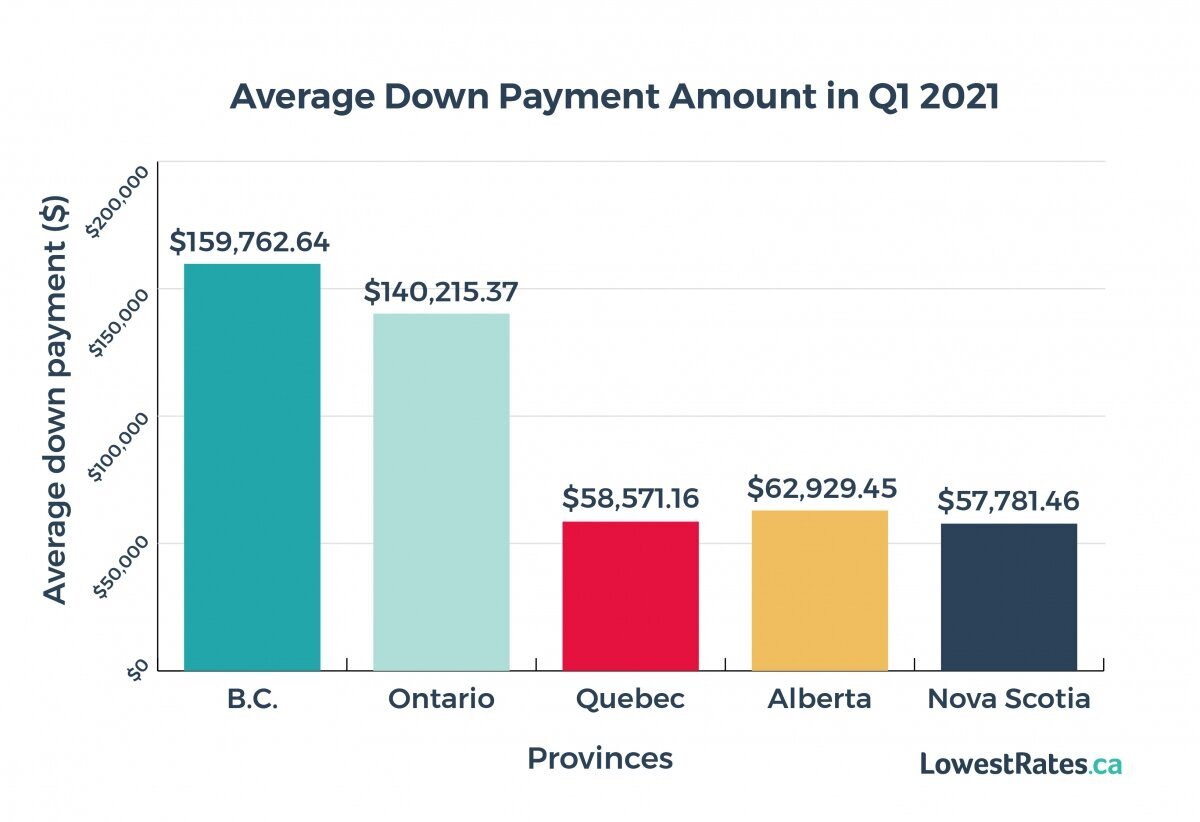 Nova Scotia is an interesting case. It jumped to an 18.54% average down payment percentage from the 14.26% that we reported between April and September 2020. In dollars, the average down payment in the Atlantic province rose to $57,781.46.  
Christopher Alexander, executive vice-president and regional director of Ontario-Atlantic Region for RE/MAX says that the majority of Atlantic Canada, like the rest of the country, is a seller's market. When asked about his predictions for the Canadian housing market, Alexander said he expects this trend to continue into 2022. 
I am confident that Atlantic Canada is going to be a hot destination for years to come
Out-of-province buyers (with higher incomes) and move-up buyers (who sell to get a larger, more expensive home) may be driving the increase in Nova Scotia, as many are working from home and no longer need to be in an office. In October 2020, RE/MAX reported that 20% of home sales were coming from outside Atlantic Canada, compared to 10% pre-COVID.
"I think Atlantic Canada is experiencing a rediscovery moment in its history," says Alexander. "A lot of Canadians are looking to find a place to live, and it has so much to offer from a quality of life perspective. I am confident that Atlantic Canada is going to be a hot destination for years to come."
Can we depend on rock-bottom interest rates to stick around?
Interest rates remain very low and are expected to stay that way until the second half of 2022. More than a year after the Bank of Canada (BoC) first lowered its overnight interest rate in response to the COVID-19 outbreak, the central bank decided on June 9 that its overnight rate would remain at 0.25%. It also announced that it wouldn't increase rates until economic recovery is complete and inflation is stable at 2%. 
The overnight rate, which is determined by the BoC, determines the cost of borrowing for both banks and consumers. When the BoC raises interest rates, borrowing becomes more expensive for the banks. But just because the overnight rate isn't expected to rise for some time doesn't mean banks can't increase borrowing costs. In fact, several Canadian banks raised their fixed-rate mortgage rates in March. Most borrowers are now paying as much as one-quarter of one percentage point higher on loans with five-year terms.
"Considering how fragile the economy is and how much money has been printed, I think it's going to be very challenging for the government to raise [interest rates]," says Alexander. 
This is in line with what LowestRates.ca CEO and co-founder, Justin Thouin, believes — that interest rates will remain unchanged for the time being. However, Thouin predicts that borrowing costs will rise in the second half of 2022 as the economy recovers.
Last fall, the BoC was citing 2023 as the next time it would raise rates. Now, with the forecast of mortgage rates in Canada rising sooner than expected, Thouin believes there is less need for homeowners to spend time debating between a fixed- or variable-rate mortgage because both rates are still historically low.
Could new mortgage stress test rules help cool the market?
New mortgage borrowing across Canada increased 41% YoY in the first quarter of 2021, and the average amount for which borrowers were approved on new mortgages grew by 20.5% to $326,930, according to newly released data from Equifax.
And despite a decline in Canadians' credit card balances (their lowest point in six years), the number and amount of mortgages taken out by Canadians has sent the country's consumer debt soaring to about $2.1 trillion. 
It's going to be very challenging for any policy to have a long-term or lasting effect
On June 1, new mortgage stress test requirements came into effect. Under the revised test, borrowers will have to demonstrate that they can make mortgage payments at a rate of 5.25%, or their contracted rate plus two percentage points (whichever is higher), rather than the former rate of 4.79%.
For the average buyer, the new rule may reduce the available mortgage amount by $14,000 to $47,000.
One of the other major changes to the test is a requirement for borrowers with uninsured mortgages (those with more than a 20% down payment) to pass the stress test, too. Previously, only insured borrowers were subjected to the test.
The increased stress test threshold is supposed to decrease the pool of qualified borrowers and cool the housing market. Alexander suspects the tighter lending rules will take a "little bit of steam out of the market," but he's not convinced the changes will slow down demand or keep prices down. 
Recent changes to the first-time homebuyer incentive program will also have little effect. The rebate is intended to assist first-time homebuyers in lowering their monthly mortgage payments. Applicants who meet the criteria can borrow 5% or 10% of the home's purchase price as a down payment.
However, the maximum combined income of eligible consumers is now $150,000 (in eligible cities), up from $120,000, and the maximum mortgage amount is now $670,000, up from $480,000. In markets like Toronto, Vancouver, and Victoria, few homes are available for $670,000, hence the low uptake in those markets. 
"It's going to be very challenging for any policy to have a long-term or lasting effect that will keep prices from going up," says Alexander. 
And some experts say that's because of Canada's lack of housing supply. Canada has the fewest housing units per 1,000 people of any G7 country. And due to rapid population increase, that number has been declining since 2016. To keep the housing unit-to-population ratio steady since then, an additional 100,000 residences would have been needed, putting us significantly below the G7 average.
"The real challenges are inventory issues," says Alexander. "The lower the interest rates, the more buying power you have. And the more buying power that you have, unless there is a considerable amount of inventory, prices tend to go up."
According to Urbanation, the purpose-built rental market in the GTA is expected to grow by 75% in the coming years, with eight buildings (2,458 units) under construction and 37 (9,207 units) proposed. The government in Vancouver is also heavily investing in purpose-built rentals to help ease the current housing affordability crisis.
What's next for the Toronto condo market?
Condos were the only housing type in Toronto to take a hit as a result of the pandemic  — in part due to the city's rental market, new Airbnb regulations, a decline in immigration, and work-from-home trends. 
In May, condo sales in downtown Toronto were down 19% compared to the same month last year, the biggest drop in market activity in the past 12 months. Prices were also marginally lower than in April, at $1,066 per square foot downtown versus $1,091 per square foot in April. The average price of a condo sold in the GTA was $782 per square foot, or $676,000.
Toronto is also experiencing a record-high population loss — another side effect of COVID-19 — as more individuals choose to reside outside of Canada's big cities, contributing to continuous urban sprawl. Despite having a favourable overall population growth rate, Toronto lost 50,375 individuals between July 1, 2019, and July 1, 2020. 
As long as single-family home prices continue to rise, condos are going to do very well
Also, because of the growing popularity of telework, demand for housing outside of overcrowded city centres has increased, with properties in relatively low-cost suburbs and surrounding smaller cities becoming more popular. This is also driving up prices in smaller towns and cities to such a degree that locals can't afford to buy anymore. 
According to the Toronto Star, the arriving wave of telecommuters from the GTA is driving prices beyond the means of locals in many smaller centres in Ontario, such as Tillsonburg, where homes have been attracting offers $50,000 to $100,000 over the asking price.
Condo prices are expected to finish strong later this year, however.
"While the condo market was slower to recover compared to low-rise market segments, many realtors have noted a marked increase in condo interest since the beginning of 2021," said Toronto Regional Real Estate Board President Lisa Patel in the board's Q1 condo market report. "This interest will likely continue to increase as the economy improves and vaccine take-up accelerates, resulting in more confidence for first-time buyers." 
Alexander agrees. "As long as single-family home prices continue to rise, condos are going to do very well," he says.
"Southern Ontario is running out of room to build single-family homes. So condos are the next best option."
With renting a more affordable option for priced-out buyers, could prices rebound?
Lower immigration levels since the beginning of the pandemic have significantly impacted rent prices, too.
According to Rentals.ca, the average rent for all Canadian residences posted for rent on its website in April 2021 was $1,675 per month, down 9% year over year. For condo apartments, the average rent fell 12.2% year over year, from $2,269 to $1,992 between April 2020 and April 2021. 
In the same period, Etobicoke, Toronto, North York, and Mississauga all had yearly decreases for condo and rental apartments. The average rent in Etobicoke declined 15% year over year, from $2,243 to $1,897. In Toronto, the rent fell 13% from $2,305 to $2,004. Rent in North York went from $2,172 to $1,919, a decrease of 11%, and Mississauga saw a 10% change, with rent dropping to $1,929 from $2,141.  
However, as we mentioned earlier in the forecast, real estate in Canada continues to defy the odds. Rental market conditions are expected to tighten toward the end of the year and rise sharply in 2022. As borders reopen and increased immigration targets are met (401,000 new permanent residents are expected to arrive in 2021), rental demand is projected to recover. When newcomers arrive in Canada, it takes them at least a few years to buy a home, so they make up a major share of the rental population.
With house prices as erratic as they are, renting is a much more viable option for aspiring first-time homebuyers priced out of the current market. Unfortunately, many prospective buyers find it difficult to reconcile this because of the widespread stigma that renting is a waste of money. Depending on individual circumstances, it may make more financial sense to rent and save the difference between your rent and ownership costs to invest. 
Though home prices have continued to rise in the face of the third wave, the pace of Canadian house price gains is forecast to slow over the rest of the year. In any event, the optimal time to buy a home is when you are financially and emotionally prepared to do so. It's just that in Canada's current housing market, attaining the financial component is becoming harder and harder.
About the author
Zandile is a freelance personal finance journalist. She previously worked as a personal finance writer at LowestRates.ca and before that, the content editor for Real Estate Management Industry News. As a self-proclaimed budget warrior, Zandile dedicates most of her time to advocating for financial wellness.