This is how much it costs to live in Montreal in 2019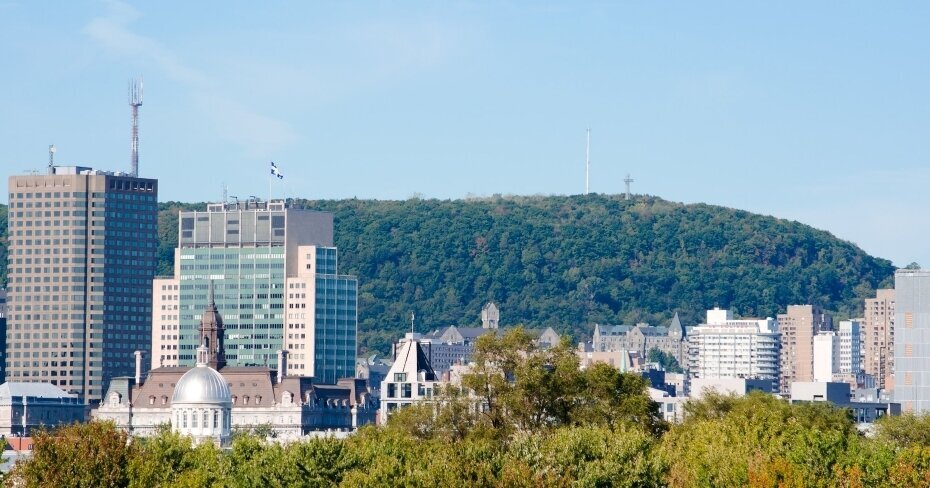 Find out how much it costs to live in Quebec's largest city as a single person without dependents or property. Hint: it's much, much less than what it costs to live in Vancouver or Toronto.
Montreal is kind of a dream city, especially if you're young: there's an excellent nightlife culture, you can more or less legally drink in public, and there are many, many opportunities to practice your French.
It's also notoriously cheap.
If the real estate market is any indication, however, that may change. Montreal's home prices have been climbing steadily over the past two years, as investors continue to flock to the city after the government introduced tighter housing regulations in Vancouver and Toronto. In February, experts predicted that Montreal would soon overtake Vancouver as the country's second biggest housing market.
Will renters feel the impact of rising home prices? It might be too soon to tell. In the meantime, though, we can talk about how much it currently costs to live in Quebec's largest city — and firmly conclude that it's still much, much less than what it costs to live in Vancouver or Toronto.
As always, the following numbers are calculated for a single person without dependents or property.
 
Housing - $1,259.25/month
These figures come courtesy of Rentboard.ca, which is used by property owners and managers to advertise vacant units. As of early April, the average rental price we found is more than $800 cheaper than the average price of a rental in Toronto, and about $500 cheaper than a rental in Vancouver. 
One-bedroom condo: $1,850/month
One-bedroom apartment: $1,273/month
Bachelor/studio apartment: $1,058/month
Two-bedroom, shared with a roommate: $1,712/month, or $856 each
Average: $1259.25/month
 
Phone and Internet - $115.86/month
Phone plans are never exactly cheap in Canada, but they are cheaper in Quebec: major service providers Rogers, Telus and Bell offer monthly plans for between $50 and $60, for 3 to 6GB of data and unlimited, Canada-wide calling. Koodo, a smaller service provider, offers 6GB of data with unlimited Canada-wide calling for a similar price: $49.
All this averages out to $52.25.
As for internet plans, Bell, Videotron and Teksavvy all offer comparable plans (between 50 to 60 mbps) for an average of $63.61.
Phone: $52.25
Internet: $63.61
 
Transportation - $211/month
Montreal is an extremely bike-friendly city, but with winters spanning from roughly November through May, biking is not exactly viable year-round — although you might see a couple of hardcore locals trying to ride through the snow anyway.
Enter public transit.
Single adult fare: $3.25
Monthly pass (students): $51
Monthly pass (adults): $85
For our calculations, we'll take into account the adult pass, which is $85.
There are times when public transit might not cut it, especially if you're out late. Let's say you take an Uber (which, as of now, is only allowed to operate in Montreal until Oct. 2019) for two round trips, priced at about $13.50 each way, for a ride from the heart of the Mile End to the Old Port. That comes out to $54. Now let's add two round trip cab rides, priced at $18 each way for the same trip. That comes out to $72. The total of those four round trips (two round trip Uber rides and two round trip cab rides) is $126.
12-month OPUS pass: $85
Uber trips: $54
Cab trips: $72
 
Groceries - $200.72/month
In Quebec, the average household of 2.5 people spent $5,792, or about $483 per month in 2017. That's $193 per person. Add 2% inflation for each of the intervening years, and you've got a total of $200.72.
Keep in mind, though, that this will vary from person to person. If you're vegetarian, you'll likely spend less money; if you follow another type of specialized diet, you could end up spending more. Prices will also vary depending on where you choose to shop.
 
Entertainment - $445.98/month
This category includes drinks, eating out, movies, cover for clubs and shows, which you'll find no shortage of in Montreal — as well as the expenses of entertaining yourself at home, like TV and music subscriptions.
Dining out: $282
Buying lunch three times a week: $10 each time, $120/month
Getting takeout for dinner three times a month: $20 each time, $60/month
Going out for dinner once a month: $70/month
Buying a latte twice a week: $4 each time, $32/month
Drinks: $90/month
Going out for drinks with friends twice a month: $20 each time, $40/month Having drinks at home/friends' house once a month: $50/month
Miscellaneous outings: $50
Netflix subscription (standard): $13.99/month
Apple Music/Spotify (single person): $9.99/month
 
Health and fitness - $87/month
As we noted earlier, it's easy to bike in the city — and get a great cardio workout to boot. But if you want something more, or if you're simply looking to keep fit during the long winter months, there are plenty of indoor gym options, too.

A monthly membership at a YMCA will cost you about $55. For a more upscale option that includes trainers, you might look into options like X-Fit on the Plateau, which will set you back $119 a month.

The average? $87.
 
Insurance - $50.82/month 
Even if you don't have a car, many landlords still require you to buy insurance to rent their units. We found renters insurance quotes for apartments in the Plateau, St-Henri, Parc Extension and Hochelaga, and averaged out the costs.
The total came to $50.82.
 
Grand total - $2,370.63/month, or $28,447.56 annually
Housing: $1,259.25/month
Phone and Internet: $115.86/month
Transportation: $211/month
Groceries: $200.72/month
Entertainment: $445.98/month
Health and fitness: $87/month
Insurance: $50.82
Every month, it'll cost you $2,370.63 a month to live in Montreal. This is before you take debt payments, savings, and variable expenses like clothing, toiletries or auto or life insurance into account.
Now, keep in mind that when it comes into taking into account how much money you have to make to afford our monthly cost, you also need to factor in taxes. While our gross annual cost comes out to $28,447.56, you need to actually have a salary of $36,738 to afford those costs.
Now, experts recommend you should be saving as much as 20% of your income to adequately prepare for retirement. In that case, you'll need to make even more money: $45,460 before taxes to be able to save 20% of your income and afford the monthly costs of living in Montreal. 
About the author

Jessica Mach is a freelance writer for LowestRates.ca. She's covered the documentary film industry at realscreen, and her work has also appeared in The Hairpin.