Review: American Express Cobalt Credit Card
By: Dominic Licorish on

November 14, 2017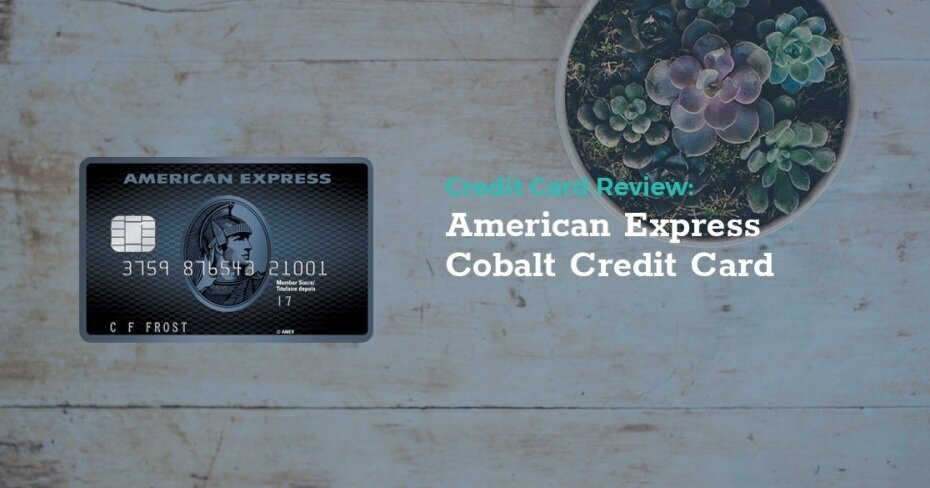 Update: We updated this post on Apr. 22, 2020 to reflect the fact that the cash advance rate dropped to 21.99% from 22.99%. 
This is it. This is the credit card I've been waiting my whole life for. Or at least that's the idea behind the latest American Express rewards credit card: the Cobalt card.
It's the first major credit card in Canada designed to offer rewards points and perks that suit millennial lifestyles. Unlike the majority of the rewards credit card market, the Cobalt card offers more points back when you spend on things young people love splurging on: restaurants and bars, travel, online shopping, food delivery and Netflix (among others).
Amex launched the card at the end of September with a flashy social media campaign and a Gordon Ramsay pop-up restaurant in Toronto, capitalizing on two gimmicks that easily rope millennials in: unique experiences and the ability to show proof of said experiences.
Buzzworthy marketing aside, Amex has dropped one of the best rewards credit cards on the market for young Canadians. Here's a look at the American Express Cobalt Card.
The features
What makes the Cobalt card special is that all of its features cater to consumers that are 18 to 34 years old. Considering that more millennials have adopted credit card usage than any other generation, it's actually somewhat surprising Amex was the first company to make a card like this.
Here's everything the Cobalt card has to offer:
$10 monthly fee (that's $120 annually).
Annual interest rate of 19.99% on purchases and 21.99% on cash advances.
2.5% fee on foreign transactions. 
During your first year, earn 2,500 rewards points each time you spend $500 or more during your monthly billing period up to a total of 30,000 points (more on what these points are actually worth later).
Sign up before January 30, 2018 and receive a 10,000 point Welcome Bonus if you spend $3,000 on purchases in your first three months.
Earn five points per dollar spent on purchases at eligible grocery stores, restaurants, fast food, and food delivery services.
Earn two points per dollar spent on eligible spending on public transit, ride-hailing apps, gas stations, taxis and travel bookings.
Earn one point per dollar spent everywhere else.
Access to exclusive retail, music, and entertainment offers through the Cobalt Perks Program.
Special access to the biggest and best concerts, plays, and more through American Express Invites®  and Front of the Line®.
Travel Insurance.
Purchase protection.
Extended Warranty coverage.
Fraud Protection.
Rental Car Insurance.
Travel Benefits.
24/7 Customer Service.
Another major feature of the card is how easy it is to manage with American Express's app. The app will let you check your account activity, view your rewards points, and most importantly, redeem them right in the app.
The base value of Cobalt's rewards points aren't anything special — 1,000 points equals $10 on travel or $7 on anything else. That means you'll be earning a minimum of 0.7% back when you're not spending in your special categories. However, the tradeoff is that if you use this card right you'll be earning as much as 5% cash back (towards travel) on most of your spending.
Because American Express is a premium brand, the Cobalt also offers several features that are typically oriented towards more financially established users. This includes comprehensive travel insurance coverage, access to American Express Invites®, and exclusive perks and offers just for Cobalt members.
How it stacks up against the competition
Even though the Cobalt card is marketed to millennials, it stands on its own as one of the most competitive rewards cards on the market. Its high rewards rate and flexible redemption options allow it to compete with travel rewards cards as well as cash back cards. This gives it similarity to one of the best cash back cards on the market: the MBNA World Elite MasterCard. The World Elite comes with a lower annual fee. However, the Cobalt card has a higher overall rewards rate and no minimum income requirement.
It's also comparable to the Scotiabank American Express Gold Rewards card. Like the Cobalt, the Scotiabank Gold Rewards card earns points at a comparatively high rate, but it's cheaper to own. Not only does it have a lower annual fee, but the fee is also waived in the first year. It's also worth mentioning that the Scotiabank card has a bigger immediate welcome bonus, but the Cobalt card offers a bigger bonus in the long run.
Essentially, it comes down to your spending habits. If enough of your income is going annually to the special spending categories like restaurants and travel, this card is going to be a no-brainer. You can easily push your return rate close to 4-5%. That makes it one of the best in the market for a certain subset of spenders.
Drawbacks
Even though the Cobalt card's rewards program is its major claim to fame, it's limited by the relatively low acceptance rate of American Express cards at merchants. As an Amex cardholder myself, I find this problem isn't as hard to overcome in big cities like Toronto, but I still regularly need to fall back on using my Mastercard or Visas.
Another drawback to the card is that it has a relatively high fee. Though it may not look like much at $10 per month, it has one of the highest annual fees on the market at $120 per year. Its high rewards rate helps make up for this as long as you use the card often, but some users may find that harder to manage, especially given its smaller network of merchants.
The monthly fee and monthly points bonuses could also be a problem for certain users. This card does have a solid welcome bonus of up to 30,000 points (that'll translate to $300 if redeemed for travel), but those points are earned on a monthly basis and only if the minimum spending requirement is met. It also forces users to wait a whole year to get their "welcome" bonus, meaning you can't immediately reap the bonus for something special like you could do with other cards.
So for those interested in churning credit cards for rewards signup bonuses, this card is no good to you.
Who's this card for?
The Cobalt is best for young, urban professionals who spend a significant portion of their money on going out, dining, and travelling. These users would reap the most benefit from using this card, though with up to 2% back on travel purchases it could also be a good option for frequent travellers who want a generally high-earning rewards card to boost their savings and take advantage of the included travel insurance.
Final verdict
With the Cobalt card, American Express has released a fantastic rewards card for urbanites who spend a lot of money on drinking, dining and getting around. With rewards earnings of 2% to 5% on the vast majority of your spending, it has one of the best rewards rates on the market and a solid perks program that justify its monthly fee.
However, the reduced number of merchants that accept American Express somewhat limits the card's usefulness. It's still one of the best daily spending credit cards available in Canada and would make a great primary card for most young professionals.
The best rewards credit cards
The LowestRates.ca comparison tool lets you easily browse and compare Canada's best rewards credit cards.
See cards