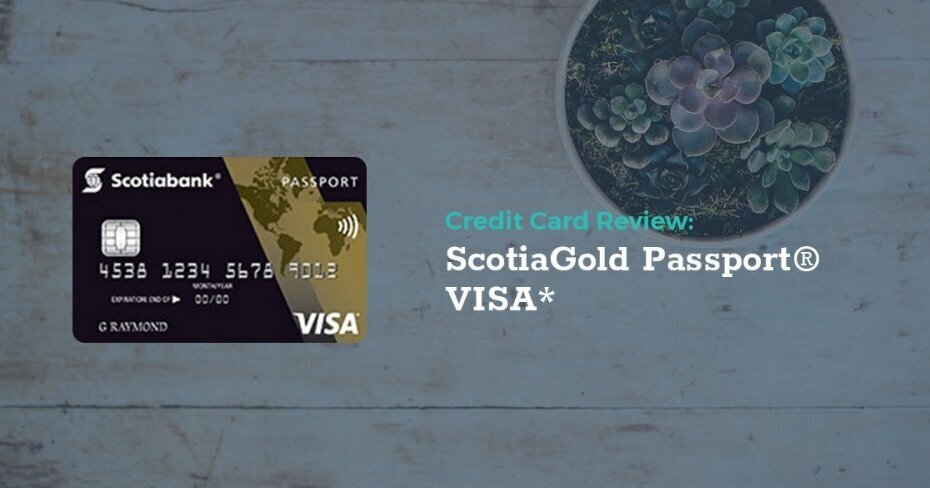 Travel costs can add up quicker than you can say, "how much for that cannoli?!" in Italian. The ScotiaGold Passport® VISA claims it can help off-set those vacation costs by rewarding you for the purchases you make in your everyday, non-vacation life. But, with everyone trying to one-up their friends with their travel photos on Instagram, it begs the question that every wanderlust-er must ask themselves, "is the ScotiaGold Passport VISA the best travel rewards credit card for me?"
We held it up against the American Express AeroplanPlus Gold Card to see which of these two cards, with similar annual fees, but vastly different purchase interest rates, offers the best bang for your travel buck.
Let's see if the ScotiaGold Passport® VISA can soar high above its competition.
The Features
What better way to attract new travelers than with a sign-up bonus. ScotiaGold Passport® cardholders can earn up to 5,000 Bonus Membership Rewards if they spend at least $1,500 within the first three months of receiving their card. However, this offer is only valid for new accounts opened before Jan. 31, 2018 — after which point the offer may be subject to change.
At an annual fee of $110, ScotiaGold Passport® cardholders earn one Scotia Reward® point for every $1 they spend on everyday expenses, including groceries, gas, dining out, and entertainment. In addition to earning that point with every dollar cardholders also get to enjoy a 5% cashback on all travel-related purchases, such as booking flights, hotels, cruises, and car rentals.
Here's the breakdown of additional perks available to ScotiaGold Passport® VISA cardholders:
Extended Warranty and Security
Any purchases made on the ScotiaGold Passport® VISA are automatically insured against loss, theft, or damage with 90 days from the time of purchase.
Travel Insurance
Scotia Rewards® members are covered with six types of travel insurance, including Travel Emergency Medical Insurance, Trip Cancellation/Interruption Insurance, Hotel/Motel Burglary Insurance, and Delayed and Lost Baggage Insurance.
Best Price Guarantee
If within 24 hours of booking a flight, you find another flight that's at least $10 lower in price, the Scotia Rewards® Travel Service will offer you a points credit equal to the price difference, per passenger.
Cardholders can only redeem Scotia Rewards® towards a travel purchase when they reach at least 5000 points. This can be fully redeemed when members book through the Scotia Rewards® Travel service, a full-service travel agency and online booking. If they book using a third party, it must be a merchant that's recognized in the Program Terms. Redemption must be submitted within 12 months of the purchase date.
How it stacks up against the competition
With a similar annual fee of $120, the AMEX AeroplanPlus Gold Card was the natural choice to compare against the ScotiaGold Passport® VISA. And, it appears that the Passport® VISA may be quite the contender in this race.
Firstly, the AMEX AeroplanPlus Gold Card has an introductory offer of 15,000 Aeroplan miles when you spend at least $1,500 in the first three months. That totals up to a dollar value of an extra $180. And, although that covers the annual fee for the first year, with some change to spare, you still had to spend $1,500 to earn that. With the
ScotiaGold Passport® VISA, the bonus 5,000 Scotia Rewards® in the introductory offer requires you to only spend $1,100 to get travel rewards worth up to $180.
However, the AMEX AeroplanPlus Gold Card makes it easier to stack points faster. Cardholders earn one mile for every $1 spent, and after spending more than $10,000 in a year, they earn 1.25 Aeroplan miles for every dollar until the end of that year. And, with being able to have up to nine different cardholders on the same account, and getting two free supplementary cards, earning the most miles as you spend is fast and easy. The ScotiaGold Passport® VISA does not offer any free supplementary cards to its members; they charge $30 for every additional card.
Another advantage that the ScotiaGold Passport® VISA has over the AeroplanPlus® Gold card is that it's far more widely accepted for everyday purchases, since American Express usability is somewhat limited with many Canadian retailers. This isn't as much an issue for those who do most of their shopping online, however, can be a problem at many brick-and-mortar shops, especially smaller establishments. And, if those purchases happen to be travel purchases, the ScotiaGold Passport® VISA offers 5% cashback. That means you'd get $35 back after booking a $700 flight. Not bad.
Additionally, with a purchase interest rate of 30% — 10 percentage points higher than the ScotiaGold Passport® VISA — the AMEX AeroplanPlus will cost consumers a lot more on any unpaid balances at the end of the month.
Drawbacks
The first, and most obvious drawback with the ScotiaGold Passport® VISA is the lack of attractive travel rewards offerings. The bonus 5,000 points upon sign-up are a nice plus, giving cardholders the minimum redemption amount at a low expense amount of $500, however, there really aren't many other perks after that.
With a relatively high annual fee, there's very little perks such as airport lounge access, or discounts at retailers. With the AMEX AeroplanPlus, consumers earn double points with Aeroplan partners, and earn extra points when booking with Air Canada and other Star AllianceTM airlines. Unfortunately, the ScotiaGold Passport® VISA offers no similar rewards to its cardholders.
Who's this card for?
This card is most notably for frequent travelers who want a lower cost travel rewards card, without all the frills that come with other premium cards with a higher annual fee.
With the interest rate of the AMEX AeroplanPlus Gold Card being 10 percentage points higher than the ScotiaGold Passport® VISA, this is a better option for those wanting to avoid high interest charges, especially given that the rewards offerings between both cards are relatively the same.
Lastly, this is a great card for individuals who intend on using their credit card to make smaller, everyday purchases in order to earn points towards travel, rather than making fewer large, more expensive purchases. With the ScotiaGold Passport® VISA likely to be accepted at common Canadian retailers more so than the AMEX, this is a better option for the everyday shopper.
Final verdict
The ScotiaGold Passport® VISA is a great credit card option for those who travel frequently. Ultimately, this card shines with its 5% back on travel-related purchases, so if you're a globetrotter who's away from home a lot, this is a great card to have in your wallet.
If you don't travel often, than there are other cards that get you much higher rewards rates (see a list here).
Love collecting rewards?
Use the LowestRates.ca quoter to compare the best rewards credit cards in Canada.
Compare cards