Review: Starwood Preferred Guest American Express
By: Alexandra Bosanac on

August 29, 2018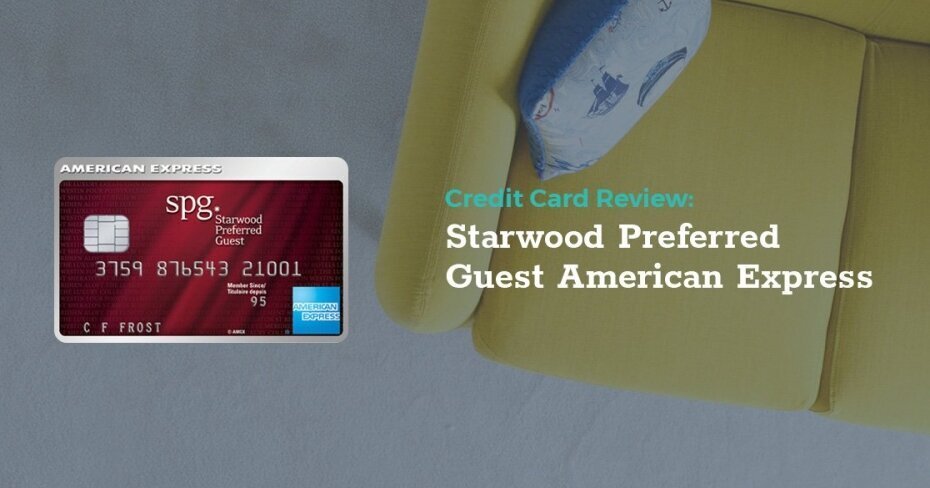 Update: This card has been rebranded as the Marriott Bonvoy American Express. Read our updated review here.  
August 2018 will go down as the month in which one the biggest mergers in the loyalty points space happened.
That's when Starwood, Ritz-Carlton Rewards and Marriott rewards became a single rewards program (the new name isn't coming until 2019).
When Marriott International purchased Starwood Hotels, they still accepted both SPG and Marriott Rewards, but the loyalty programs were quite different from each other, so they consolidated the rewards programs.
It means that the SPG loyalty program has increased its global footprint and now cardholders will be able to redeem points at 29 global brands and 6,500 hotels in 127 countries and territories —  five times as many hotels than the pre-merger portfolio. And they've promised more membership experiences will be unveiled alongside a new digital reservation system, both of which are coming in early 2019.  
All of that meant changes to the Starwood Preferred Guest credit card — which was already one of the best travel credit cards you could get. How does it hold up following the points merger? We looked into it.
The features
The old Starwood Preferred Guest credit card had a reputation for having some pretty high-value rewards. And the revamped card may actually be even better, as you'll see.
Before we dive into that, another piece of good news is that the annual fee of $120 is staying the same. That's on the higher end for a credit card fee, but if you're a frequent traveller, you're going to want to hear what you get as a new member:
50,000 bonus points after you charge $1,500 in purchases to your card in your first three months.
Five points for every dollar in eligible card purchases at participating SPG and Marriott Rewards properties.
Two points for every $1 for all other purchases on the card.
An Annual Free Night Award at eligible hotels and resorts worldwide every anniversary.
No annual fee on supplementary cards (so you can accumulate points faster).
The ability to redeem points for free nights with no blackout dates.
Automatic Silver Elite status membership, a new membership category, which gets you access to perks like a bonus 10% earn rate on points on hotel room purchases, which are kept secure by SPG's Ultimate Reservation Guarantee. That means, if your reservation can't be honoured, they'll put you up in a hotel and pay you back for your troubles.
And an automatic upgrade to Starwood Gold Elite status when you reach $30,000 in purchases on the card each year, which entitles you to an additional 25% more points when you purchase a room in a participating hotel, and free room upgrades.
Fees for transactions in foreign currency are 2.5%
How it stacks up
This card was already a points-generating machine before the merger — it's even more so, now.
The number of points earned by spending money at Starwood and Marriott locations is going up from two points per $1 to five points per $1. And for all other purchases, the rate is increasing from one point per $1 to two points per $1.
Technically, you're not collecting Starwoods points anymore; you get Marriott points, which are worth less than SPG points. Before the merger, one SPG point was worth three Marriott points. Now, one SPG point is worth roughly two Marriott points. This means cardholders will see a 33% drop in their earning ability.
American Express makes up for that, however, by now offering you an annual free night at a hotel — regardless how much you spend. In the past, there was a $40,000 spending requirement to get a free night.
Here are some examples of the card's new earn rate.
Let's say you want to stay at a category two hotel on a trip to New York City. A quick glance on the Marriott website shows such hotels average about US$200, or $258.55 Canadian. To stay at such a hotel, you'd have to cash in, on average, 12,500 points.
To get 12,500 points, you'd have to spend $6,250, provided you're not doing any spending in the five for $1 category. Being able to trade that in nets you a 4.1% reward rate. Not bad at all.
Of course, this isn't an exact figure. Hotel prices fluctuate and come 2019, Marriott will price points depending on if you're using your points during peak season or not. As well, if more or all of your spending is coming from the five for $1 category, you're going to get a lot more bang for your buck.
Keep in mind that SPG points can also be transferred to frequent flyer programs like Aeroplan at quite a generous rate. And for every 60,000 points you transfer, you'll get an additional 15,000 points.
Let's look at the value. Let's say you take your 50,000 welcome points and spend enough to get yourself 10,000 points and then transfer them to Aeroplan. Currently, you can transfer three SPG points for one Aeroplan point. With the 60,000 points transferred plus the 15,000 bonus, you get 25,000 Aeroplan points.
According to Aeroplan's website, that's enough for you to take a free flight anywhere in Canada or the continental U.S.
Of course, to get that, you'd have to spend the $1,500 for the intro offer and then another $5,000 to collect 10,000 points (provided you didn't do any spending in the 5 points per $1 category, at which case, that'll come a lot faster).
But considering the bonus allows you take flights that can cost $500, you're getting a massive 10% back on your spend.
If you're not familiar with SPG rewards, they categorize hotels based on the price and luxuriousness of the accomodations. Essentially, the most high-end hotels that participate in the program cost more rewards points and vice versa.
Under new program, it costs 7,500 points for a free night at a Category 1 hotel (the lowest category). On the higher end, it costs 85,000 points for a Category 8 hotel.
It should be noted that the Starwood Preferred Guest credit card's welcome bonus of 50,000 points is enough to pay for a four-night stay at a Category 2 hotel.
Also, the "cost" of hotel rooms fluctuates — which you can definitely work to your advantage, as well. But it does require cardholders who wants to redeem their points for hotel stays to use a little more forethought.
Another huge change: you used to have to reach a minimum spend to get a free night's stay. No longer.
Card holders automatically get a free night's stay in a Starwood or Marriott hotel — more than 6,500 establishments worldwide — each year, which is made doubly awesome because you can also use that stay towards gaining elite and even lifetime status (you earn these statuses, which unlock even more rewards, based on the number of times you've stayed in participating hotels).
The other standout feature of the Starwood Preferred Guest credit card are the discounts it offers travellers. If you're an experienced traveller, you know how easy it can be to burn through cash. Stacking discounts will help free up your cash flow to use on experiences rather than on boring — but necessary — expenditures.
One of the best deals the card offers comes when you book hotel rooms directly through Marriott's online portal. Here's how it works: say you make a reservation using any official Marriott reservation channel (Marriott.com, SPG.com, Marriott App, SPG App, Customer Engagement Centers, or directly with a hotel). Later on, you find another room at the same hotel on another rate comparison site. No problem, just file a claim and to receive SPG's Best Rate Guarantee.
Under the program, not only will your hotel match the rate, they'll also give you an extra 25% discount on the room (20% for Design Hotels). Or, if you prefer, you can also ask for an additional 5,000 Marriott Loyalty Program Points for your troubles.
Drawbacks
For starters, your points expire every year. An SPG member is considered inactive if you haven't stayed at a participating SPG hotel or if you haven't earned or redeemed any of your points.
And if you don't redeem your points for a set amount of night stays at one of the participating hotels, you won't be able to attain a higher status bracket (FYI: it's nine nights to attain Gold Elite or 18 nights for Platinum Status).
Thankfully, you can use your complimentary free night's stay to keep your membership active.
There is a major downside to booking with Marriott portal: basically, you really have no other choice if you want to collect points. Rooms booked through third party retailers — like Expedia or Trivago — will not be eligible for rewards points. Neither are wholesale packages or tours. If you want elite status credit, you need to book through Starwood.
Who is the card for?
This card is for frequent travellers who love a good earn rate. While the earn rate has taken a hit with the merger of Starwood and Marriott, it's still very competitive, and an annual free hotel night helps cushion the blow.
The card is designed for those who like to travel in comfort and in style. Participating hotels include Le Meridien, St Regis, Sheraton, The Luxury Collection, W, Westin, and The Luxury Collection of Marriott hotels.
That's another way of saying the Starwood Preferred Guest credit card is really only appropriate for people who want to travel frequently and have the income to support the kind of shopping it'll take to to accumulate the points needed. Couples with modest incomes should definitely consider getting a free supplementary card and splitting the yearly fee of $120. Because it's an American Express Card, you may run into difficulty using it in some stores, so you may have to modify your shopping habits, too.
Another caveat is that you only get points if you pay for your stays. Business travellers who expense their trips cannot claim points. However, if you're a successful freelancer, social media influencer, or if you're that person who always seems to be on vacation, this card may be the card you've been looking for.
Final verdict
Looking at the earn rate, the Starwood Preferred Guest credit card is one of the best travel credit cards on the market right now — even with the downgrade. If you're willing to be a frequent guest of the Marriott or Starwood hotels, this is easily the best travel card on the market.
Here's who shouldn't bother with this card: people who aren't avid travellers and adventure-seekers who prefer Airbnb to hotel chains.
With that part out of the way, we really want to drive home just how exceptional this card really is. Take one of their travel rewards competitors, the Scotiabank Gold American Express Card. For its welcome bonus, you receive 15,000 bonus points with a spend of $1,000 within the first three months — an approximate value of $150. With the Starwood Preferred Guest credit card, you get 50,000 bonus points with a $1,500 spend — equivalent to a one-night's stay at the Marriott in South Beach. On top of that, you get a free night just for being a cardmember.
Again, when stacked against the competition, this is one of the best travel cards out there.
Love collecting rewards?
See all of your options by comparing the best rewards credit cards using our comparison tool.
Compare cards