Fireworks safety in a wildfire country
By: Isabel Slone on

July 7, 2023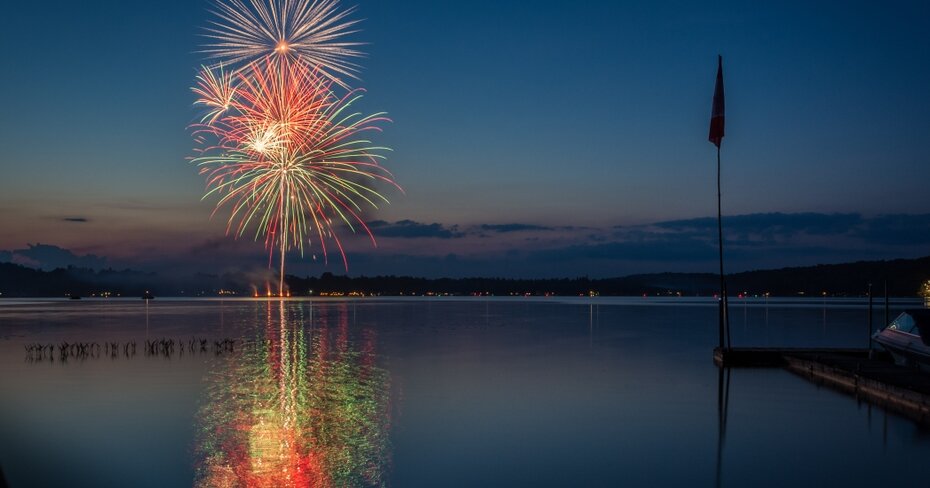 As outdoor barbecue season begins with a bang, there's yet another, different, bang one can expect to hear more often in the coming months: the ear-splitting boom of fireworks. But before loading up on Cherry Bombs or Burning Schoolhouses, it's important to remember that fireworks are more than a beloved summer pastime — they're also dangerous pyrotechnics that require a number of proper safety precautions. Here's what you need to know in order to avoid injuries and have a safe and legal backyard celebration before lighting the fuse. 
Suss out the sparks seller 
In Canada, consumer fireworks, such as Roman candles, are the only category of fireworks that it is legal for an individual not in possession of a fireworks operator certificate to set off. It's also mandatory for anyone selling fireworks to have a special permit from Natural Resources Canada – so if you're not sure whether the stand at the side of the road hawking Pharaoh's Demises at the side of the road is in the clear, ask to see their permit. 
Know your laws  
Once you've procured some fireworks, make sure to brush up on the local rules and regulations governing fireworks in your municipality. For example, the City of Toronto allows fireworks to be set off on private property before 11pm on Canada Day and Victoria Day. At all other times, a permit is required. In Ottawa, fireworks can be lit on private property on Victoria Day, Canada Day and the days immediately preceding and following these holidays.  
The rules are stricter further west. Anyone wishing to set off fireworks in Edmonton must obtain a fireworks permit from the city that costs $147. The city of Calgary limits the use of fireworks to trained and certified professionals. 
At their best, fireworks are a beautiful and vibrant form of celebration. But at their worst, they can be a shortcut to injuries like burns, hearing loss and even death. Beyond personal injury and property damage, an even bigger consideration this year is the possibility of wildfires. Due to the massive wildfires in Northern Quebec affecting air quality as far away as New York City, some municipalities like Timmins have canceled their regular fireworks display out of an abundance of caution. Fireworks also contain carcinogens and harmful chemicals so it's important to limit exposure. 
Always stay safe 
To minimize the risk of damage and injury to yourself and any bystanders, you'll want to follow these safety precautions when handling fireworks: 
Store fireworks in a cool, dry, ventilated place that cannot be accessed by children.  

Read all the instructions on the package before lighting a fuse. 

Choose a clear, wide site with no fire hazards to light off fireworks. All spectators should be as far back as possible.  

Do not light fireworks in windy weather conditions. 

Tie back long hair, wear protective glasses and avoid baggy clothing while lighting fireworks. 

Ensure there is a water supply nearby in order to put out any potential blazes. 

Do not light fireworks under the influence of alcohol or drugs, or while smoking a cigarette. 
Know your policy 
If you are determined to put on a backyard display, keep in mind that things can always go wrong. Any misfire could cause damage to your home or adjacent properties, so make sure to read the fine print on your home insurance policy to make sure you're appropriately covered.  
Always ensure you are following legal guidelines when setting off fireworks, as any illegal activity is not covered under home insurance. Most policies cover fires, including fire damage resulting from fireworks. You may also want to look into your policy's third-party liability coverage, which may come in handy in the event that your fireworks damage a neighbour's property and they decide to sue.  
If you have questions about how fireworks may impact your home insurance it's best to bring them directly to your advisor who can help point you in the right direction. 
At the end of the day, fireworks are a wonderful display to observe on a summer evening (unless you are a dog, that is). But just like any controlled substance, e.g., alcohol, it's important to enjoy them responsibly. 
 Read next: 4 common summer home insurance claims — and how to avoid making them