REPORT: Canadian mortgage rates and housing market trends 2020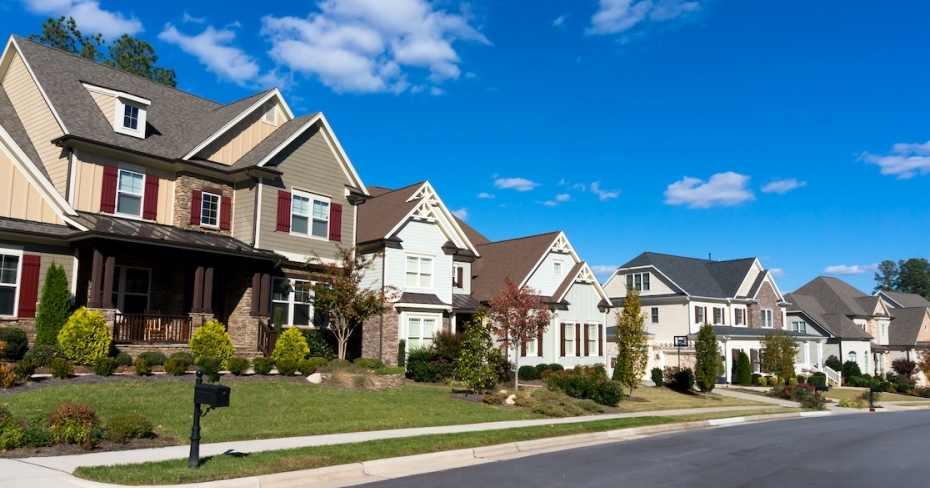 Predicting trends in the Canadian housing market is tough in any year. COVID-19 has made predicting trends this year harder than most.
Predicting trends in the Canadian housing market is tough in any year. COVID-19 has made predicting trends this year harder than most. 
But our Canadian real estate market outlook report aims to do just that. 
COVID-19 hindered the ability of Canadians to sell or purchase a home for a few months (remember virtual open houses?), and prompted the Bank of Canada to issue three emergency rate cuts in March, pushing mortgage rates to all-time lows. (As of August, the lowest rate you could get on our site for both fixed and variable mortgages was 1.69%.)
Some experts had anticipated this huge disruption would lead to price declines in even hot markets like Toronto and Vancouver, but so far, that hasn't happened.
What happens when mortgage rates go down? How do mortgage rates affect house prices? What does the future hold? We called upon four housing industry experts to make some short- and long-term predictions about Canadian real estate trends and mortgage rates over time.
Key takeaways from the report 
National mortgage rates are expected to stay below 2% for quite some time.
It's unlikely that the Bank of Canada will entertain negative interest rates.
We could see a drop in home prices in Canada in the autumn as mortgage deferral programs end since more supply could come onto the market as a result of people no longer being able to afford their homes.
In addition to interest rates, house prices could also drop over the next year as experts warn we've yet to see the full effects of coronavirus on the housing market.
The lull in immigration could have a significant impact on the real estate market, especially in Toronto and Vancouver, as there'll be fewer newcomers in need of housing.
Are mortgage rates going down even lower?
One of the biggest questions prospective homebuyers have right now is what's going to happen to mortgage rates.
"It's going to be low for longer," says Samantha Brookes, CEO of Mortgages of Canada. "Once the end of September/October hits, those rates may even come down lower than what they are right now."
And there's too much volatility right now for the Bank of Canada to consider raising rates — something our own CEO, Justin Thouin, has emphasized.
"I can't imagine if we're in a global recession that the banks are going to raise rates," says Brookes, who says that the fall will be the big predictor of what's to come, especially if a second wave of the coronavirus hits.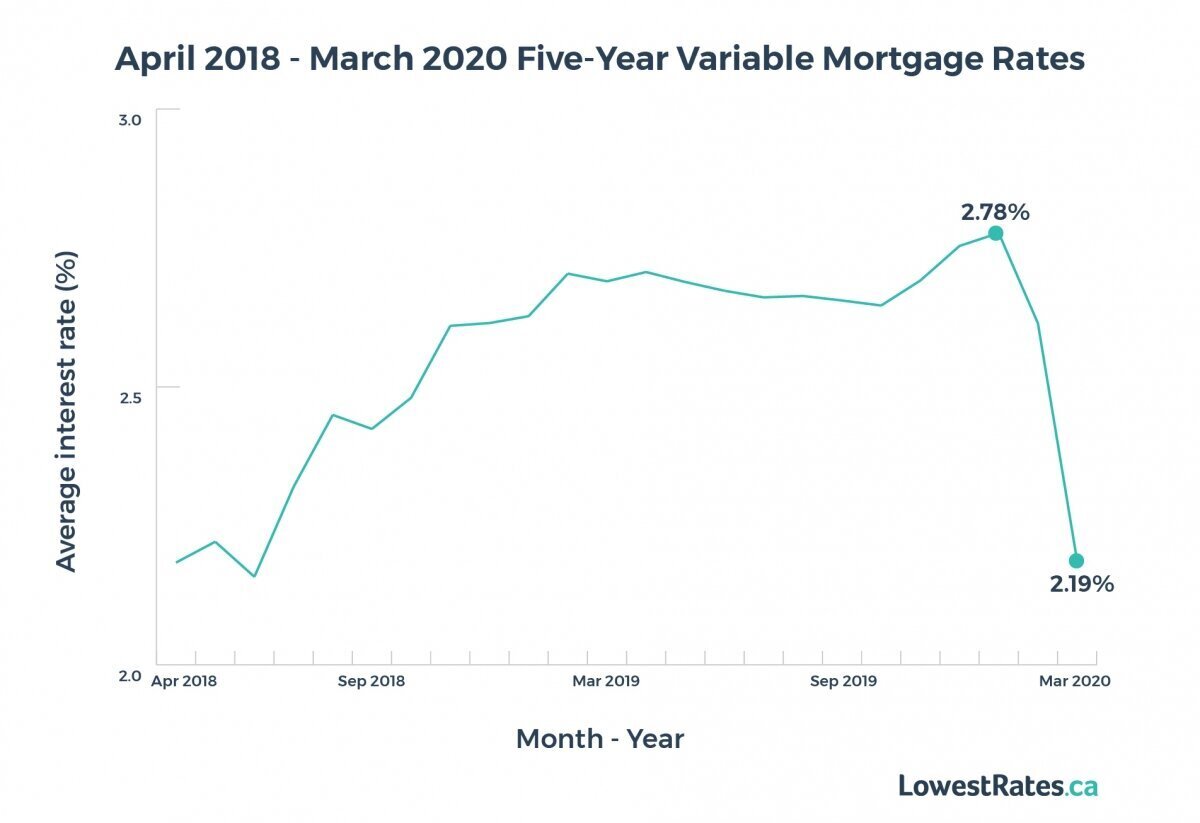 Paul Taylor, President and CEO of Mortgage Professionals Canada, suspects that mortgage rates will drop even lower in the next three to six months, and not rise for quite a long time.
"My expectation is it's going to be at least 24, if not potentially 36 months before you start to see the Bank of Canada move some of those rates," says Taylor. 
That prediction checks out when we look at what newly minted Bank of Canada governor Tiff Macklem said on July 15 in a press conference: "Interest rates are very low, and they're going to be there for a long time." 
Could home interest rates ever trend towards negative territory like we've seen in the past with countries like Denmark and Switzerland, where banks actually start paying people interest to take out mortgages? 
According to the Bank of Canada's latest overnight interest rate announcement, 0.25% is the "effective lower bound." Taylor says negative interest rates aren't on the table in any real way.
"Every statement that's been made public from the Bank of Canada, there hasn't been any sign they are entertaining negative interest rates at this time," he says. "I don't doubt that they're spending an awful lot of time thinking about it. But I think they're only thinking about it."
Brookes points out that the strength of Canada's banking system will likely protect it from veering into the negative-rate territory. 
"Negative interest is something that's possible," she says. "Could I see the government doing it? Perhaps. But do I see them doing it? No."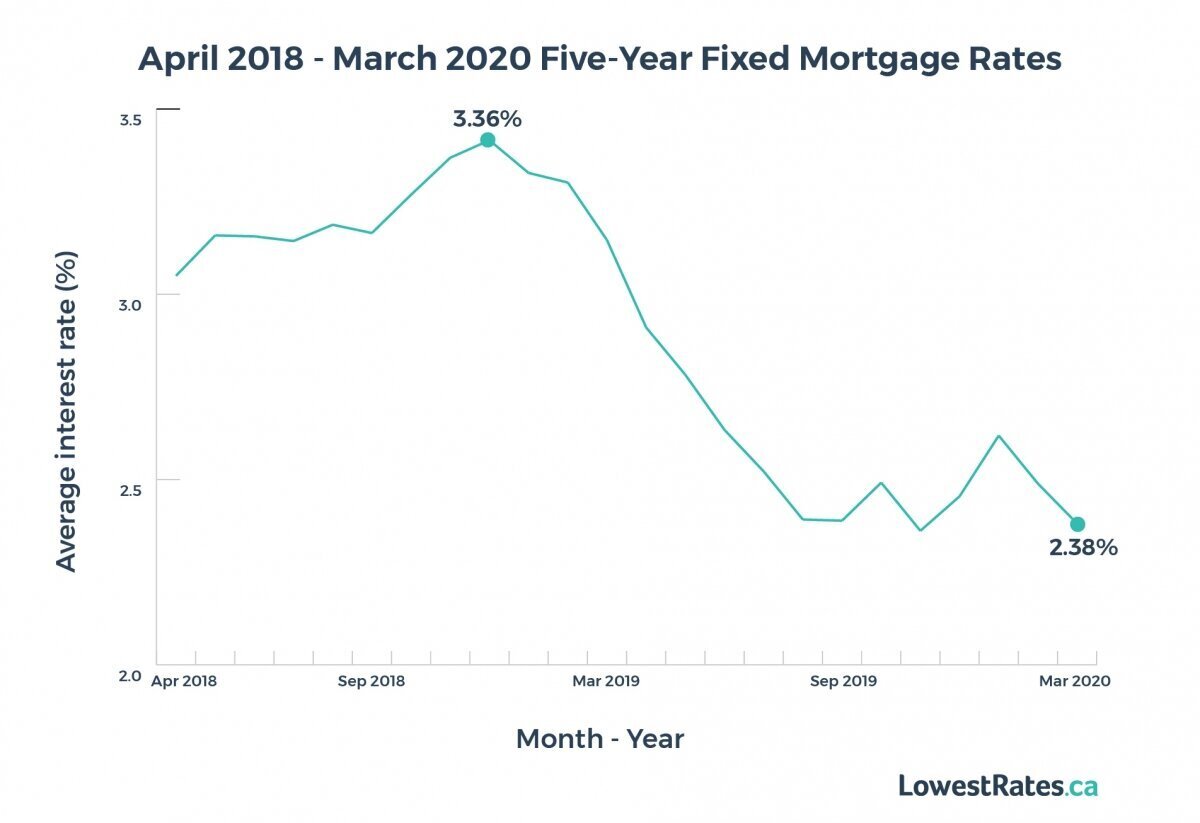 We used our mortgage quoter data to track the behaviour of mortgage rates (our data tracks quotes for five-year mortgage terms) over the past two years. As the graph below depicts, variable mortgage rates had been steadily increasing since May 2018 as the Bank of Canada raised rates, reaching their highest point in January 2020. Then a massive decline started in March when the Bank of Canada issued its three rate cuts in an effort to stem the negative economic effects of the pandemic.
Fixed rates, however, have behaved a little differently over the past two years. Our data show that fixed mortgage rates on our site were tracking upwards from April to December 2018, before they started to decline at the start of 2019, to levels far below that of variable rates.
We wrote about how unusual this was, and how it was likely the result of short-term bond investments yielding more money than long-term investments — also known as an "inverted yield curve."
If we look just at April to July of this year, we can see that both fixed and variable mortgage rates have plunged, which coincides with the Bank of Canada lowering the overnight interest rate in an effort to stimulate the economy and make borrowing costs lower for potential homebuyers.
As the pandemic rages on, we could see mortgage rates drop even further.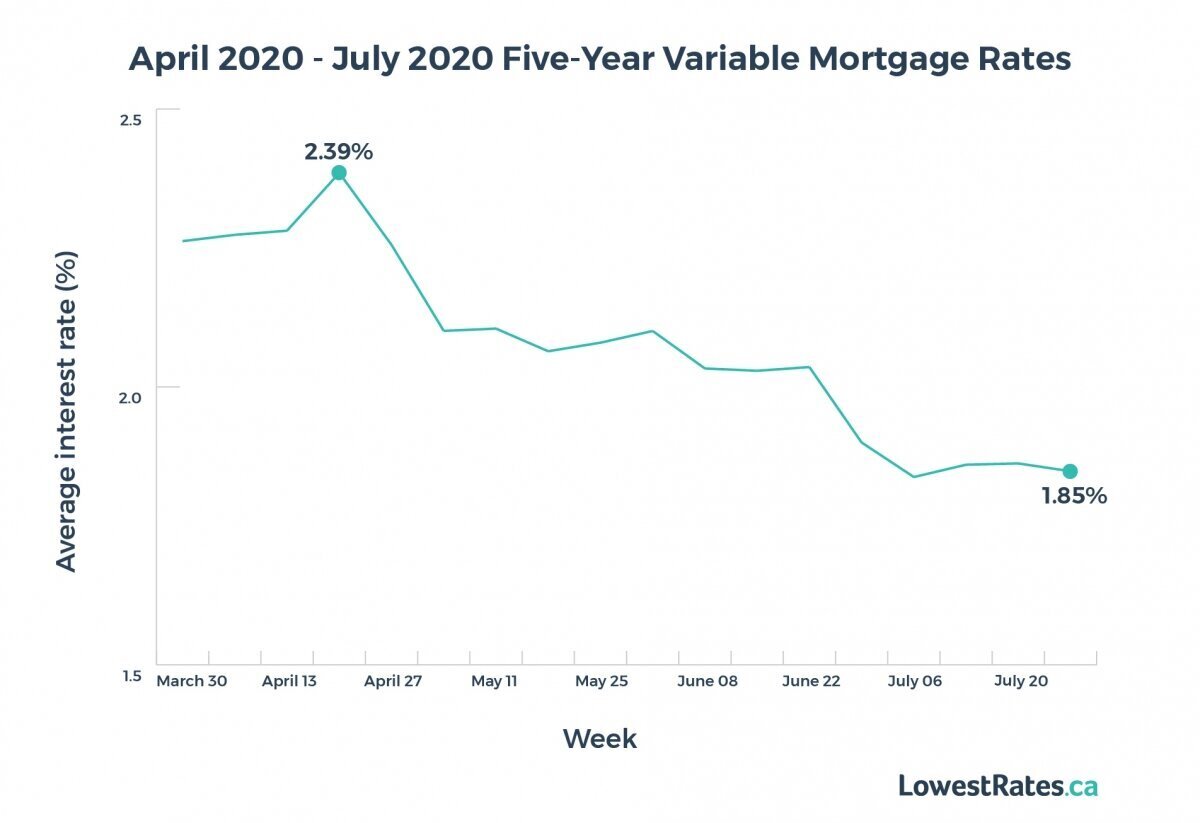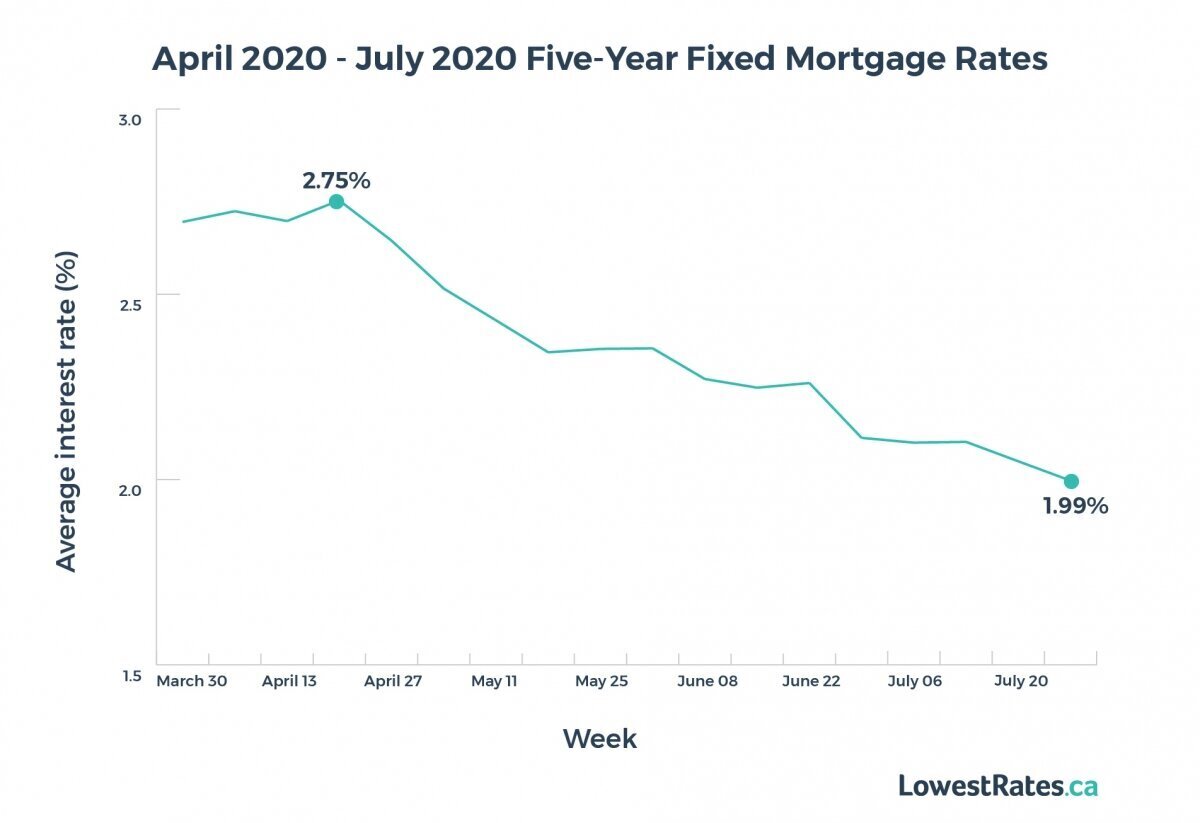 Will housing prices go down?
Because COVID-19 effectively pushed the spring buying season back by two to three months, what we're seeing now with national real estate prices — up 6.5% year-over-year, according to a recent note from BMO chief economist Douglas Porter — likely represents a lag.
The Canada Mortgage Housing Corporation recently sounded the alarm and warned of an up to 18% price drop in national home prices over the next year.
Jason Mercer, chief market analyst at The Toronto Regional Real Estate Board (TRREB), has a hard time with that forecast — at least when looking at the city of Toronto.
"I'm looking at an average price of $900,000 or higher in the calendar year 2020," says Mercer. "That's up from about $820,000 last year. With that kind of handoff into 2021, and if we assume that we're going to continue to see economic recovery, I have a difficult time with an 18% price retrenchment. We didn't see that during the 2008-09 recession, and that was a recession essentially driven by housing market issues south of their border."
There's also the fact that many current buyers are relying on mortgage pre-approvals from earlier in the year.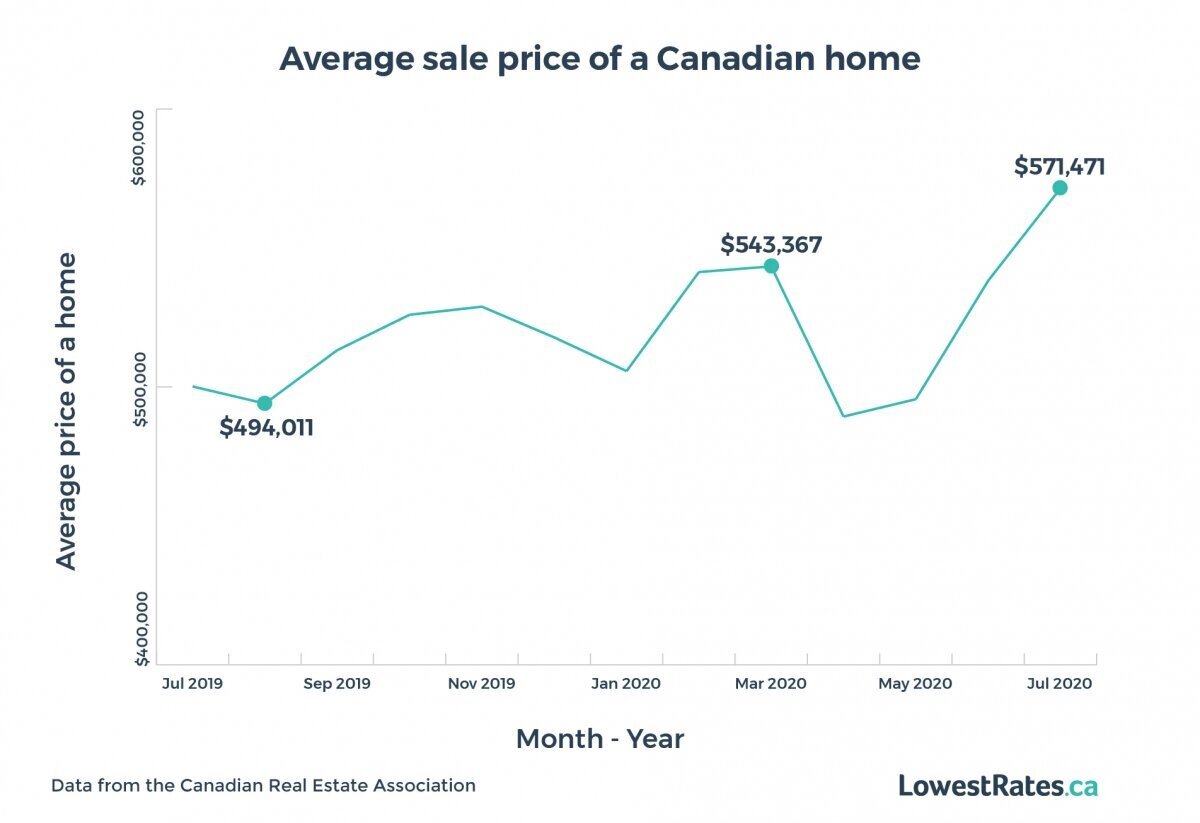 "Most pre-approvals will expire by the end of September," says Brookes, "so you're still going to see high numbers for July, August and September. At the end of September, when all of those pre-approvals are done, the numbers will start dropping and a second wave should be here. October's going to be the telling factor."
Jennifer Hunt, vice-president of research and events for the Real Estate Investment Network (REIN) agrees that we've yet to see the full effects of coronavirus on the housing market, particularly how the lull in immigration will have an impact on cities like Toronto and Vancouver.
With fewer people immigrating to Canada because of border closures and grounded flights, as well as university campus closures and the switch to online learning, there are fewer international students flying into the country looking for housing.
But immigration isn't the only factor that drives real estate prices up — it's just one of many. REIN considers up to 70 indicators driving the market, including GDP, population, and jobs. According to REIN, these indicators don't show up in the housing market anywhere from 18 months to two years after the initial decrease in GDP, typically.
"Some of the housing markets are on fire right now," says Hunt. "But that's an indication that it's at the beginning of a slump because it's lagging. I'm not meaning to scare people, but they need to be very well aware that this could be temporary. This terribly slow GDP, the loss of jobs, the pause in immigration. We haven't felt it in the economy yet. And so time will tell."
What about Toronto and Vancouver home prices?
Toronto real estate prices appear relatively unscathed so far in the face of COVID. According to recent data from TRREB, the average selling price of all home types in Toronto was up 17% year-over-year in July, while sales were up 30%.
Those numbers look pretty promising. But in a tweet from July 7, John Pasalis, CEO of Realosophy, wrote: "This is a short term demand shock that was caused by the housing market nearly shutting down for 2.5 months. Not unlike the demand shock that hair salons are experiencing today…"
Mercer believes there's some truth to that, but that it's not the whole story.
"The pent-up demand argument would hold up on its own if we had seen slower rates of price growth leading into COVID in much of the first quarter," says Mercer. "But in fact, even as we moved through January, February, and the first half of March, we were seeing marked acceleration and price growth."
He says we also have to consider the effects that the mortgage stress test had on buyers last year, which forced many to reconsider what neighbourhood or home type they could afford before coming back into the market. So Toronto wasn't unaffected by COVID. "There certainly was a blip," says Mercer, pointing to slight declines in both sales and listings in April and May. "People took a step back, that's for sure... but I think some of that change in price was more compositional, in the sense that you saw fewer higher-end transactions taking place as a percentage. And so that meant that the dollar volume shifted."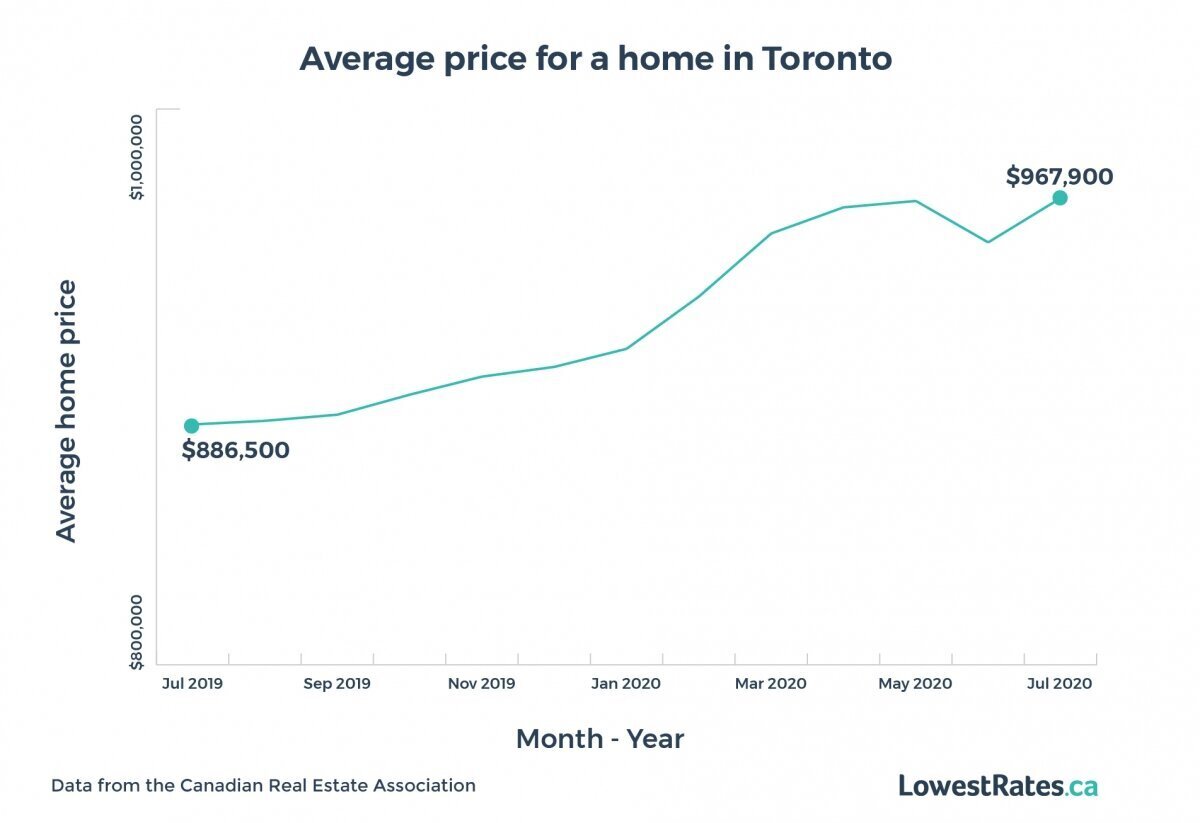 Why has Toronto's real estate market fared well so far? It has a diversified economy, a booming population, and a sizable higher-income population that could easily transition to remote work. But one of the major factors is that Toronto remains an "undersupplied marketplace," says Mercer. So long as there's a low supply and high demand, prices should remain strong.
CMHC's predictions for Vancouver, on the other hand, are more grim. According to its latest housing market outlook, the city will experience the biggest decline in home prices nationally, with prices falling 12.35% over the next two years before showing some recovery in late 2022.
However, Hunt thinks that the effect of the pandemic on Vancouver's real estate market won't be as bad as some might expect because the market is insulated from a significant crash.
Despite a rough patch that saw Vancouver home sales dip by 39.4% in April, and 56.1% in March, according to the Real Estate Board of Greater Vancouver, the city's real estate market is on the rebound. Home prices continue to climb steadily to pre-COVID levels and short-term rentals are being converted into long-term rentals. According to CMHC's report, this rebound is buoyed in part because of the difference in resilience between buyers and renters. "To some degree, the Vancouver ownership markets are less exposed to the impacts of rising unemployment and a closed border, while the rental market is more sensitive to the shock," the report reads. "Real estate buyers tend to be older than renters, therefore they are less likely to have lost their employment as a result of the economic shutdown. The brunt of job losses has so far been borne by younger employees who are less likely to have the accumulated savings necessary to buy."
"In Vancouver in particular there is an increase in supply," says Hunt, "where a lot of housing construction was in play and it's just coming onto the market now." 
End of mortgage deferrals could trigger drop in home prices
When mortgage deferrals expire sometime in the fall, Taylor thinks we may see an influx of properties for sale across the country towards the end of the year, as some folks find that they just can't afford their homes anymore. This increase in supply could trigger a drop in national average real estate prices/home prices.
"You may start to see a lot of economists predicting some pricing erosion," he says, which refers to home prices coming down — something he thinks will happen toward the latter part of the year. In the short-term, however, Taylor doesn't think we'll see prices drop. 
"We're still seeing bidding wars even though transaction activity has greatly reduced," he says. "The number of listings is also greatly reduced. And so there's still an equilibrium there, which is keeping prices currently buoyed." 
Brookes foresees a similar outcome.
"When it comes to deferrals, I do believe that what we just did was prolong certain people from being evicted or having to sell right away," she says. "So we may potentially see a lot of houses on the market. If the deferrals are starting to get reinstated, and people haven't gone back to work, how are they going to afford the house?"
"If there's too much supply and not enough buyers, they have to bring the price down in order to sell."
About the authors
Zandile is a freelance personal finance journalist. She previously worked as a personal finance writer at LowestRates.ca and before that, the content editor for Real Estate Management Industry News. As a self-proclaimed budget warrior, Zandile dedicates most of her time to advocating for financial wellness.

Lisa is a senior editor in the personal finance space. Her work has appeared in Reader's Digest, Toronto Life, Canadian Living and TVO. As a child, she diligently hoarded the $50 bills that fell out of her Christmas cards. Adult Lisa is working hard to resurrect those stockpiling tendencies.