Historical mortgage rates: Averages and trends from the 1970s to 2021
From ultra-high rates in the early 1980s to the record lows Canada is seeing today, interest rates are always changing. Here's a closer look at what five-year fixed conventional mortgage rates have done over the last 50 years.
From ultra-high rates in the early 1980s to the record lows Canada is seeing in 2021, interest rates on mortgages are always changing. The Bank of Canada sets the country's overnight lending rate, which is used as a benchmark by banks and other lenders when setting the prime rates they offer customers on variable-rate products, like a variable mortgage, for instance. 
Fixed mortgage rates are linked to the Government of Canada's bond market. Government bonds are considered a safe and reliable investment, and banks use returns on their bond investments (called bond yields) to cover any losses from their mortgage business. Fixed mortgage rates are priced based on bond yields, plus a spread. The spread is usually 1-2%, but can widen or shrink based on the state of the economy, inflation and the demand for bonds. 
The five-year fixed-rate mortgage is the most popular type in Canada. According to Statistics Canada, this mortgage type accounted for about half of the total outstanding balance of existing mortgages in 2020. But what's happened to the five-year fixed-rate mortgage rate over time?

We dug into historical Canadian mortgage rate data from both the Bank of Canada and the LowestRates.ca mortgage quoter to find out. What you'll see below are graphs and tables for five-year fixed-rate conventional mortgages, which means the down payment on the home is at least 20% of the purchase price. 
Bank of Canada historical mortgage rates: 1975 – 2020 
The following mortgage rate history chart is from the Bank of Canada, dating back to 1975. The central bank sources its data from the weekly posted interest rates from Canada's Big Six banks: Bank of Nova Scotia (Scotiabank), Toronto-Dominion Bank (TD), Bank of Montreal (BMO), Royal Bank of Canada (RBC), Canadian Imperial Bank of Commerce (CIBC), and the National Bank of Canada. 
Here's a look at what conventional five-year fixed mortgage rates have been up to throughout the last 50 years: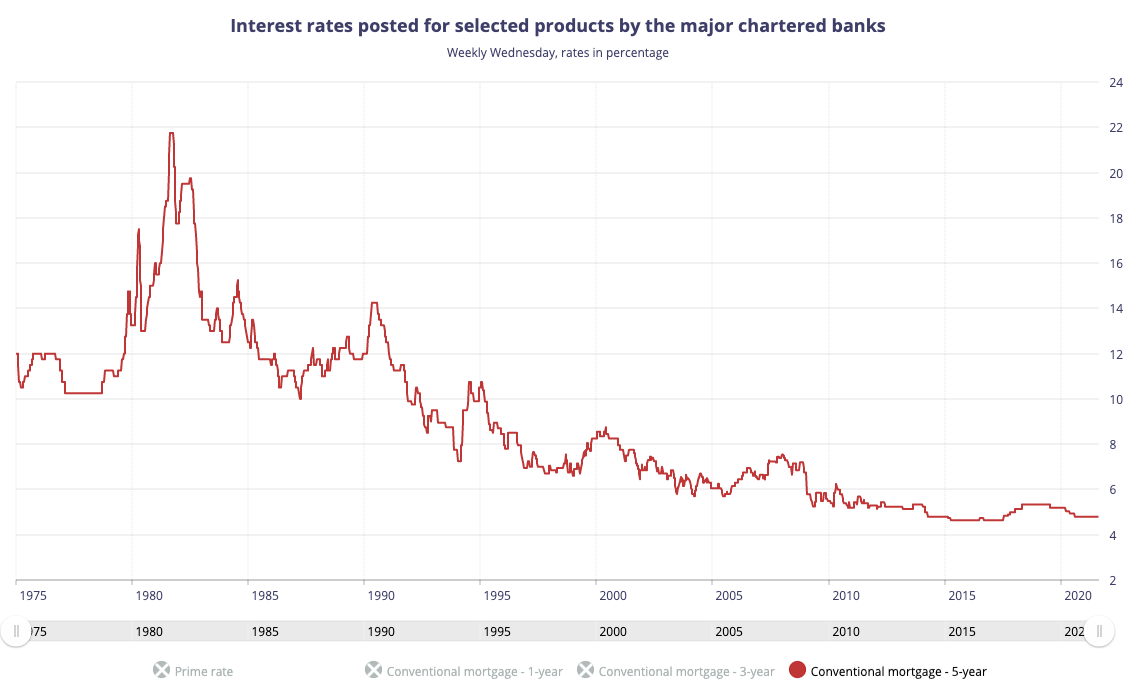 Source: Bank of Canada

Interest rates don't exist in a vacuum, and are a reflection of the state of moving parts in Canada's economy and abroad, including a wide number of economic growth indicators and global geopolitical risks. 
For example, interest rates for conventional five-year, fixed-rate mortgages peaked in 1981 when the Bank of Canada raised its benchmark overnight lending rate to 21% amidst the global recession of the early 1980s. The recession followed a chain of events, including the Iranian Revolution, which resulted in a drop in oil production. As oil prices shot up, so did inflation in Canada and other G7 countries.
Conventional five-year fixed rates have generally trended downward since then, with little spikes here and there as the Bank of Canada raised its policy interest rate when needed — for example, to curb inflation during the early 1990s, and as a stopgap against a steep decline in the value of the Canadian dollar in 1995. Following the onset of the Great Recession in 2007, interest rates have continued a downward trend and are now sitting at record lows. 
LowestRates.ca historical mortgage rates (2020 – present)
The Bank of Canada has extensive historical mortgage data, but big banks' posted mortgage rates don't tell the entire story of what's available to consumers. You can go directly to a bank and see what they offer, but a rate comparison website like ours allows you to compare mortgage rates from a variety of lenders and brokers across Canada, all in one place. 
Brokers are licensed professionals who shop the market for you and can present you with a selection of mortgage rates from a number of different lenders. Brokers don't provide the mortgage itself — your mortgage will ultimately come from and be serviced by some type of financial institution. However, brokers use their large volume of business to negotiate lower interest rates from lenders and pass those savings on to homebuyers. Canada's big banks hold the majority market share of outstanding mortgage balances. 
Below is a table of historical mortgage rates in Canada, based on average conventional five-year fixed mortgage rate data from LowestRates.ca. One important thing to note: Our mortgage quoter started tracking average five-year fixed rates specifically for conventional mortgages only in 2020, hence the small dataset. We plan to add more average rates over time.
| | |
| --- | --- |
| Date | Average conventional five-year fixed rate |
| September 2020 | 1.93% |
| October 2020 | 1.91% |
| November 2020 | 1.84% |
| December 2020 | 1.82% |
| January 2021 | 1.82% |
| February 2021 | 1.69% |
| March 2021 | 1.90% |
| April 2021 | 2.01% |
| May 2021 | 2.04% |
| June 2021 | 2.06% |
| July 2021 | 2.03% |
| August 2021 | 2.07% |
Average five-year, fixed mortgage rates have started to tick upward in 2021 as the economy continues its recovery from the COVID-19 pandemic, and amid rising bond yields and inflation. And with interest rates sitting at record lows, rate hikes are inevitable. Homebuyers who choose a five-year fixed-rate conventional mortgage won't be affected by rising interest rates until it's time to renew their mortgages, or if they decide to refinance. 
Looking back at what mortgage rates have done over the years can provide context for why rates are sitting where they are today. But remember: average mortgage rates are a snapshot of what's available on the market. You may qualify for a lower rate based on a personalized quote. That's why we encourage you to compare mortgage rates from banks and brokers across the country.
About the author
​Jane Switzer is a writer, editor and native Torontonian. She got her start working in daily journalism, and was formerly a content manager for LowestRates.ca. She has written about personal finance and investing for websites like Wealthsimple, Tangerine Bank and Ratehub.ca. You can find her on Twitter: @janeswitzer.