My (sort of) terrifying journey to getting a second credit card
By: Alexandra Bosanac on

December 27, 2017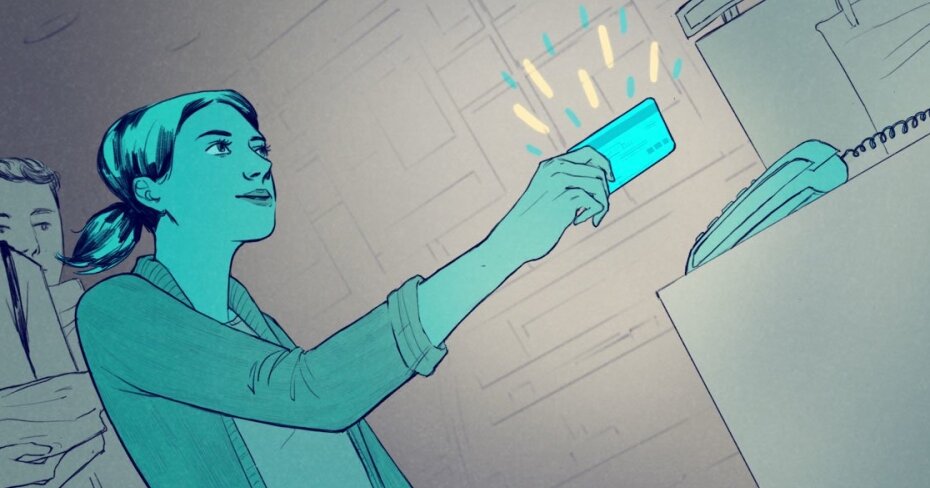 Sometimes I can't believe I got hired by a company that helps people compare credit cards. Why? Because I'm probably the world's most conservative credit card user.
I have one credit card. I've had it for roughly six years and I waited until I was well into my twenties before I got it. When I signed up, I did it over the phone while being very distrustful of the person on the other end. I just assumed they were going to screw me over.
My card is the TD Green Visa. I wanted a card with no fees, no frills, and no rewards. It's so boring (and evidently unpopular) TD doesn't even offer it to new applicants anymore.
But it's done the trick. I've built up a decent (actually, excellent) credit score by using the card responsibly — not spending more than I actually have in cash and paying the balance in full every month. And I built more trust in myself and in the overall credit card industry, as well (I still have a healthy dose of skepticism, though).
So now that I have this newfound confidence, I'm realizing it's OK to loosen up. I'd like to get a second credit card.
And, let's be real: if you're putting more than $1,000 a month on your credit card and you're able to pay it off, you're better off getting a rewards card. You're leaving money on the table otherwise.
Here at LowestRates.ca we have a super useful tool to compare credit cards. But as I  contemplated which card to get next, I realized it's a decision that technology can't make for you (no matter how awesome and sophisticated it may be).
The whole exercise actually forced me to figure out my interests and financial goals are. There was a lot of criteria I needed to consider.
Changing it up
The one thing I was sure about when I started this "journey" was that my new piece of plastic was 100% going to branch out from Visa.
After all, if you're considering adding a new credit card to your wallet, it should expand your repertoire — it should offer you something your current card does not.
It make sense to have another card from a different network. In the event of a service outage, you could pay with your Visa if the Mastercard network is down and vice versa.
Outages don't happen that frequently, though. Another circumstance you're far more likely to run into is the fact that some stores just don't accept certain cards. American Express, anyone?
Visa and Mastercard are the two most widely accepted cards in Canada. Since I already have a Visa, I started looking at a new Mastercard.
Know thyself
The next thing I had to decide on was what kind of rewards I wanted. To do this, it helps to have some insight into your habits.
If you do a side-by-side comparison of cash back and points cards, your rate of return with cash back cards is lower, but at least you don't have to worry about deadlines.
A lot of points cards have so-called blackout periods — periods when you can't redeem points — and deadlines to redeem points. And sometimes, they even flat-out cancel rewards programs.
People can be more diligent about building up their rewards and and using them. This is especially true if you know that you want to use your points towards a vacation you've been dreaming about taking for years.
(Some cards, like the Amex Cobalt Card and the MBNA Rewards Mastercard, allow you to collect points and either redeem them for cash or points.)
In general, you don't typically have to worry about blackout periods with cash-back rewards cards — your cash will get added to your account, usually once a year. It's automatic and you don't really have to keep up with the news about the company. It's the couch potato version of collecting rewards.
I think this is probably me. Not because I'm couch potato, per se. I just have a lot on the go, and am I going to be looking for news about my rewards program?
So, after much consideration, cash-back is the better choice for me.
To pay or not to pay?
One important thing that helped me narrow down my search was the fact that a lot of cards have a minimum income requirement and annual fees.
Rewards cards that have fees generally have a higher earn rate than those that are no-fee. If you shop a lot and you can afford to carry a larger balance on a card, it might be worthwhile to get the card that charges a fee. If you use the card diligently, the effects of the fee will soon be neutralized.
I'm not rolling in dough yet so I narrowed it down to the cards that have no income requirement and that don't charge annual fees.
That brought me down to three cards: the Tangerine Money-Back Credit Card, the no-fee version of the MBNA Platinum Plus Mastercard and the American Express SimplyCash Card.
The final three
My brain's hurting at this point. There's a lot to consider and credit card companies can be opaque when it comes to explaining the redemption process for cash-back cards: sure, I'll take a 5,000 point sign-up bonus, but what's the actual dollar value of those points?
I did a back-of-a-napkin analysis for each card and here, briefly, are their pros and cons.
How cash back works on this card:
$1 = one point
You can only redeem cash back in increments of $50 or 5,000 points
The pros:
5,000 bonus points for signing up
No annual fee
Can redeem for either points for travel or gifts if you don't want cash back
You can redeem at any point — some cards restrict it to once a year
The cons:
21.99% balance transfer fee
How cash back works on this card:
Introductory offer of 5% cash back on eligible purchases at gas stations, grocery stores and restaurants for the first six months. There's a $250 cap.
After that, earn 1.25% cash back on all spends
The pros:
No annual fee
Unlimited earning potential — lots of cards put caps on how much cash back you can earn in a year but not the SimplyCash card
1.99% interest rate on balance transfers for the first six months, or, if you ask to transfer a balance at the time of application, it drops to 0%
The cons:
Not as widely accepted as Visa or Mastercard. I might have to change my shopping habits since Loblaws-owned stores don't take American Express.
How cash back works on this card:
2% cash back at up to three merchant categories of your choice
0.5% everywhere else
The pros:
No fee and no cap on cash back
You can change your merchant categories
Part of the Mastercard network so it's widely accepted
Shameless plug: free $25 gift card if you apply through LowestRates.ca
The cons:
Charge of 19.95% to transfer your balance onto this card
If it doesn't work out, it's no biggie
What happens if you have buyer's remorse? This is what always held me back from applying. I was also afraid of ruining my hard-won credit score. Here's the reality: I can close the card.
If your overall financial and credit health is good, you shouldn't have anything to worry about. Just don't cancel your first credit card — you need that one. That's your longest financial record.
If you have a good credit score (650 and up), it doesn't change anything. Your score might go down a 20 or 30 points, but you can easily get that back in a few months.
Of course, that's the case as long as you're not opening and closing a card every month. If you are, well, that's a whole different story.
My final decision
As for the card I picked in the end? I'm going with the American Express SimplyCash.
The Tangerine Money Back card was a close, close second.
But ultimately it came down to the fact that even after the SimplyCash introductory offer of 5% cash back ends, I still stand to gain from using the card long-term.
With the SimplyCash card, I can earn 1.25% on all purchases. With Tangerine, I can earn 2% — a rich rewards rate, true — but I have to pre-select three merchants and all other purchases earn 0.5%.
If I spend approximately $1,000 on the SimplyCash per month for the next five years, I could earn almost $650 in cash back.
In the end, picking a second credit card was less terrifying than I thought it would be. And I'm actually pretty excited to start using my shiny new piece of plastic when it arrives in the mail.