Review: American Express Gold Rewards
By: John Shmuel on

August 2, 2017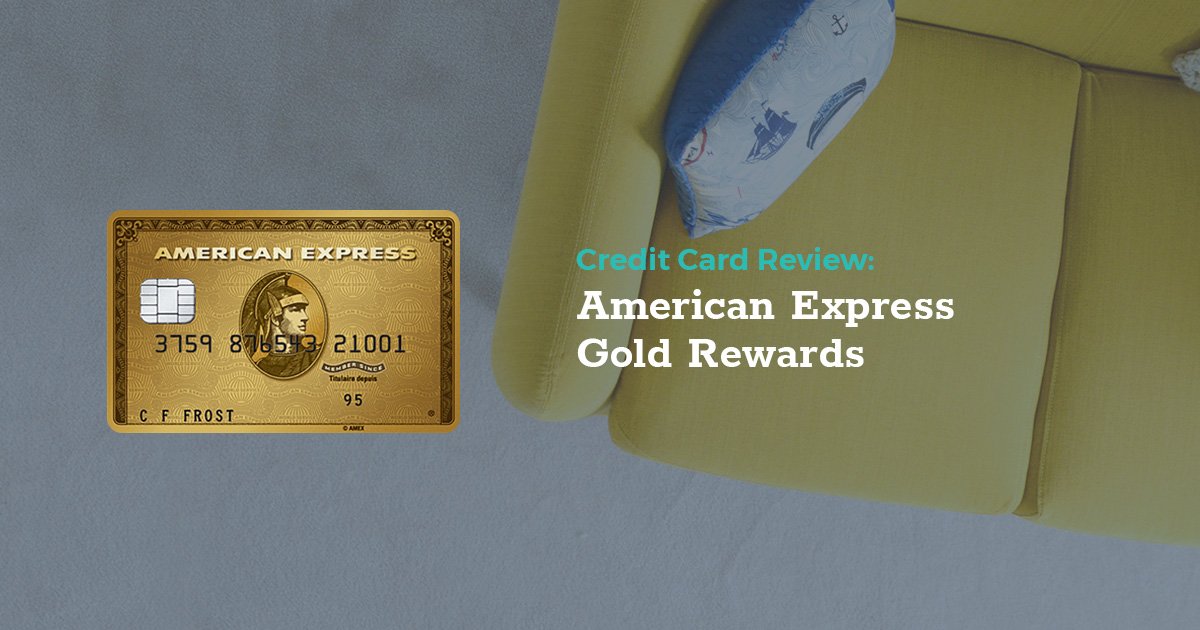 The American Express Gold Rewards is an iconic card.
Anyone recognizes its simplicity — the centurion logo, the bold font, the solid gold colouring.
This has been American Express' signature card for quite some time — the first gold card debuted in 1966. In that time, there's been plenty of competitors entering the market. And of course, the Gold Rewards card has evolved to compete with them.
So, how does this card stack up to the competition? We break it down below.
The features
It should be noted this is actually a charge card, and not a true credit card. That just means that you're required to pay off any balance in full at the end of the month. (But it also means there is no monthly spending limit. More on charge cards here.)
Like any American Express card, this one comes with a slew of features. But it's the sign up bonus that gets your attention first. Opening a Gold Rewards account automatically nets you 25,000 membership points.
So how much is that worth? Well, you have two options here. You can choose to redeem them as a credit against any travel-related expense on your card. In which case, they're going to be worth $250.
Alternatively, the points can be converted to Aeroplan miles — 25,000 Aeroplan miles, to be exact. That makes them worth quite a bit more, as that many miles can be worth a free return flight anywhere in Canada or the continental U.S. (More on this later.)
Another allure of this card is that you get the annual fee waived in the first year. That's right, American Express will shave off the $150 fee — meaning you get to try this card out, get the signup bonus and all for the low cost of $0. Hard to say no, right?
Here are the other features you get as well.
Users get a free supplementary Gold Rewards Card (a $50 value).
You can convert your points to frequent flyer programs, like one-to-one Aeroplan or Avios.
You can login and redeem your points for a credit on your account.
Supports Apple Pay.
Those are the rewards features. The Gold Rewards card also comes with the following benefits.
24/7 customer service.
The Hotel Collection — get a credit of up to $100 to spend on amenities at more than 600 different hotels and resorts in more than 30 countries worldwide. Cardholders also get complimentary room upgrades, when available. 
Extended warranty.
Purchase protection.
Rental car discounts.
Rental car insurance.
Travel insurance (including hotel/motel burglary insurance, $500,000 travel accident insurance and lost or stolen baggage insurance).
Finally, let's look at the points — the one thing everyone cares about. While regular purchases will earn you one point for every $1 spent, where this card really signs is the two points you get back on eligible purchases. And the categories that qualify for eligible purchases are many: groceries, drugstores, gas stations and all travel-related expenses (hotels, flights, cruises, train, etc.).
Let's say you spend $2,000 a month on your card and $1,000 of that is eligible purchases. That's 3,000 points a month or 36,000 points a year.
That many points will easily earn you an economy long-haul flight to anywhere in Canada and the continental U.S. Collect a bit more (40,000 points) and you can book a trip to Mexico. (See the full reward breakdown here.)
How it stacks up against the competition
The travel rewards category is a crowded one. There are cards like the Rogers Platinum Mastercard, which offers 4% back on all foreign purchases and a competitive foreign transaction fee of 2.5%.
Then there are cards like the Starwood Preferred Guest Card, with its massive sign up bonus that earns you up to four free nights at a Marriott hotel.
But while there are a lot of cards that do specific things really well, the American Express Gold Rewards takes the cake as a great generalist card. It offers a big signup bonus, giving you immediate cash in your pocket. Fees on foreign transaction amount to 2.5%. The annual fee is reasonable (and again, waived in the first year). And finally, the reward rate is competitive even with the best rewards card.
Perhaps the best part of this card is the flexibility. You can use your points either as a credit on your statement toward travel, or you can convert them to frequent flyer programs like Aeroplan. And the conversion rate is one of the best out there.
As mentioned above, there are other cards that do individual things better than this one. But as a generalist travel card, the American Express Gold Rewards is one of the best.
Drawbacks
This is an American Express card, meaning you'll find that fewer merchants accept it. Visa and Mastercard still have the broader market cornered, because historically, American Express cards have charged higher merchant fees.
Who's this card for?
This card is for general spenders who want to be earning money toward travelling. If you want one card that you can use on a day-to-day basis to gradually collect rewards toward an annual trip, this is the card for you.
After all, the signup bonus and the special rate on eligible purchases mean it's very easy to pay for two return flights in North America or one big trip to Europe (60,000 Aeroplan points) in the first year. In our comparison above, spending $2,000 a month (with $1,000 of that in eligible purchases) will earn you 61,000 Aeroplan points just in your first year.
Final Verdict
This is easily one of the best generalist travel rewards cards available in Canada. Of course, if you frequently travel for work, or are staying overseas for an extended period of time, there are other cards that will suit you better (a couple are mentioned above).
One more caveat is that this is an American Express product. Anyone who lives in an area with a lot of small, independent businesses that don't take American Express might pause at choosing this card, as it shines when you can spend and build up points. Otherwise, this is a fantastic card to have in your wallet.
Love collecting rewards?
See all of your options by comparing the best rewards credit cards using our comparison tool.
Compare cards