Review: The American Express SimplyCash Card
By: Dominic Licorish on

July 20, 2017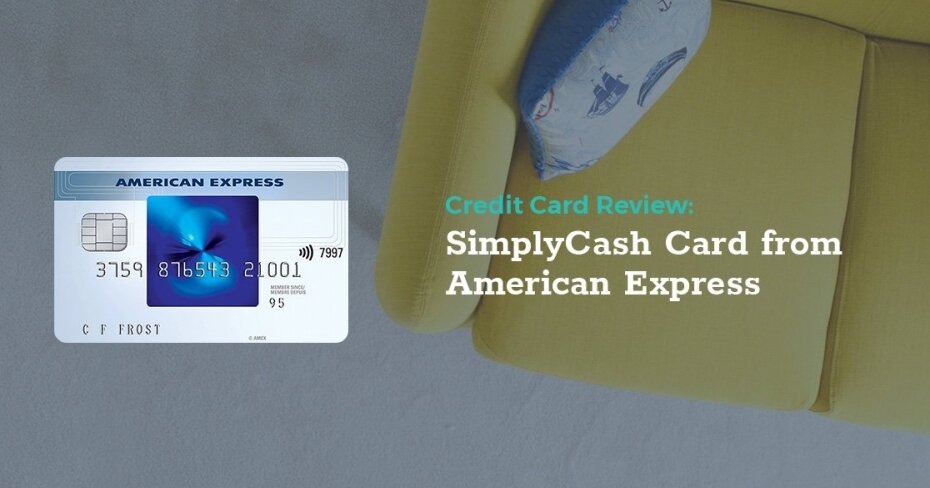 The first thing that really caught my attention with the American Express SimplyCash card is its 5% cash-back offer. A quick Google search confirmed that as far as cards in Canada go, that's an industry-leading rate.
This, of course, is a credit card review. We'll get to that in a moment. But let's take some time to talk about why 5% stands out. The past few years have not been kind to those with cash back cards.
From MBNA with its Smart Cash Platinum Plus Card to Tangerine with its Money Back Credit Card, providers have been scaling back the rewards they offer on their mass market credit cards.
The SimplyCash stands out for its 5% introductory offer, and its 1.25% cash back on all other purchases once that "Welcome Rate" ends. But how does it hold up to the competition?
We break it down below.
The features
With a 5% promotional rate, the SimplyCash card has one of the best cash back rates in the business, where even premium cards tend to offer 4% as their max.  Plus, the card has no annual fee, making it more efficient for maximizing your cash-back amount.
New cardholders earn a "Welcome Rate" of 5% on eligible purchases at gas stations, grocery stores, and Canadian restaurants for the first six months (a maximum of $250)

Earn 1.25% cash back on all other purchases when your "Welcome Rate" ends

No limit on how much cash back you can earn

No annual fee

No limit to the amount of cash back you can earn

No annual fee for Supplementary Cards

Access to exclusive concert ticket offers and experiences through American Express Invites

Extended warranty

Purchase protection

Rental car insurance

Secure contactless mobile payments with Apple Pay and Android Pay
American Express credit cards are primarily known for coming with high fees, but industry-leading perks and features. So it's a pleasant surprise to see that the SimplyCash card has no fee but still keeps some premium card features, including access to American Express Invites, which offers advanced ticket sales and exclusive seating selection to concerts, theatre productions, and other events.
For instance, at Toronto's Budweiser Stage, members will get to skip the line by using the American Express entrance, and cardholders get access to lounges at The Budweiser Stage, Roy Thomson Hall, and Princess of Wales Theatre. Invites also grants members access to special offers and experiences such as advance movie screenings, special shopping deals, and vacation packages.
Other features worth mentioning is its automatic insurance against accidental damage and theft on eligible purchases. Same goes for covering car rentals purchased using the card, and for accidents when travelling on shared transportation such as planes, trains, buses, and ships.
How it stacks up against the competition
This card is a very competitive no-fee cash-back card. It has often been compared to the Tangerine Money-back card, which is also a no-fee card. The Tangerine card offers users 2% back on 2-3 spending categories, and 0.5% everywhere else. Because of the lower base cash-back rate, the cards end up earning about the same cash-back.
One of the most popular cash-back cards, the MBNA World Elite Mastercard, actually earns rewards points. However, thanks to the flexibility of MBNA's Rewards program, which lets users decided whether they want to redeem points directly or just convert to cash, makes this card comparable. The World Elite Mastercard earns 2 points per dollar spent. That works out to about 2 % cash back on aharder to qualify for thanks to a minimum income requirement of $80,000.
Drawbacks
The major drawback to this card is that like other American Express credit cards, fewer merchants accept it — meaning that if you plan to use it to maximize the cash-back on your spending, you'll likely need to change your shopping habits or have a backup card to earn cash-back on.
Another, smaller drawback is that cash-back earned is only paid out once annually and it is automatically paid to your credit card balance, so you don't get to "spend" your earned reward, but you still get your savings.
Who's this card for?
This card is for someone who wants a consistently good cash-back return rate, but doesn't meet the qualifications for more premium cards. Chances are this would be a good entry level card for a working professional who does a lot of shopping at large retailers who are more likely to accept American Express payments.
The purchase protection benefits will also come in handy for young people just getting established on their own, who can take advantage of extended protection to save money on replacing items that break.
Final verdict
The SimplyCash card is a good entry level card for people who prefer cash-back over rewards points and don't want to settle for only earning a decent cash-back rate on eligible purchases.
The card's value is limited by the fact that American Express is less commonly accepted among merchants, but for people who aren't spending a large amount on their card or unable to qualify for premium cards, this is the best cash-back card available.
Love collecting rewards?
See all of your options by comparing the best rewards credit cards using our comparison tool.
Compare cards