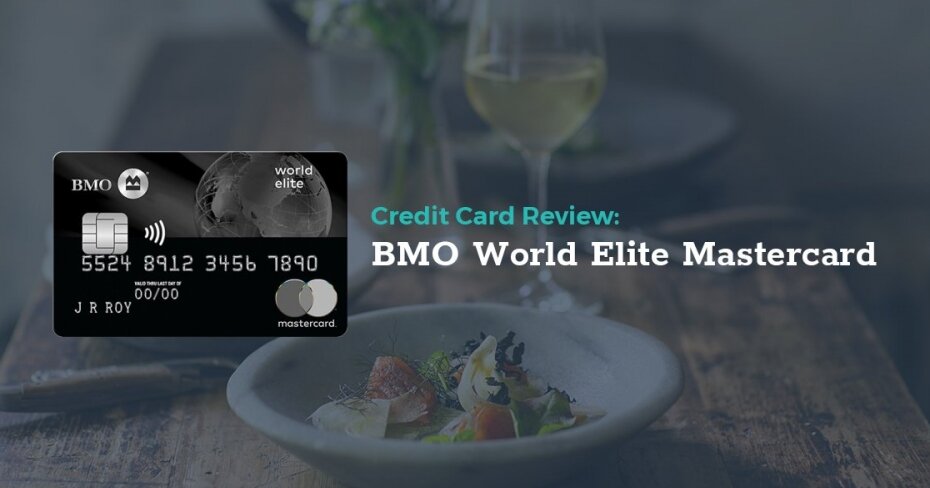 The BMO World Elite Mastercard is a premium rewards card geared toward travellers looking for a way to their dream destinations faster while they spend money on everyday purchases.
While it once held a reputation as one of the best travel rewards credit cards in the country, recent changes to BMO's rewards program have lowered the value of its points.
You're obviously here to find out whether this card should be in your wallet. Well, let's find out.
The features
The World Elite Mastercard shares DNA with BMO's other premium rewards cards, the CashBack World Elite Mastercard and Air Miles World Elite Mastercard. It also requires cardholders to have a minimum personal income of $80,000, as well as pay an annual fee. However, it also offers a bevy of perks and features that will make traveling more convenient and less expensive.
Here's everything the World Elite Rewards card offers:
A $150 annual fee (waived for the first year for a limited time)

Annual interest rate of 19.99% on purchases and 22.99% on cash advances and balance transfers

New cardholders earn 40,000 rewards points when they spend $3,000 or more during your first three months

Earn three BMO reward points per dollar spent on travel, dining, and entertainment experiences

Earn two points per dollar spent everywhere else

Points can be used to fly with any airline, no blackout dates

Complimentary airport lounge access

Travel insurance

Purchase protection

Extended warranty

Rental car insurance

24/7 customer service
The welcome offer
The card's strongest selling point is its big welcome bonus of 40,000 BMO reward points. If you meet the spending requirement of $3,000 in the first three months, you'll be able to collect those points, which translates to roughly $285 in travel. In addition to the sign-up bonus, new cardholders won't pay a fee for the first year after activating the card. That welcome bonus is sure to attract someone interested in credit card churning to get the most amount of points they can for the least amount of money.
A flexible points program
The BMO Rewards program lets cardholders use those points to cover travel expenses such as flights and hotels (including fees + taxes), as well as redemption for merchandise, gift cards, or a statement credit. Unlike some travel programs that restrict the usage of your reward points to specific flights or hotels, BMO points can be used with any airline free of blackout dates. There is also no minimum redemption amount, letting you use your points whenever you feel like it.
In its heyday, the World Elite Mastercard offered an outstanding 2% return on general purchases, with that rate going up to 3% when used for travel, dining, and entertainment. However, after changing its rewards points redemption rate from $1 = 100 points to $1 = 140, that rate is a bit less impressive. Regular purchases are only worth about 1.5% now, while spending on special categories gets 2%. This means users will need to spend 40% more money to earn the same rewards they used to.
Additional Perks
Aside from rewards points, the World Elite Mastercard comes with travel-related perks like car rental collision damage and up to $2 million out-of-province/out-of-country emergency medical protection. Cardholders can also take advantage of four complimentary VIP lounge visits at airports worldwide, letting you kill time between layovers in comfort.
As is standard with cards at this price point, BMO offers purchase protection and extended warranty on eligible purchases made with the card as well as 24-hour customer and concierge service. Between the VIP passes and insurance coverage, these perks can not only benefit you financially but provide peace of mind as well.
How it stacks up against the competition
There are a lot of travel rewards cards to choose from, and while the World Elite Mastercard certainly doesn't lag behind, it doesn't exactly lead the pack after the points downgrade.
Its $285 value welcome bonus is a very competitive offer, especially given the waived annual fee, but beyond that, other travel cards offer better value by allowing you to earn more points in the long term.
For example, the American Express Cobalt card can earn up to 5% towards travel on common purchases and comes with much of the same perks and insurance coverage the BMO card has — though it may not fit everybody's lifestyle, as mentioned in our review. Meanwhile, the MBNA World Elite Mastercard gives you a solid 2% rewards rate on all purchases, while having a lower annual fee. The ScotiaGold Passport Visa offers only 1 Scotia Rewards point for every dollar spent, but with 5% back on travel-related purchases, people who are frequently on the go will easily earn more money using it than the BMO card.
What this card does have over the competition is a really comprehensive list of travel insurance offerings — some of which we talked about above. Cardholders, spouses and children are covered under the card and you get emergency medical coverage up to $2 million, and out of province/out of country coverage that lasts for up to 21 days. The coverage is automatic for those under 65, but those age 65 to 74 can also add it if they pay an appropriate premium.
Drawbacks
At $150 per year, its annual fee is steep, especially as you can find similar cards with fees closer to $100. Similarly, its income requirements is relatively high, while other cards with $80,000 minimum incomes offer more competitive features. On its own, there aren't many glaring drawbacks to this card, but its lack of major advantages over other cards definitely keeps it from us recommending it as a must-have.
Who's this card for?
With above-average income requirements and an expensive annual fee, this card is best suited for people who intend to spend a lot. However, it is a good choice for credit card churners or anyone else looking for a nice welcome bonus even if they don't keep the card.
Final verdict
The BMO World Elite Mastercard is a solid earner, but the BMO points downgrade leaves us yearning for more. It should be noted that the travel and insurance coverage on this card is really, really good — if you're willing to sacrifice rewards for peace of mind, this will suit you well.
Find the travel rewards card that's right for you
Use the LowestRates.ca tool to compare the best rewards credit cards in Canada.
Get started