Review: Scotia Momentum Visa Infinite
By: Janine Rogan on

September 7, 2017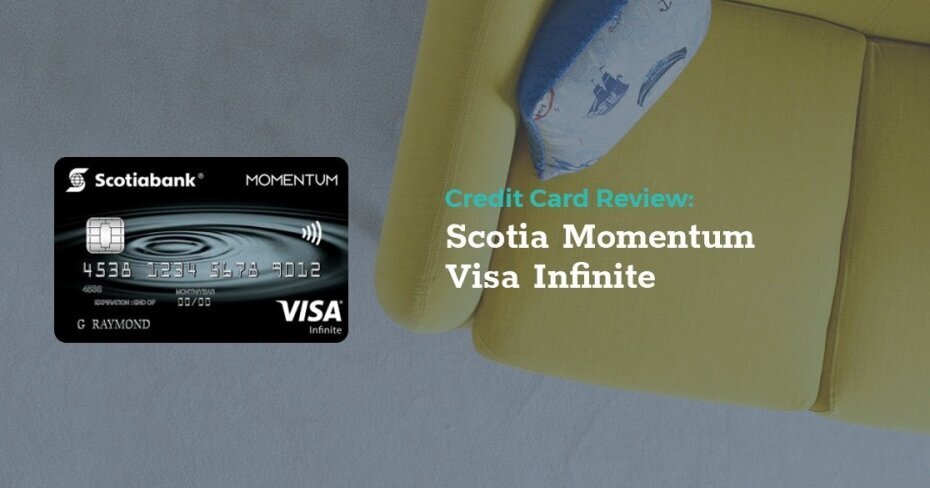 Update: This page was updated on July 2, 2020 to reflect changes made to the welcome offer.
Update: This page was updated on January 2, 2020 to reflect changes made to the welcome offer. 
It's frustrating when you're collecting credit cards rewards, and then suddenly, the value of your points gets downgraded. Twice now I've been caught saving up points for a big trip or purchase, only to have the company devalue the points right before I buy my plane ticket.
Enter cash-back cards. They help you avoid the pain of seeing a pile of your points suddenly become worth a lot less (ahem, looking at you, Air Miles).
As far as cash-back cards go, the Scotia Momentum Visa Infinite is often one that is listed as front of the pack. I decided to take a look myself and see if this is the card to end my rewards point heartbreak.
The Features
This card has several different tiers of cash-back rewards.
For the first year the annual fee will be waived ncluding on supplementary cards. 
After the first three months, you get 4% back on recurring bill payments and grocery store purchases, 2% back on eligible gas station and daily transit purchsaes, and 1% back on other everyday purchases. . 
The card does come with a steep $120 annual fee.
But holding this card comes with a lot of great perks. You get access to the Visa Infinite Luxury Hotel Collection, unique dining experiences in some of Canada's top restaurants, VIP access to premier music events, and complimentary wine tastings at more than 60 wineries in British Columbia and Ontario. These are great bonuses if you're a foodie that loves to travel.
You'll also have access to a complimentary concierge service to help you plan your trip, make reservations, or snag tickets to a show.
Having an elite credit card also gives you access to a plethora of different insurance benefits, including but not limited to:
Trip interruption
Travel emergency medical
Flight delay
Lost baggage
Rental car collision
Travel accident
Mobile devicec insurance coverage. 
Each supplementary card will cost you $30 and you must have a minimum credit limit of $5,000.
How it stacks up against the competition
This card is often cited as one of the best cash-back cards in Canada.
But it's also in a space that's quickly getting crowded. It faces competition from the SimplyCash Preferred Card from American Express and the BMO CashBack World Elite Mastercard, both of which have annual fees, $99 and $120, respectively. You also have the MBNA Rewards World Elite Mastercard.
If you're comparing the highest percentage return available to you, the Scotia Momentum Visa holds strong at 4% in their top category. The SimplyCash Card offers 5%, but only for the first 6 months and the BMO World Elite holds steady at 1.75% on all purchases. The MBNA World Elite, meanwhile, has an $89 annual fee and offers an average of 2% return.  
All of the cards come with additional bonuses, including rental car discounts as well as many different types of insurance.
In the end, the Scotia offers the highest potential for return. If you have a large family and you're driving them around in a mini-van, your potential to increase your cash-back on groceries and gas is substantial.
However, you need to weigh if you spend enough in the 4% category to push your average return above 2%. If not, the MBNA Rewards World Elite is going to squeak past this card with its flat 2% return.
Drawbacks
The biggest disadvantage for this card is that the lucrative cash-back categories are limited to a spending limit. The 4% and 2% cash back categories are only on the first $25,000 of eligible purchases in that category. After that, you're stuck earning 1%, which can hinder your rewards if you're a big spender. The $120 fee could also be seen as a drawback after the first year as this can eat into rewards earned.
Who is this card for?
This card is for individuals with an excellent credit score, which means 750 and above. (You can check your credit score for free to see if you qualify). If you find yourself in a position where your credit score doesn't meet these criteria, it might be time to focus on increasing it so that you can take advantage of what the elite credit cards have to offer.
This card is also for someone who loves spending money on groceries — you're either big on home cooking or have a family to feed. To maximize the reward, this is also a great card for drivers who are going to load up on gas frequently anyway.
Finally, the Scotia Momentum Visa Infinite requires a minimum income of $60,000 or a household income of $100,000. So you need to be making decent money.
Final Verdict
If you spend big in the 4% categories and love getting cash back, then this card is probably for you. It offers a high rate of cash-back, without downgrading that rate after a six-month period like some of its competitors.
The $120 fee is also reasonable, considering some elite travel cards come with much steeper fees and don't offer much better rates of return. All in all, this is in the running as one of the best cash-back cards in Canada (and as mentioned above, for certain types of spenders, this is unquestionably the best cash-back card).