Millennials are more loyal to banks than any other generation, according to survey
By: Rebecca Lee on

March 23, 2017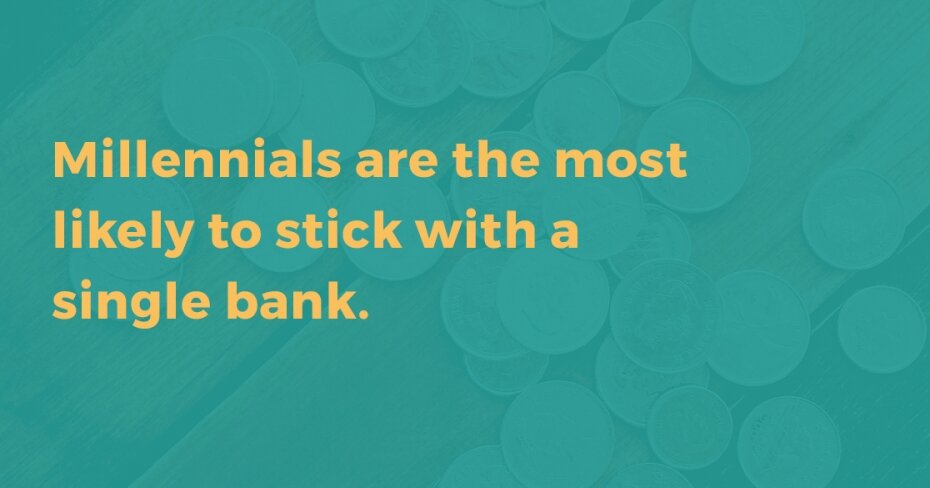 Millennials just can't quit the banks.
You might be surprised by the news — even suspicious. Millennials are the demographic most loyal to their banks? Seems counterintuitive. Especially if you know anything about those robo-advisors the media keeps yapping about — aren't they targeting millennials specifically because they distrust banks?
A February 2017 credit card survey, commissioned by LowestRates.ca and conducted by Ipsos, suggests otherwise.
According to its findings, 77% of millennials prefer to have all their financial products and credit cards with one bank. That number tumbles to 60% for gen-Xers and just 55% for baby boomers.
So it's the most tech-savvy generation — millennials — who are also the most likely to remain faithful to their stodgy old banks and settle for their credit cards. Even if those cards suck.
Why is that?
They don't know any better
The Ipsos survey found that 50% of Canadians simply don't know of any resources they can use to compare credit cards across financial institutions.
In other words, they have no idea how to go about researching their credit card options. And since 50% of Canadians don't know what tools, if any, are available to help them, chances are that many have never even thought about looking beyond their banks — they've probably never heard of comparing credit cards.
This is a breakdown of how age and sex play a role in how likely you are to know about comparison tools.
54% of men are more likely to be aware of a comparison resource than women (46%)
56% of millennials are more likely to be aware of a comparison resource than gen-Xers (49%) and baby boomers (46%)
Here's what people look for in a credit card — when they're looking
If you ask your average Canadian consumer — as Ipsos did — 91% would agree that a little homework goes a long way when it comes to finding the right credit card. After all, 71% of surveyed Canadians say they know that all credit cards aren't the same. Different cards offer different benefits.
And while some of those benefits will make total sense for you, others are useless. For example, if you hardly use credit, a rewards card would just sit idly in your wallet, collecting zero goodies. If you use your credit card all the time, but can't pay your full balance every month (not advised!), the first item on your credit card wish list should be a low interest rate. As low as possible.
But everyone will have their own thoughts on what's important. For the Canadians surveyed by Ipsos, the most important credit card features are low interest rates and low annual fees. Here are the other features that ranked.
So what does this all mean?
A quick Google search shows a lot of misleading myths about millennials and their finances — millennials don't trust banks; millennials don't even use credit cards; millennials aren't qualifying for credit cards anyway. The list goes on.
Now that we know the truth, we also know that most millennials have been getting the wrong financial advice. This whole time we assumed young people were technologically savvy and unloyal, gravitating to the best deal.
But they're not.
And that loyalty could be hurting them. A recent CBC investigation has found that Canada's big banks are allegedly behaving badly, and consumers are suffering as a result.
Personally, we at LowestRates.ca won't rest until every Canadian is comparing their financial options and getting the best deals. And as our credit card report shows, there's still a lot of educating to do — especially among millennials.
Read the full survey here.