Looking for the best CIBC credit card in Canada? You've got this.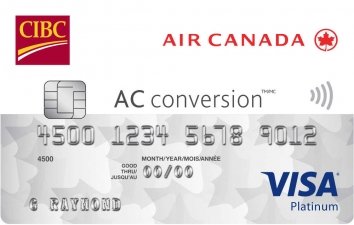 Recommended CIBC credit cards.
Most popular CIBC card.
The CIBC Dividend® Visa Infinite Card may have an annual fee of $99, but it offers a nice assortment of perks in return. The CIBC Dividend® Visa Infinite Card has a respectable earn rate of 4% cash back on all grocery and gas purchases, 2% when you use the card at Tim Hortons or at Telus stores, and 1% on everything else. It also offers a host of luxury travel and hotel benefits, in addition to out-of-province travel medical coverage. To qualify for the card, the Dividend® Visa Infinite Card requires cardholders to have a minimum income of $60,000 if they live alone or have a household income of $100,000.
CIBC Dividend® Visa Infinite Card
Rewards rate
4% cash back on gas and groceries, 2% on Tim Hortons and TELUS purchases, 1% on everything else
Bonus offer
Not available.
Best travel rewards card.
Holders of the CIBC Aventura® Visa Infinite Card this card value the speed at which you can accumulate points and the fact that Aventura points can be used to fly any airline — and your points never expire. Plus, you can access personalized travel booking and trip planning services at no cost. You earn 2 points on every dollar you spend in the CIBC Rewards Centre portal. Earn 1.5 points for every dollar spent at gas stations, grocery stores, and drugstores, and one point for every dollar spent on all other purchases.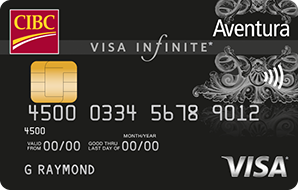 CIBC Aventura® Visa Infinite Card
Rewards rate
2 points for every $1 spent at the CIBC Rewards Centre, 1.5 points for every $1 spent on gas, groceries, and drugstore purchases, 1 point for every $1 spent on everything else.
Bonus offer
Up to 20,000 Aventura Points.
Best foreign currency credit card.
The CIBC U.S. Dollar Visa Card is essentially an American credit card for Canadians: every purchase you make is charged to the card in U.S. dollars, and you pay in U.S. dollars as well. This way, you're avoiding paying foreign conversion fees, which can add up pretty quickly if you do a lot of cross-border shopping or you order from online retailers. The annual fee is $35 (also charged in U.S. dollars) and you get can get up to three supplementary cards at no extra fee.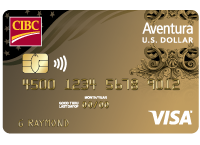 CIBC U.S. Dollar Aventura® Gold Visa* Card
Rewards rate
1 point for every $1 spent on travel purchased through the CIBC Rewards Centre, 1 point for every $2 spent on anything else.
Bonus offer
Up to 5,000 Aventura points.
The CIBC advantage.
CIBC offers more than 20 cards guaranteeing you'll find one that suits your needs. The bank has cemented its reputation as an innovator in the credit card rewards space, so keep an eye out for new products and rewards.
Get cash back
If earning cash back is important to you, CIBC has a number of cards under the Dividend® Visa brand that fall into this category. The most notable cash back card from this suite is the Dividend® Visa Infinite* Card: cardholders can earn 4% cash back on gas and grocery purchases, one of the highest earn rates of any credit card on the market. Plus, the $99 annual fee for the first twelve months. CIBC also offers a Platinum version, as well as the more basic CIBC Dividend® Visa* Card.
Get snacks back
Talk about unique partnerships: CIBC and Tim Hortons have partnered up to help you earn rewards that are edible. Meet the Tim Hortons® Double Double® Visa* Card: it's essentially a VISA card and a Tim Card® rolled into one. You earn 1% Tim Cash on all purchases, which can then be redeemed at any Tim Hortons restaurant. The card has no annual fee and a minimum income requirement of only $15,000, but the student version of the card waives the income requirement entirely. And there's a great welcome bonus in it for you: $20 in Tim Cash. Perfect for the chronically sleep-deprived (students and hockey parents, we're looking at you).
First-class travel rewards
CIBC has a solid roster of travel rewards cards that provide extended insurance coverage and enhanced security features, which prevents thieves from accessing your account details while you're on the road. The CIBC Aerogold® Visa Infinite Privilege* Card features the most robust insurance package of all the CIBC-branded credit cards. Card-membership entitles you to out-of-province emergency medical, trip cancellation and other safeguards. But you're not limited to collecting Aeroplan points when you apply for a credit card with CIBC — the Aventura program, CIBC's signature points program, is well-represented in CIBC's roster of cards. Collecting Aventura points through the CIBC Aventura® Visa* Infinite* Card will grant you access to luxury travel worldwide and hotel benefits for an annual fee of $99 (which is waived for the first year). And CIBC's generous welcome offers for its Aventura cards means there's ample potential to rack up points quickly.
Travel points that never expire
You'll never have to worry about CIBC Aventura points expiring; they won't. So go ahead, collect points and redeem them when you're ready.
About CIBC
CIBC was formed in 1961 through the merger of the Canadian Bank of Commerce and the Imperial Bank of Canada. Now the fifth largest national bank by deposits, CIBC has a reputation for being on the cutting-edge. Its track record of deploying new technologies and products into the typically risk-averse Canadian market is sizeable. Case in point: it was the first bank in Canada to introduce 24-hour ATMs. CIBC is also the only Canadian bank to form an alliance with a major grocery chain to create an entirely new bank: the partnership between CIBC and Loblaws resulted in President's Choice Financial. CIBC has one of the most robust credit card portfolios through its partnerships with Visa and MasterCard.