Looking for the best Tangerine credit card in Canada? You've got this.
This offer is not available for residents of Quebec.
This offer is not available for residents of Quebec.
Recommended Tangerine credit cards.
As far as Canadian banks go, Tangerine is a newer player, so its suite of credit card offerings currently only includes one (exceptional) card.
Most popular Tangerine card.
The Tangerine Money-Back Credit Card, powered by MasterCard, hit the market in early 2016 and its 2% rebate on purchases in two categories, plus its initial 1% rebate on all other purchases, made the card instantly popular with consumers. In fact, Tangerine's Money-Back credit card won a Product of the Year Canada award in 2016 in the financial services category. And while Tangerine modified its perks in April 2017, with the 1% cash back rate dropping to 0.50%, as well as an increase in certain fees, the card remains a competitive choice for shoppers who like to get money as they spend it. Plus, you still get 2% cash back on two purchase categories of your choice. Apply for a Tangerine Money-Back Credit Card by November 30, 2021, and you can earn an extra 15% back (up to $150) when you spend up to $1,000 in everyday purchases within your first two months.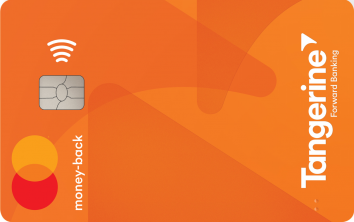 Tangerine Money-Back Credit Card
Rewards rate
2% Money-Back Rewards in two categories of your choice, 0.5% rewards on everything else.
Bonus Offer
15% Money back on everyday purchases for a limited time
The Tangerine advantage.
Tangerine is not your typical bank and that's good news for credit card shoppers who need a break from Canada's big banks. With a belief that your money should work as hard as you do, Tangerine offers Canadians a streamlined banking experience and a credit card that boasts some of the most competitive cash back perks on the market.
Here's what you get when you choose Tangerine for your credit card needs.
No fees
Tangerine knows Canadians don't want to waste their money on bank fees, so its reputation is built on eliminating them. That's why Tangerine's daily chequing account is fee-free and you don't have to pay an annual fee on its Money-Back Credit Card.
A mobile-first experience
You can do everything with the Tangerine Mobile Banking app, including pay your credit card bills, move money between accounts, and deposit cheques.
Excellent customer service
Get your money questions answered any way you like — via live chat, phone, social media. You can also talk to someone in person at one of Tangerine's cafés, pop-up locations, or kiosks, which you can find located in some of Canada's busiest communities.
About Tangerine
Tangerine was originally founded as ING Direct Canada in 1997. After being acquired by Scotiabank in 2012, the 'Tangerine' brand was announced in 2013 and was rolled out in April 2014. With no physical bank branches and a focus on low-fee, mobile-first banking technology, Tangerine is far from a traditional bank, much to consumers' satisfaction — nearly two million Canadians now bank with Tangerine. Among other products, Tangerine offers a no-fee chequing account, a cashback Mastercard, high-interest savings accounts, mortgages, and low-cost investing.
LowestRates.ca may receive compensation when you click on links to those products or services; however, our content and calculations are objective and free from bias. The opinions expressed are purely those of LowestRates.ca; thus, partners are not responsible for any editorials or reviews that may appear. For current term and conditions on any advertiser or partner's product, please visit their website.