MCAP mortgage rates.
On average, Canadians save thousands of dollars per year by comparing rates with us.
Find the best MCAP mortgage rate in just 3 minutes.
22,337

Canadians

have compared rates and saved money over the last 24 hours
Join the millions of Canadians saving money on their mortgage
LowestRates.ca makes comparing mortgage rates a snap. We're not a bank or broker, but we can show you which lender is offering the lowest mortgage rate in 3 minutes. Just let us know whether you're buying a home, refinancing, or renewing.
Best of all? It's free.
The first rule of saving money is to shop around for the best price. Make sure you're not overpaying for a mortgage by comparing multiple lenders first.
January 28
This ppl are amazing and very…
This ppl are amazing and very understanding my situation. The costumers Services...
Glenda Amaya
January 28
Excellent service
Excellent service, very professional and helpful. Waiting for the response from ...
Nazira Rawjee
January 25
Fastest way to see what's on the mortgage market
Tried LowestRates.ca first time and was surprised by the friendly, fast and comp...
Grey Wolf
January 24
Excellent and efficient
Excellent and efficient, friendly service.
Lola
January 24
choice!!!!!
choice!!!!!
chrischristoff
January 22
There service is great
There service is great, I have no complaints. 👌
HeronBeckford
January 21
Preparedness on behalf of contact team
Preparedness on behalf of contact team
TerryPetznick
January 20
Great customer service!
Great customer service!
Ron Zeraldo
January 17
Very prompt service and friendly staff
Very prompt service and friendly staff
Roberta Boswell-Gobay
January 13
Extremely quick and helpful response
Extremely quick and helpful response
KrisEggleton
January 12
Simple to use website.
Simple to use website. Range of prices for different companies . Very quick foll...
Roy Bucciol
January 11
Representative was very professional…
Representative was very professional and answered all my questions.
tek
January 6
Very professional and have patience…
Very professional and have patience answering my questions
ReynaldoBautista
January 5
timely response straitforward discussion.
timely response. straitforward discussion.
garnetmoore
December 31
Professional knowledgeable staff
Very quick response to my application. Professional knowledgeable staff. Smoot...
Jamie Hotrum
December 22
Barrett was extremely helpful and…
Barrett was extremely helpful and patient! I just moved back to Ontario and he h...
Leiah Otten
December 20
Great customer service.
Great customer service.
Narendra Naraine
How comparing
mortgage

quotes works. Hint: it's free!
Share
First, choose whether you're buying a new home, refinancing or renewing, and fill in a few details. It only takes 3 minutes, and it's 100% confidential.
Compare
Next, we'll show you quotes from 50+ Canadian banks and brokers. It's free, with no commitment.
Save
When you find the best quote, secure your rate by talking to a licensed broker or agent.
MCAP mortgage rates: What you need to know.
If you're in the market for a mortgage, you might be considering MCAP Mortgage for your needs. MCAP is an independent lender with $111-billion in assets under management as of 2021. It offers both residential and commercial mortgages. Over 225,000 homeowners use MCAP to finance their mortgages, according to the company. 
LowestRates.ca has all the info you need to make shopping for and setting up your mortgage a breeze, including how to find the best product and rate for your unique situation. Our services lets you compare quotes from MCAP alongside 50+ other Canadian banks and brokers. Not only is it completely free, it takes just a few minutes of your time, with no obligation.
A basic explanation is that a mortgage loan agreement is calculated using the expected length of time it will take you to pay back the amount in full, including interest. This is what's known as the amortization period, and can last up to 30 years. When it comes to determining the interest you'll pay on the loan amount, banks set their own terms, usually over a period of six months to 10 years. You'll probably deal with multiple mortgage terms before you completely pay off your mortgage loan.
The two main types of mortgages are:
Fixed rate mortgages: This is where the interest rate stays the same for the full term
Variable rate mortgages: This is where interest rates fluctuate based on the lender's prime rate
Hybrid mortgage agreements are also available from some lenders, which combine elements of both fixed and variable mortgages.
Enter your postal code above and click "Get Started" to see mortgage quotes, or keep reading to learn more about getting a mortgage with MCAP, whether you're looking for your first home or wanting to finance a second property or rental investment.
Types of MCAP mortgage rates
MCAP's prime mortgage rates.
The prime mortgage rate is the baseline percentage set by every Canadian bank or financial institution. It is used to determine the interest rates on products such as variable rate loans, including mortgages. It is also referred to as the prime rate, or prime lending rate.
There are several things that can affect the variable interest rates MCAP offers, but they all start based on the prime rate. You've likely heard mortgage rates along the lines of "prime plus 1%." This means that the interest charged on the product would be the bank's prime rate that day, plus an additional 1%. The better your credit history, the closer to a bank's prime rate your interest rate will be.
It's important to remember that a lender's prime rate regularly changes, and is affected by a number of factors. Today's MCAP mortgage rates vary from five years ago or even six months ago. MCAP and other lenders' prime rate is affected by factors such as the global and national economies, as well as the Bank of Canada. The Bank of Canada sets what's known as a policy interest rate, which significantly influences what sort of prime rates lenders themselves set. The policy interest rate is mostly based on the strength of the economy.
Comparing mortgage rates using LowestRates.ca is one of the fastest and easiest ways to see how different lenders compare to one another. When you shop the market you can see whether MCAP offers the lowest mortgage rates or if another lender is a better fit.
MCAP's posted mortgage rates.
Mortgage lenders like MCAP typically advertise their interest rates for the different types of loans they offer. While posted mortgage rates are often easy to find on a bank's website, they might not always be the best rates available to you (more info below).
Borrowers can expect a variety of options when it comes to home loans, depending on factors such as the time frame, or term, of the loan. For instance, MCAP's variable mortgage loan rate encompasses a five-year closed term. Variable rates are based on the MCAP prime rate, which varies over the course of your mortgage term.
MCAP also offers fixed rate mortgages, which are organized by term length ranging from 6 months to 10 years. The interest rates on these types of loans are the same for the entire length of the term.
It's important to know that while posted mortgage rates are a good starting point when it comes to figuring out your mortgage, they aren't always the best possible rate. This is especially true for those who are able to shop around and get quotes based on their specific needs using an online comparison tool such as LowestRates.ca. When you're shopping for a mortgage, you'll also need to pass what's known as a "stress test" which tests your ability to afford payments at a higher interest rate. Lenders use the Bank of Canada's qualifying interest rate for this stress test.
MCAP's current fixed rate mortgages.
Choosing a fixed rate mortgage from MCAP means that your interest rate will not change during the term of the mortgage. Many people prefer this option as it means they'll always know how much their interest payments cost, and how much of the mortgage balance they're paying off during the term of the mortgage.
Fixed rates are often slightly higher than variable interest rates, which fluctuate based on the bank's prime lending rate. This is because the bank is absorbing any risk should interest rates increase during the term of your mortgage. When you opt for a fixed mortgage rate you may miss out on lower interest payments in the event that prime rate dips, however, on the flipside, you are protected should interest rates increase to higher than your fixed rate.
If you're concerned about increasing interest rates, a fixed rate mortgage with MCAP may be the right choice for you. MCAP offers two different types of fixed rate mortgages: 1-10-year closed fixed rate mortgages, and a 6-month convertible fixed rate mortgage. With the 1-10 year closed fixed rate mortgages, MCAP offers a 120 day rate hold period, which is helpful for house hunters seeking mortgage pre-approval.
While closed mortgages don't allow you to pay off the loan amount in full during the term (at least, not without huge penalties), MCAP does offer prepayment privileges.
You can choose to make a lump sum payment of up to 20% of the original principal amount (minimum $100) on the anniversary of your mortgage. You can also opt to increase your mortgage payments by up to 20% on your mortgage anniversary. This can help you pay off your MCAP mortgage faster without incurring penalties.
The 6-month convertible fixed rate mortgage allows borrowers to lock into a fixed rate now and convert to a longer closed term mortgage at any time without penalty. This is perfect for those who are considering selling in the near future or are undecided.
With so many options to choose from, it pays off to compare MCAP mortgage interest rates alongside other Canadian lenders on LowestRates.ca to make sure you're getting the best available rate and terms possible.
MCAP's current variable rate mortgages.
Unlike a fixed rate mortgage, the percentage of interest you pay with a variable rate mortgage fluctuates depending on MCAP's prime rate.
The benefit of a variable rate mortgage is that if interest rates stay low, your mortgage rate will be low, too. However, on the flipside, if market conditions change and the prime rate increases, you could be on the hook for a mortgage payment that's higher than what you signed up for.
There's also the option of a mortgage with a variable interest rate but with fixed payments. This means that the actual mortgage charges you pay –– likely on a monthly basis –– won't be affected too much one way or the other by prime rate fluctuations (unless interest rates dramatically increase). The amount of your monthly payment directed to your principal loan will vary depending on how high or low MCAP mortgage interest rates are running at that time. You won't be able to accurately predict how much of your mortgage will be paid off at the end of your term if you opt for this type of mortgage, but there's the potential reward that you could end up paying more of your principal loan than you expected.
MCAP offers a 5-year closed variable rate mortgage, with a few different features. It can be used for owner-occupied and small rental (maximum 4 units) properties, for insured, insurable, and uninsurable properties. The rate is variable with immediate rate reset, and is based on MCAP prime with semi-annual compounding.
MCAP also offers two kinds of prepayment privileges. You can choose to make a lump sum payment of up to 20% of the original principal amount (minimum $100) on the anniversary of your mortgage. You can also opt to increase your mortgage payments by up to 20% on your mortgage anniversary. This can help you pay off your MCAP mortgage faster without incurring penalties.
Every home loan from MCAP has various features and even options to choose to meet your specific needs. And don't forget that you can always negotiate terms with a lender. To help narrow down the mortgage options that are best-suited for your financial situation and new home, compare quotes on LowestRates.ca.
Your questions about MCAP mortgages, answered.
What makes an MCAP mortgage different from other mortgages?
In addition to their specific fixed rate and variable rate mortgage options (see above), MCAP also has various programs to meet the needs of homeowners who may require different kinds of support.
Their Secondary Home Program allows borrowers to obtain financing of up to 95% loan-to-value on the purchase of a second home. It's important to note that the secondary residence must be occupied at some point during the year in addition to a current primary residence. While it can be occupied by the purchaser, it can also be occupied by a relative of the purchaser on a rent-free basis as long as it's been designed for year-round occupancy.
MCAP also offers a Small Rental Program for non-owner occupied buildings. This allows borrowers to acquire financing for rental properties, including condo, single family, duplex, triplex, and fourplex rentals.
Finally, the MCAP Fusion Mortgage is a mortgage and a line of credit in one, which gives borrowers a combination of flexible financing options to meet their home financing needs.
How do I get approved for a mortgage from MCAP?
The first step in getting approved for a mortgage from MCAP is to determine which type of mortgage you're looking for, as well as the terms you're interested in. Once you have this information, you're ready to apply for a pre-approval from MCAP. A pre-approval is important as it shows how much a lender is potentially willing to lend you, allowing you to more easily compare your options. Lenders all have different requirements when it comes to qualifying for a mortgage loan, and MCAP is no different. That said, your application will likely be assessed on a number of factors, including your:
Assets: which is the value of the various material things that you currently own
Income: the total amount of earnings you have from your job and any other sources of income per year
Debt: how much and what kind of debt you hold (all types of debt are considered)
Credit history: your credit history includes things such as your credit score and your track record when it comes to paying your bills and debts on time and in full
Down payment: this is the amount of money you have saved to put towards the cost of your new home. Some lenders require a certain amount of down payment, while others are a little more flexible with what's required
Why is pre-approval from MCAP important?
It's important to get a pre-approval as part of your mortgage process as it gives you the opportunity to access and compare your mortgage options. A pre-approval may also be called a mortgage prequalification or mortgage preauthorization. This pre-approval is important because it tells you the maximum loan amount you qualify for, and provides you with an estimate of what your mortgage payment could be. It's also beneficial because it provides a temporary hold on any interest rates you've been quoted. This means that when you're ready to move forward with the mortgage, you're guaranteed those rates within a certain time frame.
It's important to note that even though you have a pre-approval, it does not guarantee that your mortgage loan will actually be authorized by MCAP, it's merely a good place to start when shopping for a mortgage.
How much mortgage can I afford from MCAP?
It's hard to say how much of a mortgage loan MCAP will approve you for until you actually go through the application process. That said, there are several industry standards to keep in mind when it comes to determining that amount of debt that you're able to take on with regards to a mortgage. First of all, your housing costs, which include expenses such as regular mortgage payments, taxes, utilities etc., should account for no more than 35% of your total income before taxes and other deductions. Secondly, everything you owe to all types of creditors — your total debt — should account for no more than 42% of your total income before taxes and other deductions. Keeping these principles in mind will help ensure that you aren't taking on more mortgage than you can reasonably afford to pay for.
That said, MCAP has a maximum loan amount of $950,000 for mortgages on a closed fixed rate term of less than 7 years (max $500,000 for the 7 year and 10 year terms). A MCAP-approved appraisal must be sent with application for loans with property values over $1-million. For their 6-month convertible fixed rate mortgage, the maximum loan amount is $500,000. Their VIP M-Power has a maximum loan amount of $950,000, uninsured, and $924,999.99, insured.
For commercial mortgages, MCAP offers mortgage loan amounts of $2.0-million to $100-million.
MCAP has various types of mortgage calculators you can use to determine how much your ongoing mortgage payments might be, so that you have a better idea of your potential housing costs.
Finally, a sage piece of advice from the Canada Mortgage and House Corporation (CMHC) advises borrowers: "Borrow less than you're allowed."
What are the terms and conditions of MCAP mortgages?
Your MCAP mortgage will contain specific terms and conditions unique to your individual lending agreement. Generally speaking, however, there are requirements and penalties both parties must live up to for the term of the agreement. This includes things such as rate hold, payment options, prepayment privileges, and early payout. It's important to note that if you break any element of your mortgage contract, you may be subject to penalty — often in the form of a fee.
You should also remember that there are certain characteristics of mortgages that make them different from other types of debt. For example, you'll likely still owe a balance at the end of term for your home loan, which means that you'll need to either renegotiate a new term with MCAP or transfer the remaining balance to a different lender. LowestRates.ca makes it easy to compare MCAP mortgage rates online with other lenders across the country.
What happens when your term ends on your MCAP mortgage?
First, if you haven't paid off your mortgage in full and it's nearing the end of your term, you'll need to decide if you're going to renew your mortgage with MCAP or compare MCAP's rates with other mortgage providers. Whether you're renewing or refinancing, or buying a new home, you can use LowestRates.ca to compare what type of mortgage rates MCAP offers against other mortgage rates across Canada.
No matter what, you'll need to either renew or move your mortgage by the maturity date in your current contract, aka the last day of your mortgage term.
How long will it take to pay off my mortgage from MCAP?
How long it takes you to pay off your MCAP mortgage will depend on a number of different factors, including the terms of your amortization (or loan period), as well as any additional prepayments you make. These timelines are all negotiated when you are applying for and setting up your mortgage, and can also be renegotiated at the end of your mortgage's current term. (Or in the middle, if you're willing to pay any penalties.) If you want to pay off your MCAP mortgage faster, you can opt for weekly, bi-weekly, or bi-monthly payments.
The longest amortization period that MCAP offers is 30 years for uninsured mortgages. For mortgages that require default insurance, 25 years is the maximum amortization timeline.
How can I pay off a mortgage sooner from MCAP?
Paying off your mortgage quickly can involve a few different strategies. First, choose the shortest amortization period with payments that you can still reasonably afford. These payments can be made monthly, bi-weekly, bi-monthly, or weekly with MCAP. If you're able to make weekly or bi-weekly payments, this can help you pay off your mortgage faster than monthly payments. Also, the type of mortgage you have –– open, closed or a hybrid of the two –– can affect how quickly you can pay your mortgage off. Depending on your mortgage type, you may be eligible to increase the amount of your payments, or make extra payments when you're financially flush, such as when your tax refund arrives or should you fall into an inheritance. Keep in mind that with a closed or hybrid mortgage, those extra payments could come with a penalty or fee associated.
How much does it cost to break a mortgage from MCAP?
If your MCAP mortgage rate isn't the best, you might find yourself wanting to break your mortgage early. This could be so that you can secure a mortgage with a different lender at a better rate, or even to secure a better mortgage loan rate with MCAP itself. If you want to break your mortgage before its maturity date, you'll more than likely have to pay a financial penalty. The amount of the penalty you're required to pay will depend on the particulars of your mortgage agreement. For example, a closed term variable rate mortgage may require a certain number of months in interest as on your prepayment amount as a penalty. Alternatively, if you have a closed term fixed rate mortgage, you're more likely to incur a complicated fee that takes into account factors such as current interest rates when you break your agreement, number of months left in the term, and the remaining principal to be paid.
Because mortgage prepayment terms can be complicated, this is why it's important to fully understand the prepayment terms associated with your specific MCAP mortgage before signing on the dotted line.
Your questions about getting a mortgage through LowestRates.ca, answered.
How are mortgage rates determined on LowestRates.ca?
LowestRates.ca works with 50+ banks and brokers across the country to bring you the best rates. We work with our partners to obtain their best deals and offers, and then we let them compete for your business. All you have to do is answer a few questions, and in minutes you'll be provided with today's mortgage rates. There's no obligation, but you can choose to speak with our broker partner to secure your best rate and see if you're eligible for more savings.
Is it safe to get a mortgage online?
Yes, it's safe — you no longer need to visit a bank branch or mortgage broker's office in person to apply for a mortgage. It's becoming increasingly common for Canadians to apply for mortgages online. LowestRates.ca only works with reputable, trustworthy financial institutions. Your credit score won't be affected and your information is secure. We don't share your information with anyone unless you want to connect with a mortgage broker. We take care of the heavy lifting by comparing the market for you and can connect you with the best mortgage lenders across the country.
How do I know I'm getting the lowest rate?
We have a strong selection of lenders on LowestRates.ca, including the big banks and many independent providers, and we're adding more lenders all the time. This ensures we're always delivering you a competitive rate. Even if you're not ready to commit to anything, you can use our site as a starting point for research (it's totally free, and you're under no obligation).
The better informed you are, the more likely you'll negotiate a better deal for yourself. And, really, that's what we care about the most.
Mortgage news
Homebuying
This article has been updated from a previous version. Getting a mortgage is a big commitment and likely o...
Read the Story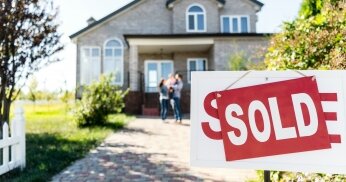 Homes
Real estate markets follow seasonal cycles, and the fall and early winter tend to be the slower of the four. For the bet...
Read the Story
Read More Like This