Compare the best 6-month fixed closed mortgage rates for free.
Compare mortgage rates and save up to $11,944 over 5 years* with LowestRates.ca.
Find the best 6-month fixed closed mortgage rate in just 3 minutes.
Compare 6-month fixed closed mortgage rates from Canada's top banks and brokers.

25,708

Canadians

have compared rates and saved money over the last 24 hours
What is a 6-month fixed closed mortgage?
If you are a kind of borrower looking for a short-term fixed mortgage interest rate that remains unchanged for a period of 6 months, then this is the rate for you! A 6-month fixed closed mortgage is the shortest term, least flexible rate offering a fixed payment schedule that doesn't fluctuate.
During the 6-month time-period, the mortgage interest rate and monthly mortgage payments do not change. By "closed" it means that you will not be allowed prepayment of the mortgage amount, neither can you renegotiate the interest rate, or make any changes to the terms of the loan until the 6-month period is over.
How do 6-month fixed closed mortgages work in Canada?
At a time with the economic situation is volatile and the Bank of Canada decides to increase interest rates to curb rising inflation, a six-month fixed closed mortgage can provide peace of mind to the borrower by allowing them to fix a mortgage interest rate for 6-months term. It is a common choice for borrowers when there is uncertainty on interest rates in the market, especially when variable rates are high or expected to increase. By opting for a 6-month fixed closed rate, borrowers can get stability for a fixed time and shorter term, instead of locking a rate for a longer period.
A 6-month fixed closed mortgage allows borrowers to lock in a favorable interest rate for the immediate future, protecting them from potential rate hikes. This option can be especially attractive for borrowers who are planning to sell their property or refinance their mortgage in six-months time, as they can benefit from the stability of a fixed rate while maintaining flexibility for potential changes in their circumstances.
The six-month fixed closed rate is determined at the time of signing the mortgage agreement and remains unchanged for the entire duration of the six months.
However, at the end of six months, the borrower will have to renegotiate the mortgage terms with their lender. This could lead to increased costs if interest rates have risen during that time. Additionally, if a borrower needs to break the mortgage before the end of the six-month term, they may face prepayment penalties.
In the end, the decision to choose a 6-month fixed closed mortgage is based on the borrower's financial situation, risk tolerance, and market conditions.
The best way to choose the right mortgage for you is by shopping around and consulting with a mortgage broker who can provide personalized professional advice to help determine if this option is the best fit for a borrower's needs.
How comparing
mortgage

quotes works. Hint: it's free!
Share
First, choose whether you're buying a new home, refinancing or renewing, and fill in a few details. It only takes 3 minutes, and it's 100% confidential.
Compare
Next, we'll show you quotes from 50+ Canadian banks and brokers. It's free, with no commitment.
Save
When you find the best quote, secure your rate by talking to a licensed broker or agent.
The pros and cons of a 6-month fixed closed mortgage in Canada
| Pros of 6-month fixed closed mortgage | Cons of 6-month fixed closed mortgage |
| --- | --- |
| You can fix a mortgage rate for a shorter duration at an uncertain time when interest rates are expected to increase. | In case the interest rates fall, the borrowers will have to refinance to get the lower rate which may involve penalty, or extra fees for breaking the term of the loan. This uncertainty can make long-term financial planning challenging. |
| It offers stability for a duration of 6 months and borrowers will not have to worry about their monthly budget with a fixed payment schedule and payments. | It could cost more if you lock your 6-month fixed closed rate mortgage and don't refinance at a lower rate. |
|   | With a closed mortgage, borrowers cannot prepay the mortgage, renegotiate the interest rate, or make changes to the terms until the term is completed. |
Answers to all your 6-month fixed closed mortgage rates related questions can be found here...
How can I find the lowest 6-month fixed closed mortgage rate in Canada?
To find the lowest 6-month fixed closed mortgage rates in Canada, it is essential to begin with comparison shopping. LowestRates.ca offers access to the lowest rates from 50+ lenders, enabling you to secure the lowest rates efficiently.
What happens at the end of a 6-month fixed closed mortgage term?
When a 6-month fixed closed mortgage term comes to an end, borrower will have to renegotiate the interest rate and term or refinance which may lead to penalty and other fee.
Are 6-month mortgage rates higher than other rates?
Contrary to popular belief, 6-month fixed closed mortgage rates are not higher compared to other rates. In fact, the open version of the same term typically carries higher rates. This is because of the open mortgage's added flexibility and open payment plan.
Can you easily refinance a 6-month fixed closed mortgage?
At the end of the 6-month fixed closed term, refinancing is possible. However, it's important to note that breaking the term to refinance may incur penalties. Nonetheless, if interest rates are sufficiently low, the potential savings could outweigh the penalty, making it a worthwhile consideration.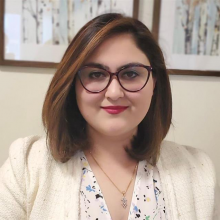 Shivani Kaul
About the Author
Shivani Kaul is a content manager in the personal finance space. Prior to this, she worked as a digital editor with Pagemasters North America (a division of The Canadian Press) for four years. Shivani has also worked as a freelance writer and editor for Investor's Digest of Canada and The Ghost Bureau.
She has more than a decade of experience working as an editor and writer for different news media organizations in Canada and South Asia. She has a Digital Marketing Management certification from the University of Toronto, a Master's degree in Mass Communication (Journalism) and a Bachelor's degree in English from the University of Delhi (India).