Looking for the best Home Trust credit card in Canada? You've got this.
Recommended Home Trust credit cards.
Home Trust is a federally-regulated trust company headquartered in Toronto but has offices nationwide, from Halifax to Vancouver. The company was incorporated in 1977. Back then, it was known as the Home Savings and Loan Corporation. Today, Home Trust operates as a subsidiary of Home Capital Group Inc., a publicly-owned company trading on the TSX.
Home Trust brands itself as being a financial services company in the business of helping people get back on their feet. Its clientele includes new Canadians, homeowners, and the self-employed. So when it comes to approving people for its products, Home Trust takes a more flexible, organic approach — a departure from the way most retail banks operate. This is the company you call when you're starting over.
Most popular Home Trust card.
This card is marketed to people who want to build, or rebuild, their credit. Virtually everyone is approved — that's because the Home Trust Secured Visa Card is a secured credit card that requires a security deposit for eligibility. Your credit limit is the amount of the deposit. The minimum amount you can put down is $500; the cap is $10,000.
But, you still get the perks that come with being a Visa cardholder. You can still make purchases online, plan and book a vacation, and shop anywhere Visa is accepted.
The Home Trust Secured Visa Card comes in two different formats: you can have it for no annual fee (in exchange, you're subject to an interest rate of 19.99%), or you can pay a small fee and have a lower annual interest rate ($59 annually for 14.90% interest)
There are other fees to be mindful of, however. If you go over your monthly credit limit, you'll be charged $29. Having insufficient funds docks off another $45. Also, this card is not available to residents of Quebec.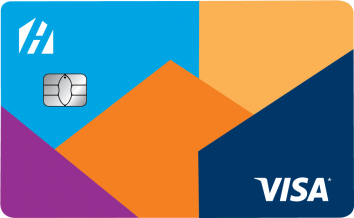 Home Trust Secured Visa Card
Rewards rate
Not available.
Bonus offer
Not available.
The Home Trust advantage.
Home Trust specializes in offering financial products and services to people who can't access credit through major banks. This is typically due to having poor credit or no credit history. This includes new Canadians, but also those who are self employed. The trust company provides consumer credit cards through its partnership with Visa.
Here's what you get when you choose Home Trust for your credit card needs.
Unique credit options
Those with credit issues often have to put down a deposit when opening a credit card — that's how secured credit cards work. With Home Trust, you can use the equity in your home to obtain a secured card. According to Home Trust, many clients report finding this option helpful in financing big expenses, such as home renovations, consolidating debt, business expenses, and more.
Earn cash back
You can earn 1% cash back on everything you buy with your Home Trust credit card. Just because it's a secured credit card doesn't mean you don't get the benefits of rewards to go with it.
Up-to-date banking options
Home Trust cardholders can view and pay their bills online. You can also use the cards to withdraw cash at any ATM displaying the Visa logo. Your card is insured in case of an emergency. Cardholders are also entitled to health and legal services.