Compare the best mortgage rates in Mississauga. Show off your savvy.
Find the best rate in just seconds.
Compare mortgage rates in Mississauga.
Getting set to take out a mortgage in Mississauga? You'll have access to some of the lowest rates in Canada, thanks to ferocious competition among lenders in the city, and in the Greater Toronto Area generally. See just how low mortgage rates can go right here at LowestRates.ca — we'll bring you all the best mortgage deals in your area, just like that.
Focus On
Mississauga housing.
Quarterly reports published by the Toronto Real Estate Board (TREB) show just how much average prices in the city have risen lately: by the third quarter of 2016, the average price of a home in Mississauga was close to $630,000, up from about $530,000 in the third quarter of 2015. What's more, those increases came despite moves by the federal government to tighten mortgage lending rules by requiring higher qualifying rates for insured mortgages.
Interestingly, upscale areas in Mississauga, such as Lorne Park and Mineola, did not see faster price gains than other, more modest neighbourhoods in the city, bucking the GTA housing trend where pricier areas see the fastest home value appreciation.
Average Home Prices in Mississauga.
| Date | Home Prices |
| --- | --- |
| Q1 2013 | $466,261 |
| Q2 2013 | $490,766 |
| Q3 2013 | $480,174 |
| Q4 2013 | $472,763 |
| Q1 2014 | $488,771 |
| Q2 2014 | $516,186 |
| Q3 2014 | $502,122 |
| Q4 2014 | $514,309 |
| Q1 2015 | $532,067 |
| Q2 2015 | $564,898 |
| Q3 2015 | $528,263 |
| Q4 2015 | $550,947 |
| Q1 2016 | $576,698 |
| Q2 2016 | $648,902 |
| Q3 2016 | $624,813 |
About Mississauga.
Perhaps the quintessential Toronto suburb, Mississauga has experienced scorching growth for the better part of three decades. According to Statistics Canada, the city now has over 700,000 residents and is the sixth most populous municipality in the country. It also has the distinction of being the fourth largest suburban community in North America.
Not surprisingly, residents have every reason to feel just as urban as they do suburban given Mississauga's excellent amenities and thriving downtown core. New residential and commercial towers can be seen popping up in the skyline every month. It's easy to see why so many people choose to call Mississauga home with attractions like the Square One Shopping Centre and the recently built Mississauga Celebration Square, which hosts year-round outdoor events and festivals.
Mortgage news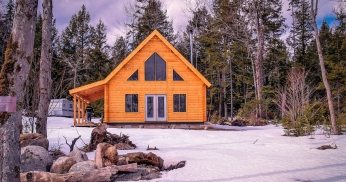 Homebuying
Cottages are often cheaper than homes in major cities, and provide excellent rental opportunities.
Read the Story
Economy
More than half of Canadians said there's at least a "somewhat likely" chance of a recession this year in a recent survey for Bloomberg News.
Read the Story
Read More Like This